Miss.Power's Free Resources
Key Stage 2 class teacher and Art Specialist teacher in inner London.
4Uploads
2k+Views
1k+Downloads
Key Stage 2 class teacher and Art Specialist teacher in inner London.
This was intended for 3 classes, 4 lessons each but could be 12 lessons for one class or pick and choose.
Statistics about racism in the UK (including football) and questions evoking empathy. Children can work together in groups to find percentages of amounts and read bar charts. Also works well as home learning! The first few slides can function as a stand-alone empathy assembly or PSHE discussion. Thanks to Mr.Gale for this incredible resource!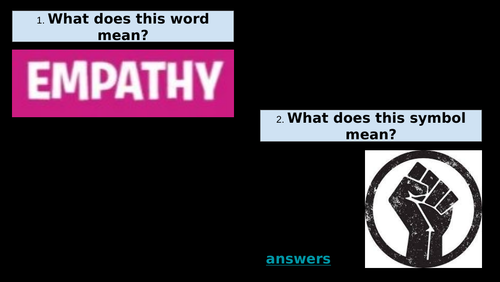 An English lesson for Empathy Day (or any day) exploring the definition of racism, inspired by https://100greatblackbritons.co.uk/ . Children research and make notes on one of 100 notable black Brits (or anyone else of their choice) then write and deliver an empathetic speech based on David Lammy's. Printable resource on slide 7 with instructions for differentiation in the slide notes. This would best suit KS2 but could be adapted to KS1 or 3. Was planned for home learning but would work well in the classroom! Links to further age-appropiate anti-racism resources on final slide.
Powerpoint of an art lesson (that could easily be split into 2 lessons - now and Tudor times) that asks children to thing why black artists (including British artists) are less present in galleries and throughout history. In the second part of the lesson, they compare the style of the contemporary artist they chose to portraits of black people from Tudor times.