Crafty Classroom
I am a Newly Qualified Art teacher working in Southampton. Lover of all things craft, art and design..
13Uploads
4k+Views
159Downloads
I am a Newly Qualified Art teacher working in Southampton. Lover of all things craft, art and design..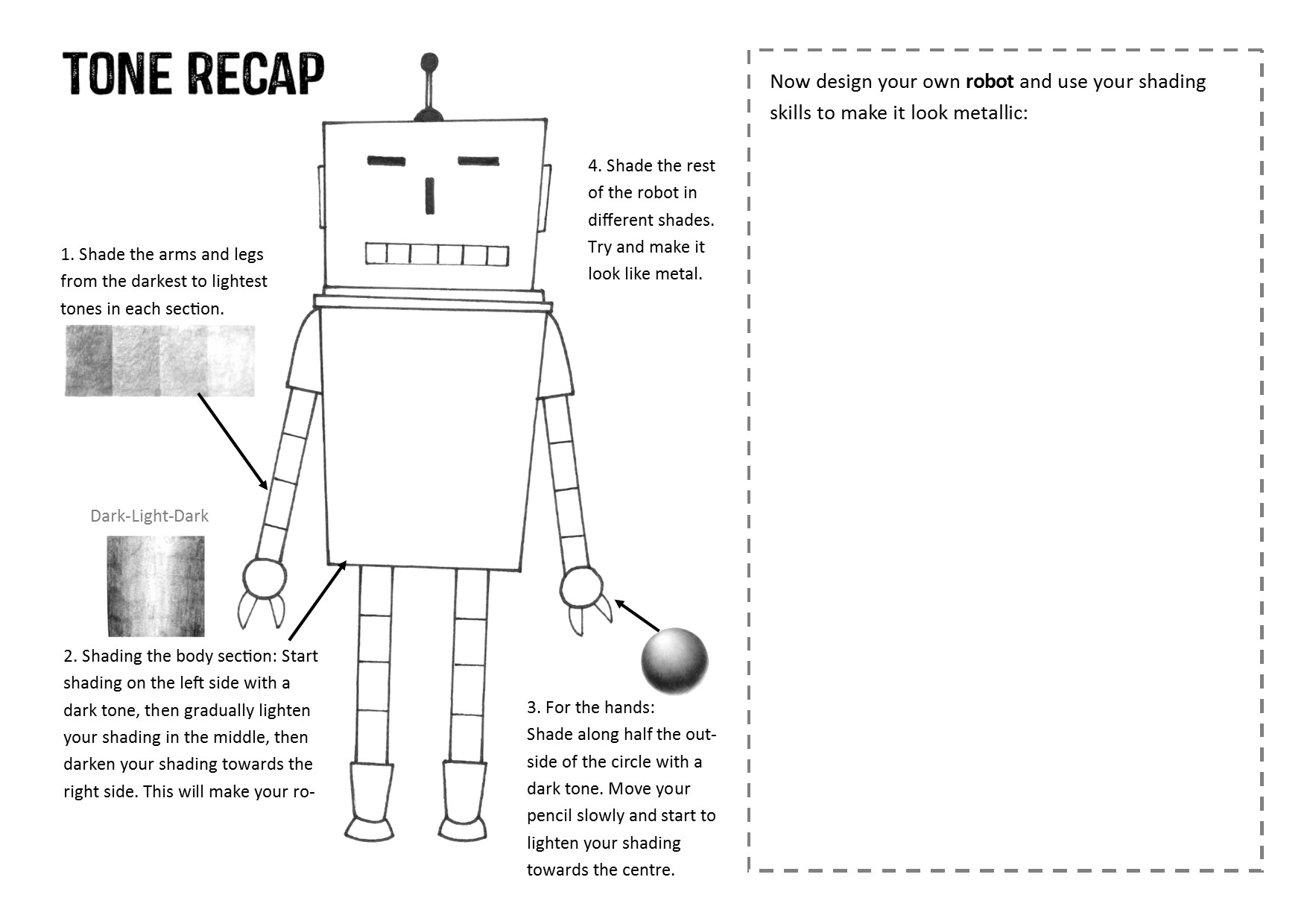 This worksheet is a great recap on how to add tone for Key Stage 3 students. First the students shade in the robot, following the instructions and examples. They can then design their own robot and shade it using the skills they have learnt. Attached is also a PowerPoint slide with a completed shaded robot, and instructions for the class.

A worksheet of close up images where the students must guess which natural forms are being depicted. Answers 1. Strawberry 2. Broccoli 3. Onion 4. Shell 5. Kiwi 6. Mushroom 7. Fur Cone 8. Pineapple

A mini worksheet on Alexander Calder. Students simply fill the blanks in the text. I use this as a starter for the students to complete as they enter the classroom. It is then stapled in their sketchbook next to their own artwork. Note: There are 3 worksheets on 1 A4 page.

A worksheet for students to practice their watercolour painting skills. This worksheet is best printed or photocopied onto cartridge/sugar paper. The students practice mixing colours, and blending from light to dark. They then paint the fruit bowl using these techniques. (Originally used for a Cubism project- but can be used for general use too).

A loyalty card for good behaviour! Students collect stamps/stickers each time they produce fantastic work/display good behaviour. When they have collected a full set, they trade their card for a prize. Included is a publisher document where you can edit the caed for your own behaviour system. Note: 12x Reward cards per A4 page for you to cut out.

A worksheet which guides students through the step by step process of creating a paper collage of a fish.

A worksheet where students symbolise their hobbies and interests into small images. This could be used for a project about symbolism or just to find out more about your students. Note: 2x worksheets to 1 A4 page.

An 'exit ticket' to find out what the students have learnt during the lesson. They simply write on piece of information on the slip and hand it to you before they leave the classroom. Note: 8 slips included on 1 A4 sheet of paper for you to cut out.

A scaffolded worksheet for students to evaluate a unit of work and a final piece. Can be used for lower Key Stage 3, or for older students who need guidance when writing their own evaluations.

This worksheet is a step by step guide for students, for when they are using pencil crayons to draw and shade an object. (This worksheet uses a fish as the subject matter, but could be used generally). Note: 2 worksheets to 1 A4 landscape page.

An A4 page of palettes which can be using to write targets on, or for peer/self assessment. The red, orange or green spots can be circled to determine how the student is feeling about their artwork, or for you to indicate how much effort you feel they have put into their work.

I invented this form as I often like to do self/peer assessment activities on completed homework tasks, and I found it frustrating when the students who had not completed their homework could not participate. This form could also be completed during a detention, or as a log of who has not handed in their homework. Note: 2 forms included on 1 page.

An assessment to test your students knowledge of colour. Answers: 1. Orange 2. Green 3. Purple 4. Primary Colours 5. Complementary Colours 6. Tint 7. Shade 8. Brown 9. Passage 10. Next to each other Note: This resource has 2 assessments on one A4 sheet of paper.