15Uploads
11k+Views
578Downloads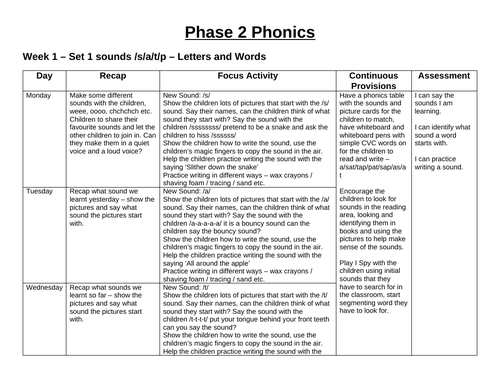 Phase 2 Planning following Letters and Sounds. 6 weeks planning with focus whole class activities and group activities. Links to continuous provisions. This could easily be extended to make the planning longer.
EYFS 7 Weeks planning for phase 1 phonics Covering each aspect of the phase, could easily be extended to cover additional weeks depending on age group and ability Planning includes a recap, focus activity, continuous provisions ideas and I can statements for each day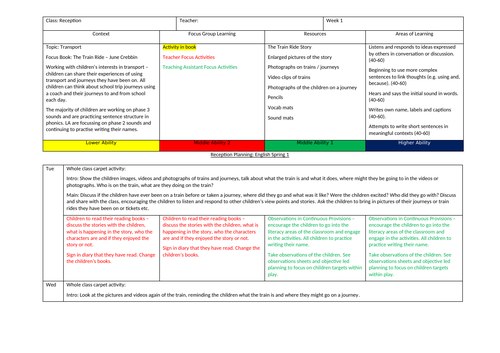 Spring planning for Communication, Language and Literacy based around the book - The Train Ride by June Crebbins Planning for 3 weeks which includes whole class and focus activities, differentiated activities and linked objectives for literacy / CLL With additional time for objective led learning and targets for each group Not specifically linked to Spring objectives could be altered and planning done in the summer term also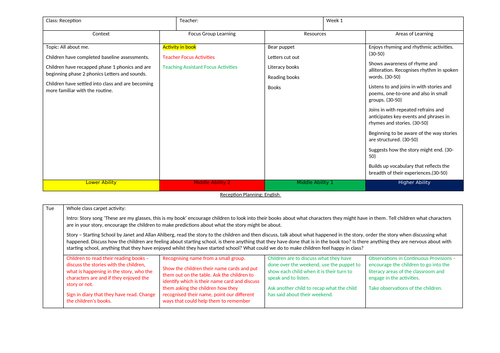 Literacy planning for Reception class for Autumn 1 - 5 weeks of planning Whole class and focus activities with differentiation Planning, areas of learning, resource lists and objectives included
Autumn 1 Weekly Maths planning for Reception - 5 weeks of planning following the White Rose Scheme of Work and Autumn 1 Weekly English planning for Reception based on the topic 'All About Me' Planning is differentiated with whole class activities and focus activities Objectives, resources and evidence all recorded in planning This planning could easily be extended into autumn 2 if necessary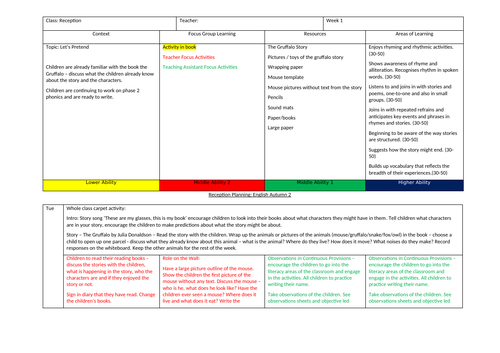 Literacy planning for 5 weeks for Autumn 2 with a focus on the topic Let's Pretend, focussing on the books The Gruffalo and The Snowman The planning is aiming to dive deeper into the books to give children a more indepth knowledge of the books and think about more than just the story 5 weeks of planning with differentiated lessons, whole class and focus activities, planning is matched to the EYFS objectives and is focussing on building children's literacy skills Focus on objective led planning is incorporated with time made for observations in continuous provisions Hope you enjoy!