Mr T does Primary History
13Uploads
20k+Views
9k+Downloads

his resource contains two detailed lesson plans that teach children across Key Stage 2 about the Christmas truce of 1914. The Lower Key Stage 2 lesson gives children the chance to extract and interpret evidence from a range of sources (written, image and podcast/video). The task focuses around gathering evidence and uses this evidence to draw conclusions about the event. It also begins to explore the idea of significance. The Upper Key Stage 2 lesson focuses on using the evidence gathered from the soruces to learn about reliability. Exploring how and why one source can be viewed as more reliable than the others. There is a full bank of suggested resources that would fulfil the lesson requirements but bringing in wider sources would work just as well. It contains suggested cross curricular links for Art, DT, PSHE and Drama.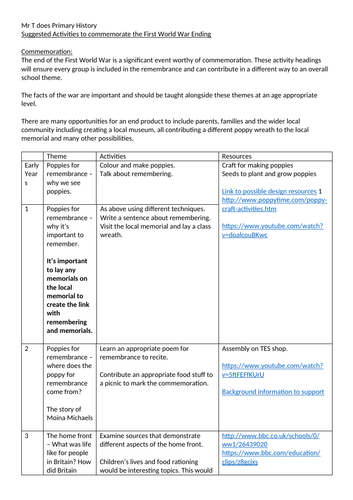 This file contains themes for phases and year groups to study as part of a whole school commemoration of the Armistice, 1918. It is written by Stuart Tiffany of Mr T does Primary History on Facebook and Twitter. Please follow both pages if you download and use this resource.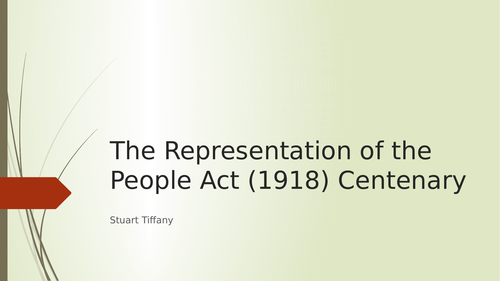 This assembly was written to give detail about the centenary of some women getting the vote in 1918. Its aim is to encourage discussion about the actions of the Suffragettes and Suffragists resulting in a discussion and debate around which approach children would have followed and why.

This resource contains a suggested theme for each year group including inspirational individuals to study. Included are several activities and links to videos and other online resources. At the end, there is another list of individuals that could be used in addition to or instead of the ones I have gone into detail over. I have deliberately not included individuals who are often studied during Black History Month because my aim is to provide alternatives to supplement what is currently being studied and not in any way claim they are not worthy of study. Please come and join my Facebook page: https://www.facebook.com/MrTdoesPrimaryHistory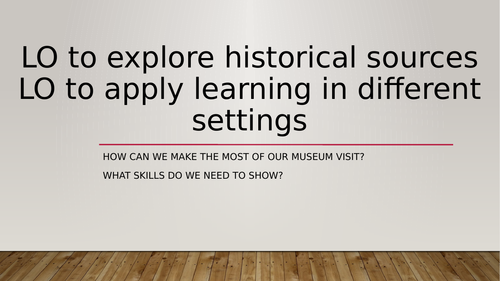 This PPT is a way of helping children to gain the most knowledge from an educational trip by discussing learning skills and behaviours and tasks before setting off. It also provides an example of questions that can be used to further extend children who complete the tasks set by the venue or used back at school.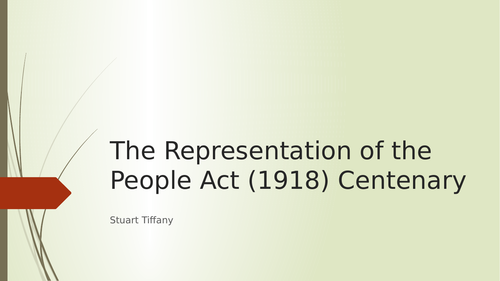 An assembly that introduces the idea of only some people being able to vote and then relates it the Representation of the Peoples Act 1918, which gave the vote to some women in the UK. Voting equality came in a decade later.

This year marks the 80th anniversary of the outbreak of the Second World War. This resource contains a theme for each phase of primary school from FS to UKS2 and builds up a comprehensive understanding of various aspects of the war. More resources available on: www.mrtdoeshistory.com Follow me on: https://www.facebook.com/MrTdoesPrimaryHistory

This research provides step by step instructions on how to use the amazing CWGC website to research about the life that each soldier lived before their tragic and premature death. The purpose is to enable children to understand the name represents a person, a life lost and someone that left a family behind to grieve. Please be aware, you need to sign up for a free account to search the census return - sorry.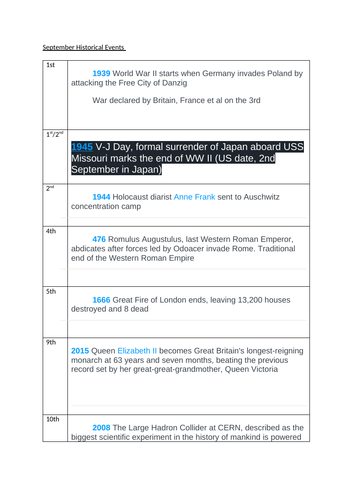 A group of events that occurred during September that could be used as a discussion point or assembly in primary schools.

An assembly to accompany my whole school resource. It uses pictures and practical ideas to explore the ideas of discrimination, fairness and equality. Find more resources on www.mrtdoeshistory.com Follow me on twitter: @Mr_S_Tiffany Find me on Facebook: https://www.facebook.com/MrTdoesPrimaryHistory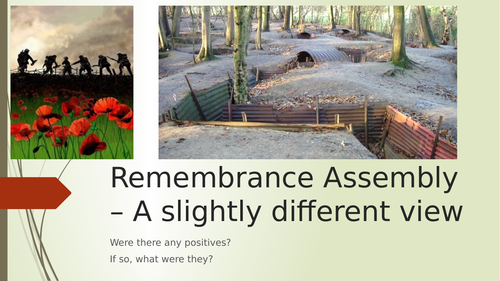 A remembrance assembly that looks at the positive outcomes of war in the field of medicine, economics, countries being created etc. and some facts from the First World War. It offers opportunity to discuss how the First World War in particular could be viewed from different national perspectives. Finally, it looks at how medical advancements brought about by war such as blood transfusions have saved millions of lives across the globe. It does however, make it clear that war is full of tragedies and not something to be celebrated.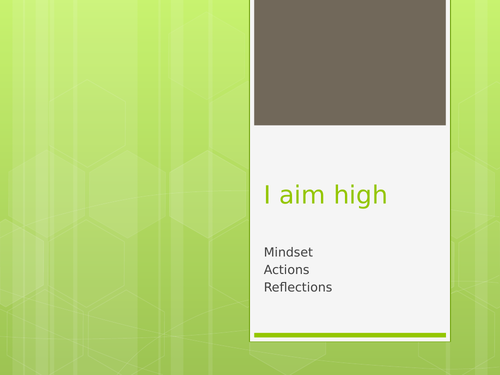 This is an assembly written around the ethos of aiming high and why it's important. It includes influential people, who faced setbacks, but still achieved great things such as sports stars, politicians and a scientist. It can act as a stimulus to further discussion or be used to set ambitious targets.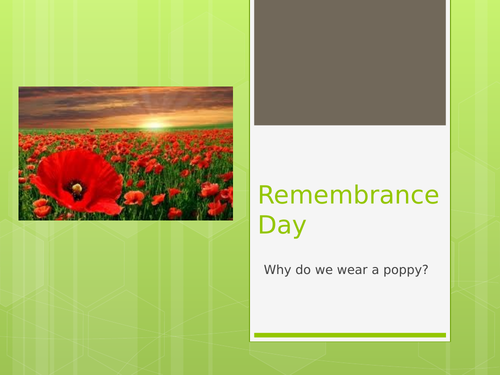 Here is an assembly for remembrance about the history of wearing a poppy for armistice day including Moina Michael, who had the idea after hearing the poem 'In Flanders Fields' by Wilfred Owen. It also explains why the Last Post is played.