Primary and SEND resource place
Primary and SEND resources and Widgit symbols
108Uploads
1156k+Views
716k+Downloads
Primary and SEND resources and Widgit symbols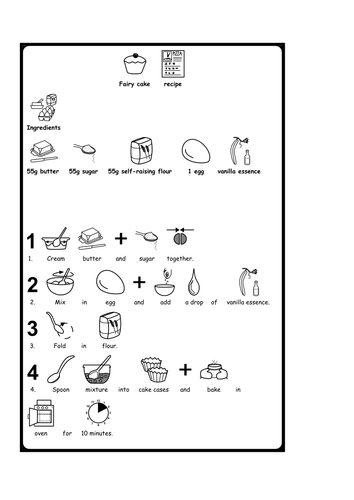 Recipe for 1-egg fairy cake (makes about 6 little cakes) in widgit symbols. I use this recipe for individual cake making. Add colours to make colourful rainbow cakes!

A4 colour printable that makes a SATS revision science keyring (cut out parts, stick back-2-back, hole punch and secure with bookring/keyring.) Can be laminated for extra durability. Great revision aid!

Recording sheets for a fair test - which habitat do woodlice prefer. Need woodlice, shoebox+lid, materials to recreate habitats (dry sand, water etc.)

Prints 1 double-sided triangular card per sheet (cut, stick together and laminate). One side is +/- the other x/divide. Great for encouraging recognition of inverse +fact families. I use for quick mental starter.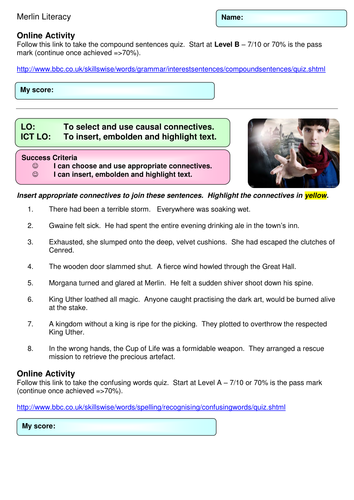 Merlin-inspired literacy lesson for ICT suite. Document with embedded links to online activities and my own sentence-level activities. Used with Year 6 - inserting own connectives and uplevelling a piece of text. Show a clip of Merlin (iplayer) as a 'mood' intro :)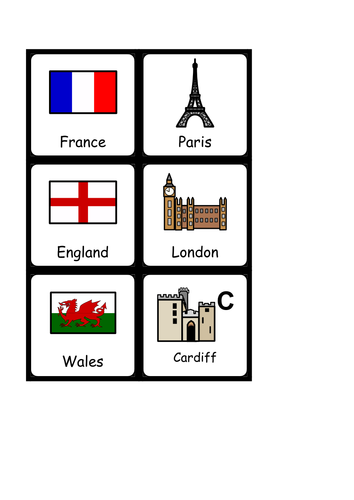 A4 6 symbols to a page, ready to print, laminate and cut out. Fun and educational. 18 countries and corresponding capital cities. Match the country and capital city. Designed for students with autism - eg TEACCH tray activity.

Single A4 printable for recording fair test: do seeds need light to germinate?

Iwb ppt and accompanying lesson plan focussing on descriptive writing. Groupwork feely bag task - describe and then guess what's in the bag. Identifies difference between inform, describe and explain. Encourages use of adjectives, adverbs and interesting verbs. Covers synonyms - links to online game. Includes independent writing task, peer review (paired work) and independent extended writing at end - describing special object. Tried and tested.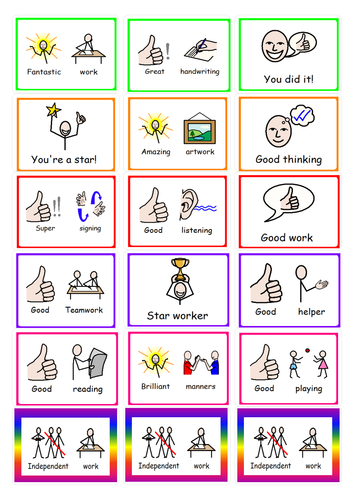 These print to the Avery A4 - 18 to a page sticker sheet (portrait). File is in Word.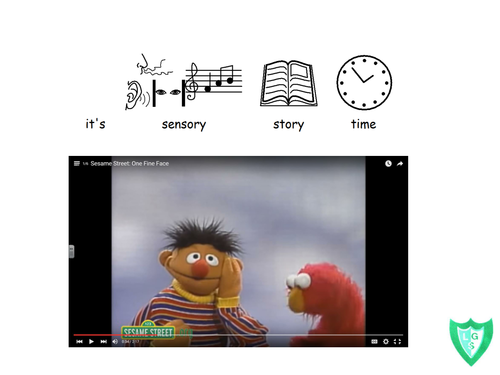 Ppt complete with words, pictures, details of resources needed and links to themed songs (click the music splash) Will need some musical instruments, water spray, fabric, crackling hand spray, torches and an internet link to the linked music. Enjoy!

Prints 2 letters to an A4 page, arty-red-themed letters for literacy wall.

Adding single digits to make your target number egs 12 or bonds to 10. Prints 2 to 1 page A4, pupils circle numbers that make the target. Can play 2 player - use different colour each. Fun starter.LO: To mentally add digits.

A4 colour word printable with 2 fans per sheet: green smiley orange straight mouth red sad face To be used for pupils to show how secure they are in the work (self assess feedback) OR as teacher's behaviour feedback (as I use them most) - I put one on their table to show them how I think they're doing.. green=good, orange=warning, red=trouble! I don&'t get to red very often, orange works a treat! Laminate them, holepunch and secure with a book ring (staples sell them).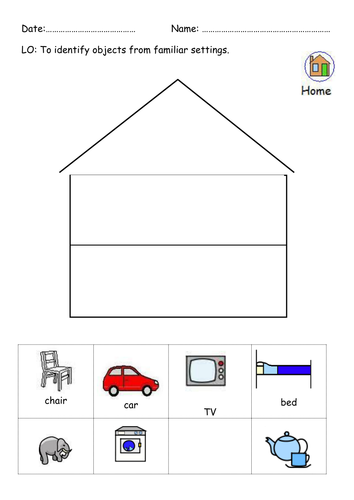 Single A4 colour printable - bottom section includes 8 objects to be cut-out and stuck inside/outside the house outline to show an understanding of whether they belong in the house (familiar setting - home). Used in literacy phase 1/2 with KS2 SEN group, but suitable KS1 too.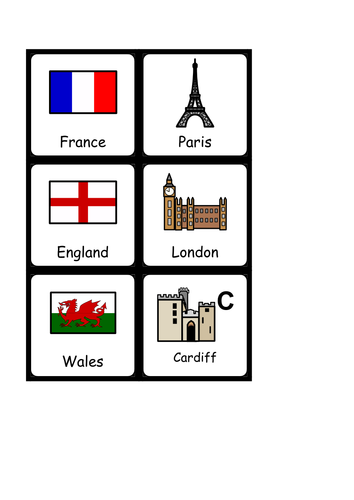 6 A4 sheets, 6 symbols to a page in grid format ready to print, laminate and cut. 18 of the main European countries and their capital cities (most have flags also). Great learning/keeping busy game for ASD pupils and teaches geography too!

used these in our composition unit - helps the children (and me) remember what they're called

Nice colour printable 'cards' to make table snap or memory matching game. Could be stuck together back-to-back also. Laminate for extra durability.Other topics covered: Number