Ele's Shop
The most engaging and fun content for teaching Science to elementary and middle school students!
23Uploads
5k+Views
4k+Downloads
The most engaging and fun content for teaching Science to elementary and middle school students!
Activity of experimentation and research about the mineral crystallization process. The aim of this activity is the creation of artificial salt crystals by evaporating water in a saturated solution. Students will complete a study and will monitor the process of crystal formation and later prepare a report including all research data. This activity promotes collaborative work, the skill of learning to learn, observation and analysis.
Where do they come from? How do they form? And what is the difference between a rock and a mineral? All these questions and much more will be answered through the videos, documents, pictures, and activities (online and offline) in this to develop students' cognitive, manual, and creative skills, which promote learning through reasoning and experimentation.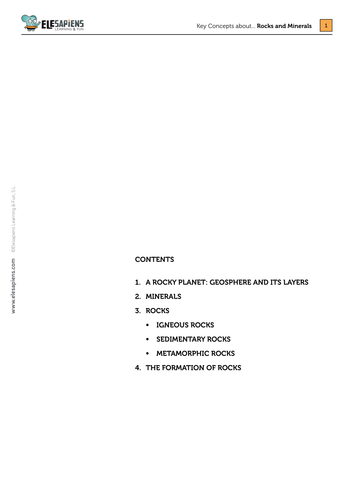 Interactive Notebook that develops key concepts about atmosphere, hydrosphere, geosphere and biosphere. The explanations are given in a simple language for easy understanding and retention of knowledge, and they provide support for the activities proposed in the teaching units around this theme. A downloadable PDF is included for further consultation.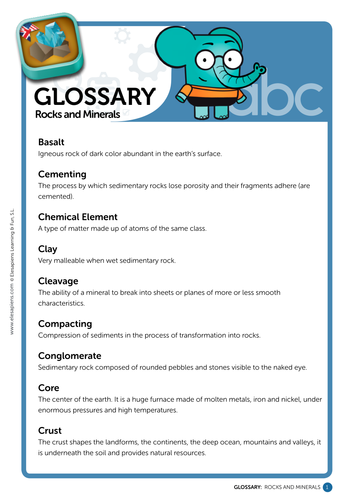 A Reference Guide that explains the terms used in the videos and the other resources of the learning unit "Rocks and Minerals" in a simple and easy way. The content can be downloaded and printed out.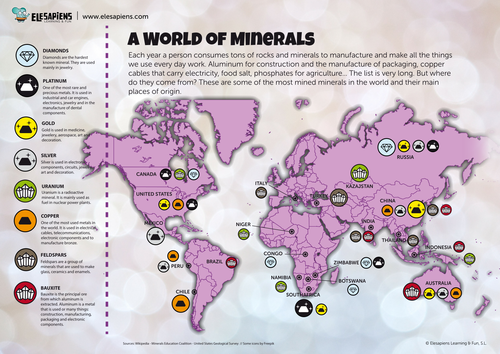 Infographics about some of the most extracted minerals in the world and its main uses. It complements the various resources on rocks and minerals, and also about the Earth's systems, so that students become aware of the importance of mineral resources and mining for the availability of goods of daily consumption and the global economy.
This Learning Unit explains the Water Cycle through the endless journey of water around the planet. It makes students understand that water is always traveling and transforming itself, makes them aware of the fact that only a very small part of the planet's water is safe to drink and makes them understand that the water they drink today is the same that a dinosaur once drank. The related activities stimulate the student's manual, cognitive and creative skills and favor learning through reasoning and experimentation, that directly involves the student in the acquisition of new knowledge.