96Uploads
91k+Views
101k+Downloads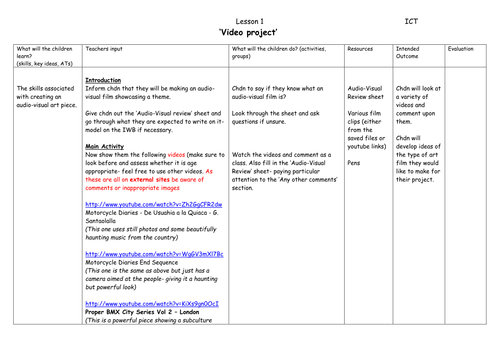 Media has the power to inspire and inform us and in these sequence of lessons pupils will learn how to write, film, and edit their own documentaries. The idea is to immerse the pupils in various documentary short documentary films and are asked to comment on them. Then they develop an understanding of the genre of documentary films and learn how informative and persuasive messages are crafted in film. Finally they plan and create their own audio-visual documentary around a theme that they have been studying (in this case we share a Great Barrier Reef themed documentary, which is included, but it can be about anything they want.) This is a great way for pupils to share their work and show what they have learnt. The lesson plans here have a flow and contain links to documentaries and resources which you may find useful to supplement your lessons.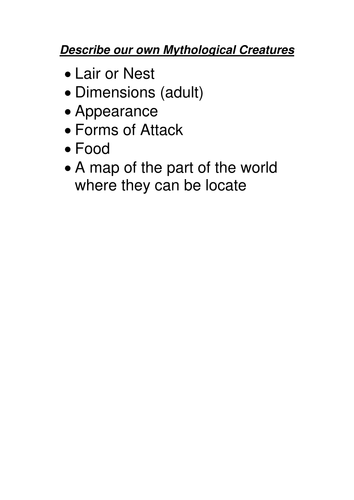 A sequence of lesson plans with resources to bring the unit of 'Myths and Legends' alive. There are links to Ray Harryhausen and the classic films of old including 'Jason and the Argonauts'. I have also linked to my blog which contains an article and work created by pupils using this plan.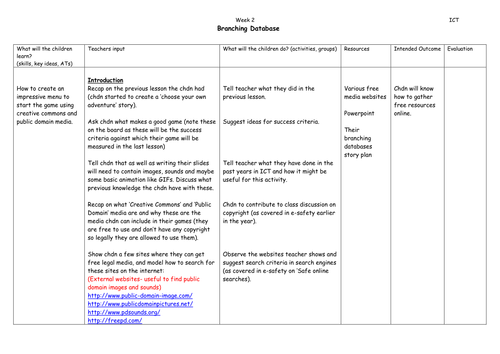 A sequence of lesson plans on creating a Choose Your Own Adventure game using either PowerPoint or Twine (a free branching database making software) The idea behind CYOAS is very simple: pupils start writing a story, then present options to their readers after the first sentence or paragraph. So when a reader makes a choice they then start to determine how the story proceeds. And each new choices presents a further step in the story, and further choices – and so the adventure really does become the reader's own. This resource pack contains all you need to help engage even the most reluctant of writers and readers. The lesson plans here have a flow and contain links to documentaries and resources which you may find useful to supplement your lessons.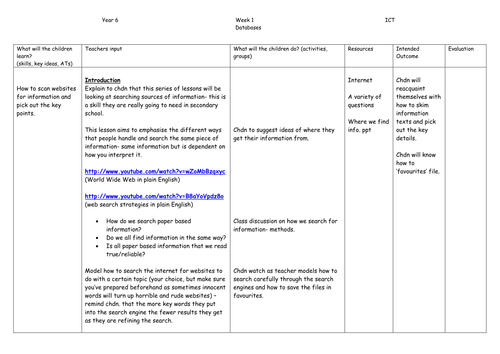 A sequence of lesson plans on databases and researching on the internet. The lesson plans were created a few years ago but can easily be modified and adapted for the new Computing curriculum.

Two guided reading sessions for the excellent 'The Lost Thing' by Shaun Tan.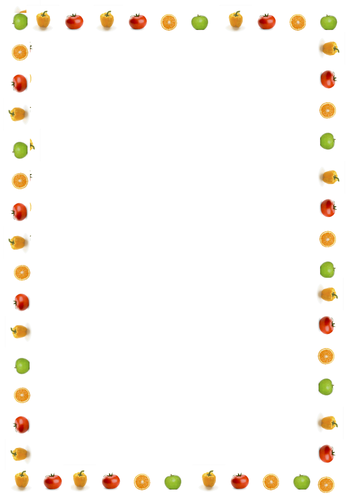 Using fruit and vegetables pupils can create their own fantasy landscapes, or foodscapes if you will. The work can be done in Word all the way up to higher end software like Photoshop. There is a detailed guide on how to create the foodscapes in Word and PowerPoint. This sequence of lesson plans has links to external websites where you can use many online tools for free to supplement the lessons. This pack also contains all you need to complete the whole sequence of lessons too.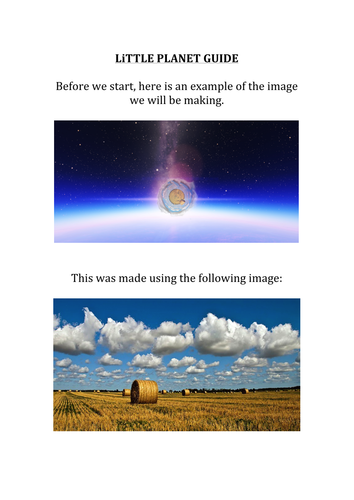 I don't know about you but in my more megalomanic dreams I've ruled the world. Now I know this isn't possible, mores the pity, but I have figured out a way to create my own world by using Photoshop and GIMP, the image and photo manipulation and editing software. Photoshop is quite pricy but is the worlds leading software in the field, however GIMP is free and does an amazing job too. Within a few minutes you could create an amazing planetoid, similar to the ones seen below or like the ones in Mario Galaxy.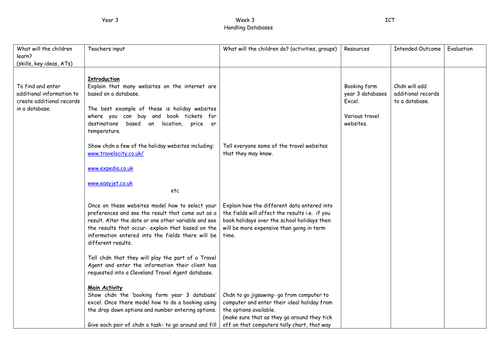 A sequence of lesson plans on Databases and Handling Data. The lesson plans were created a few years ago but can easily be modified and adapted for the new Computing curriculum. Have Fun!

There are a sequence of lessons using the wonderful picture book Dougal's Deep Sea Diary alongside the Endless Ocean game. The computer game allowed the pupils to become stimulated and engaged. Over the two weeks in Literacy the children created adverts for the imaginary island of Manuarai, wrote diary entries, newspaper reports and wrote poetry. I also incorporated D and T into the sequence of plans and got the children to create dioramas of the underwater world. Enjoy! P.S. I've also created a more up to date sequence of lessons using the same lesson plans but more up to date software, Perfect on the Playstation Virtual Reality. Check it out at https://thedeadpixels.squarespace.com/current-practice/perfect-psvr-as-a-stimulus-for-descriptive-writing

As a teacher and an avid gamer I like to have my children be excited and in awe of what I teach. There are many tools out there but video games are a great way to immerse children. So in this spirit I used one of my favourite games, Shadow of the Colossus, which has an exciting and intriguing introduction as a story writing stimulus I planned a sequence of lessons with the intention of getting the children to develop their vocabulary, specifically their use of adjectives. The lessons took place over the course of two weeks and the end results were wonderfully written stories. This download contains the resources you need for the first week and a half of lesson. It includes the lesson plans, activity sheets and a link to the video. I stop at the actual long writing as you can plan this appropriately for your cohort but the prep. is all here. Enjoy!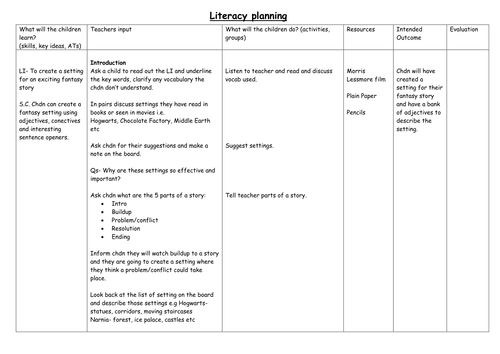 This lesson plan uses the Morris Lessmore app or video as a stimulus for children to write a fantasy story. Adjectives, connectives, fantasy worlds and story writing are explored. You can really make this a much longer series of lessons but I have used it as an end of term assessment piece or even for a one-off lesson.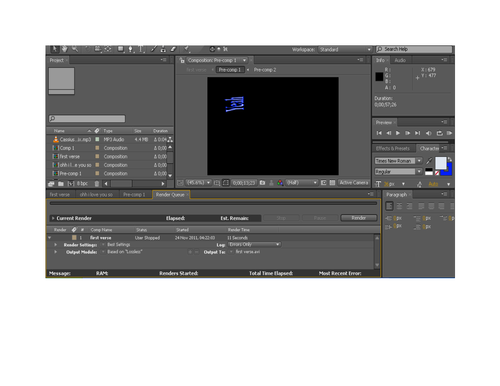 Kinetic typography is an animation technique that mixes motion and typography to express ideas. In animations the text can fly, grow, expand and change in order to empower the message it is telling. I have included plans for my lessons, you can also acheive the same thing with Power Point but the result is generally less impressive. It is great for presenting poetry and excerpts of childrens writing.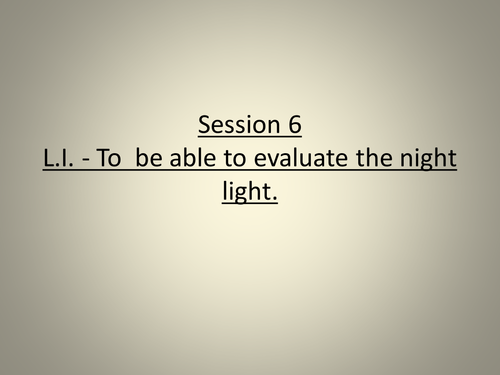 The Electricity unit of work is always exciting for children but when it comes to making a product to show their understanding of circuits, conductors and insulators this sequence of lessons to make nightlights is great. To see examples and actual work produced from my class of year 4 students please visit: http://thedeadpixels.squarespace.com/current-practice/nightights-for-electricity-science-unit?p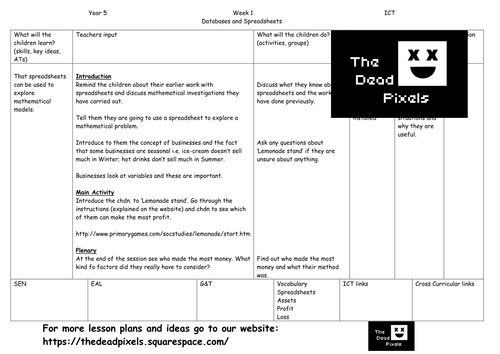 A sequence of lesson plans on Spreadsheets using Lemonade Stand, a business simulation. The lesson plans were created a few years ago but can easily be modified and adapted for the new Computing curriculum.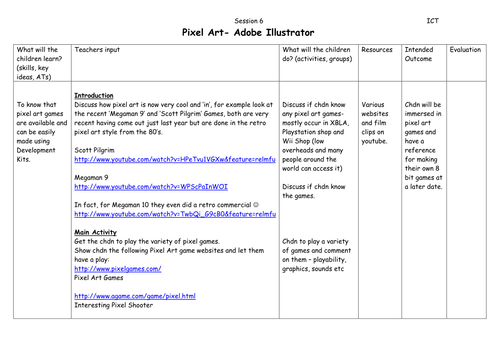 A series of lessons where the children produce graphic illustrations using pixel art as their inspiration. When creating the lessons I was pleasantly surprised by how many of the children could identify the various old-school pixel art computer characters, the children easily identified such icons as Mario, Pacman and Sonic but the more obscure icons such as Samus Aran and Donkey Kong were quickly recognised too. The children enjoyed making their own image in a pixel art style.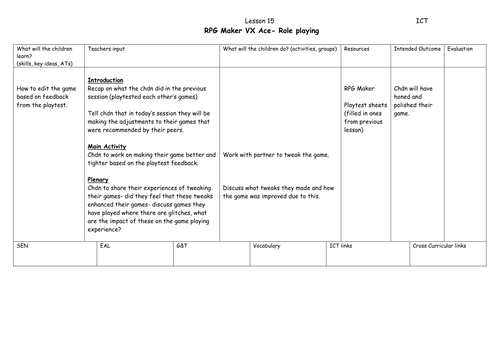 We all know that children like computer games but instead of just being passive consumers how about making them producers? This sequence of lesson plans has a portfolio for the pupils to complete and has links to the RPG Maker Guide which will allow your children to make higher level games and practice their coding using the Ruby language. I have also included some ideas for cross-curricular links which can turn this into a creative curriculum topic. There are links to many videos and guides which can help supplement your lesson plans.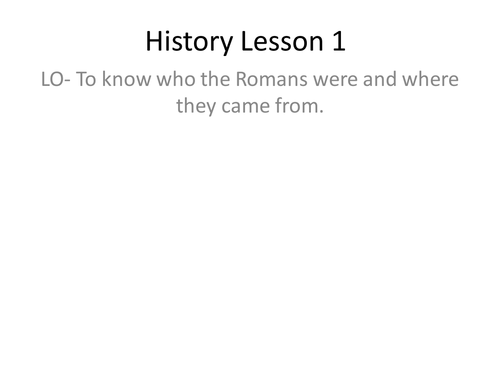 A terms worth of work on the topic of Romans, Roman Britain and Boudicca. The work covers: - Who the Romans were and where they came from - Researching the different areas of Roman life including fashion, food, entertainment, army etc - Comparing the life of rich and poor Romans - Slavery - Roman Entertainment including gladiators and chariot racing - The Roman Army and the Marian Reforms - Celtic Britain and life before the Romans came - Boudicca and the rebellion - Roman legacy in Britain including creating a Roman building model Over the course of these 12 lessons the pupils get a great understanding of the Romans.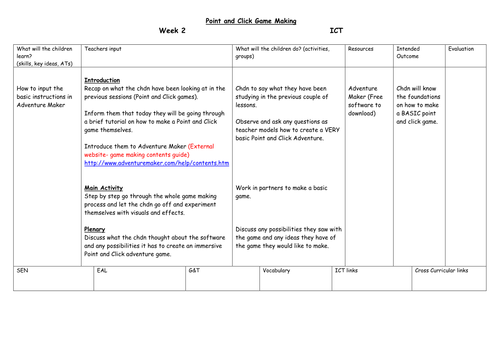 Back in the 80's and early to mid-90's Point and Click Games were very popular. They fell out of favour when the more powerful gaming systems emerged but have since risen from the flames due to the popularity of tablets and mobile phone devices. Now instead of having your pupils as consumers how about making them the producers by getting them to make their own Point and Click computer game! This sequence of lesson plans gives you guidance on how to make your own computer games and can be used cross-curricular to promote writing. There are many links to useful websites and resources which you may find useful to supplement your sequence of lessons.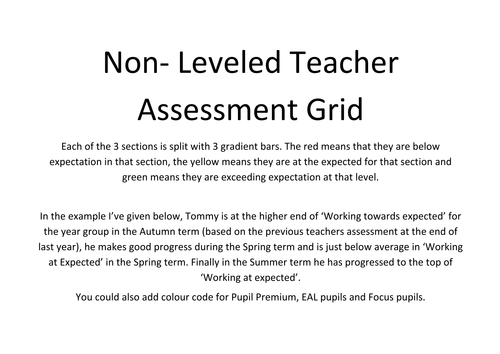 With the reforms to the National Curriculum, the system of 'levels' used to report children's attainment and progress was removed in September 2014 and was not replaced. The hope was that by removing levels teachers would be given greater flexibility in the way that they planned and assess pupils' learning. What has resulted is an unmitigated mess with different schools trying to find a way to assess pupils using teacher assessments but still showing progression. I have created a simple grid which can be utilised to assess pupil progression fluidly over the year. This can be tweaked to allow schools to request teachers date evidence of progression.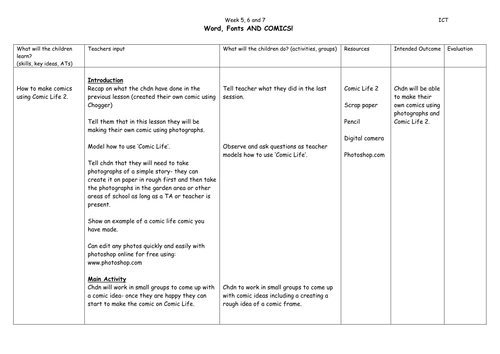 These Comic Creation plans guide children to compose their own comic strips. The different comic creation tools allow students to choose backgrounds, characters, props,and dialogue. This makes a great display and is great fun!