96Uploads
85k+Views
93k+Downloads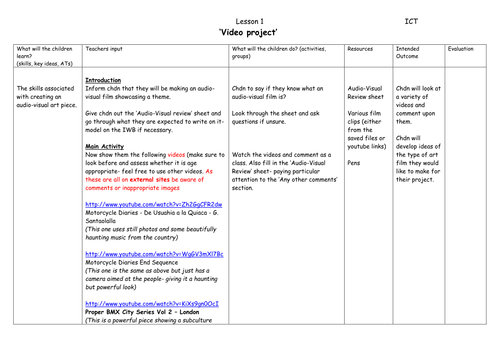 Media has the power to inspire and inform us and in these sequence of lessons pupils will learn how to write, film, and edit their own documentaries. The idea is to immerse the pupils in various documentary short documentary films and are asked to comment on them. Then they develop an understanding of the genre of documentary films and learn how informative and persuasive messages are crafted in film. Finally they plan and create their own audio-visual documentary around a theme that they have been studying (in this case we share a Great Barrier Reef themed documentary, which is included, but it can be about anything they want.) This is a great way for pupils to share their work and show what they have learnt. The lesson plans here have a flow and contain links to documentaries and resources which you may find useful to supplement your lessons.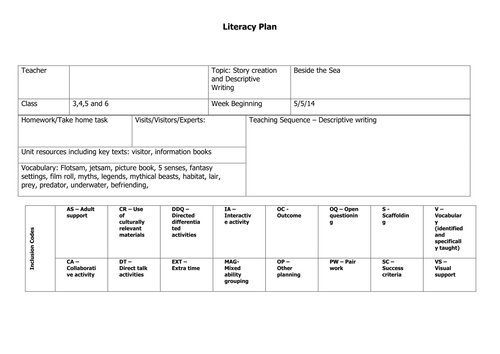 When selecting a book to engage our children on their topic of Beside the Sea we chose the amazing picture book Flotsam by David Wiesner. These 2 weeks worth of Literacy lesson plans provide detailed activities to create a fantasy underwater creature and writing to support the idea of habitats, diet etc that you can link to Science. P.S. I've also created a sequence of lesson plans using Virtual Reality on the Playstation 4, this can be found at https://thedeadpixels.squarespace.com/current-practice/perfect-psvr-as-a-stimulus-for-descriptive-writing

There are a sequence of lessons using the wonderful picture book Dougal's Deep Sea Diary alongside the Endless Ocean game. The computer game allowed the pupils to become stimulated and engaged. Over the two weeks in Literacy the children created adverts for the imaginary island of Manuarai, wrote diary entries, newspaper reports and wrote poetry. I also incorporated D and T into the sequence of plans and got the children to create dioramas of the underwater world. Enjoy! P.S. I've also created a more up to date sequence of lessons using the same lesson plans but more up to date software, Perfect on the Playstation Virtual Reality. Check it out at https://thedeadpixels.squarespace.com/current-practice/perfect-psvr-as-a-stimulus-for-descriptive-writing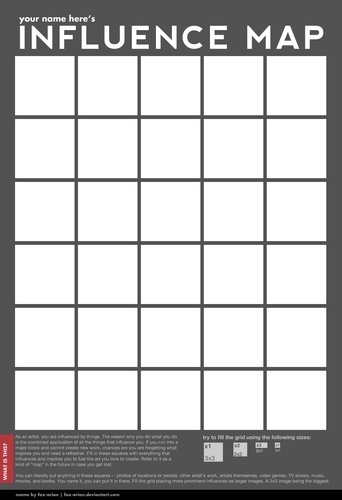 This is a 2 lesson plan on creating an Influence Map. Pupils will learn how to search for images on the internet and edit them for use in a digital poster using Photoshop, Gimp or other graphic design software (or even Word).

Google Tour Creator is a FREE web-based tool lets you build a VR 'tour' using Google Street View imagery and the bonus is that you can even add your own 360 photos, if you have that available. The interface is designed with educators and pupil in mind and is all simply drag-and-drop. The flexibility of tour creator is that you can choose any points of interest within the Google Street View maps and add extra texts, or points of interest if you like. With the Virtual Tour you can save any tour you have made and also publish it, for public or private use. The ability to import tours to the Google Expeditions app is not available yet but will be very soon states Google. Being able to create an Expedition and share it with a classroom of pupils is a great opportunity for technology being able to bring people closer, to understand other people worlds. Not every pupil will need a VR headset as this can be created and used on a laptop attached to an interactive whiteboard, but for those that are lucky enough to have a class set the sense of immersion and engagement would be outstanding I think. This presentation informs you what Google Tour Creator is and I have created a simple model that can be used to show pupils as an example.

GoAnimate is a fun software used in-browser that lets you make animated videos for free. Animations can be made in as little as 10 minutes and you don't have to worry about drawing as it has pre-made characters available, you can create your own cast of characters but will have to become a paying member. There are a variety of packages available but we used the free option which had the limited characters but was more than enough for what we had in mind. Check my blog for examples of work my KS3 children did.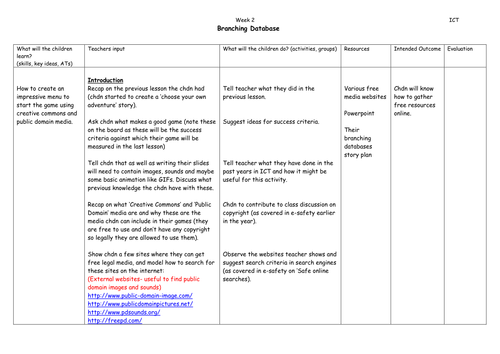 A sequence of lesson plans on creating a Choose Your Own Adventure game using either PowerPoint or Twine (a free branching database making software) The idea behind CYOAS is very simple: pupils start writing a story, then present options to their readers after the first sentence or paragraph. So when a reader makes a choice they then start to determine how the story proceeds. And each new choices presents a further step in the story, and further choices – and so the adventure really does become the reader's own. This resource pack contains all you need to help engage even the most reluctant of writers and readers. The lesson plans here have a flow and contain links to documentaries and resources which you may find useful to supplement your lessons.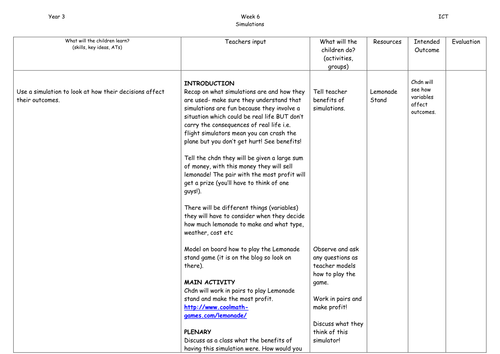 A set of plans I created a few years ago on Simulations and Modelling. includes lesson plans that present the idea of real life scenarios and how simulations can be used to help model and test out scenarios. Easily adaptable and updatable to fit in with the new Computing curriculum.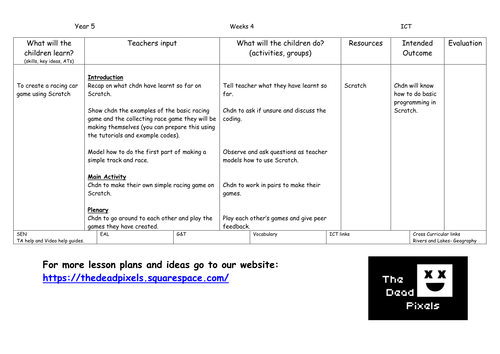 A sequence of lesson plans based around the software Scratch (a programming software). The lesson plans were created a few years ago but can be modified and updated for the new Computing curriculum.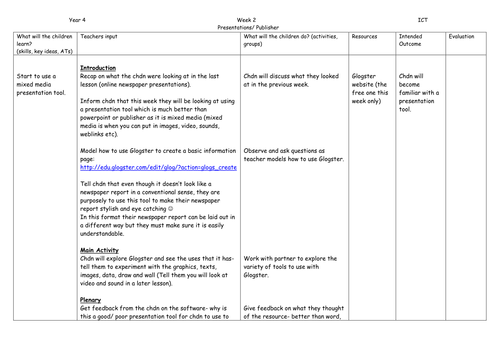 A sequence of lesson plans on presentation and publishing. These plans build up to pupils creating an information page using a free publishing tool online (Glogster). The lesson plans were created a few years ago but can easily be modified and adapted for the new Computing curriculum.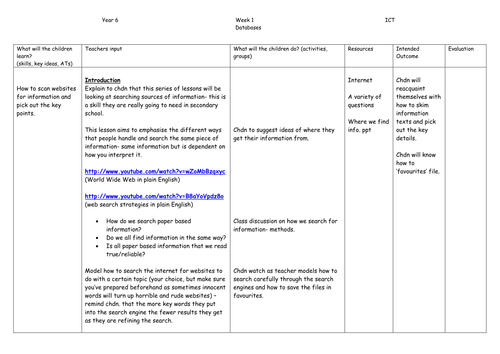 A sequence of lesson plans on databases and researching on the internet. The lesson plans were created a few years ago but can easily be modified and adapted for the new Computing curriculum.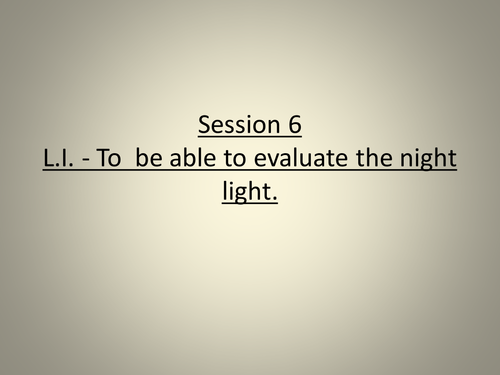 The Electricity unit of work is always exciting for children but when it comes to making a product to show their understanding of circuits, conductors and insulators this sequence of lessons to make nightlights is great. To see examples and actual work produced from my class of year 4 students please visit: http://thedeadpixels.squarespace.com/current-practice/nightights-for-electricity-science-unit?p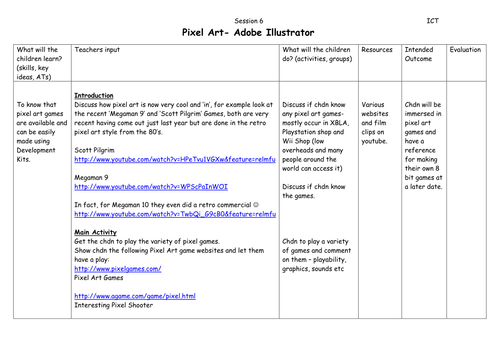 A series of lessons where the children produce graphic illustrations using pixel art as their inspiration. When creating the lessons I was pleasantly surprised by how many of the children could identify the various old-school pixel art computer characters, the children easily identified such icons as Mario, Pacman and Sonic but the more obscure icons such as Samus Aran and Donkey Kong were quickly recognised too. The children enjoyed making their own image in a pixel art style.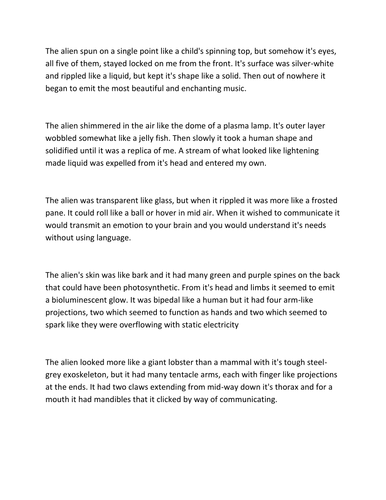 This lesson plan uses the world of Dr Who as a stimulus for children to write about their own sci-fi setting and their own alien Adjectives, connectives, sci-fi worlds and story writing are explored. You can really make this a much longer series of lessons but I have used it as an end of term assessment piece or even for a one-off lesson.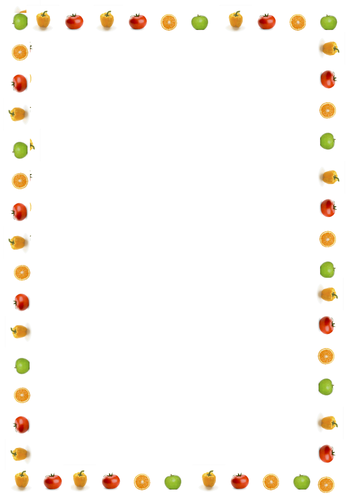 Using fruit and vegetables pupils can create their own fantasy landscapes, or foodscapes if you will. The work can be done in Word all the way up to higher end software like Photoshop. There is a detailed guide on how to create the foodscapes in Word and PowerPoint. This sequence of lesson plans has links to external websites where you can use many online tools for free to supplement the lessons. This pack also contains all you need to complete the whole sequence of lessons too.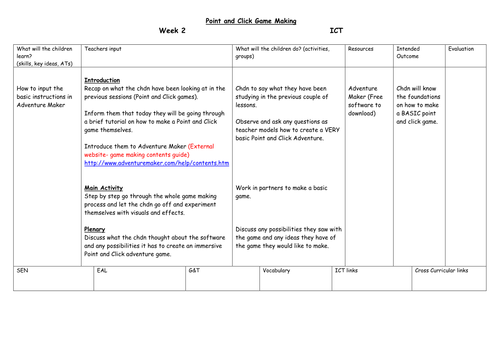 Back in the 80's and early to mid-90's Point and Click Games were very popular. They fell out of favour when the more powerful gaming systems emerged but have since risen from the flames due to the popularity of tablets and mobile phone devices. Now instead of having your pupils as consumers how about making them the producers by getting them to make their own Point and Click computer game! This sequence of lesson plans gives you guidance on how to make your own computer games and can be used cross-curricular to promote writing. There are many links to useful websites and resources which you may find useful to supplement your sequence of lessons.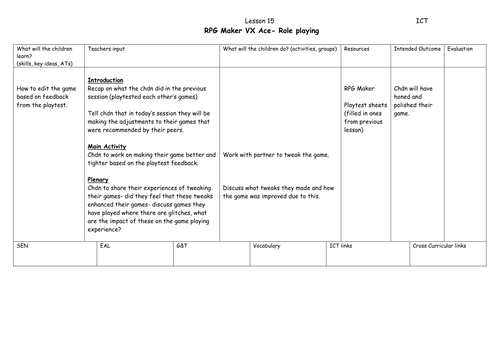 We all know that children like computer games but instead of just being passive consumers how about making them producers? This sequence of lesson plans has a portfolio for the pupils to complete and has links to the RPG Maker Guide which will allow your children to make higher level games and practice their coding using the Ruby language. I have also included some ideas for cross-curricular links which can turn this into a creative curriculum topic. There are links to many videos and guides which can help supplement your lesson plans.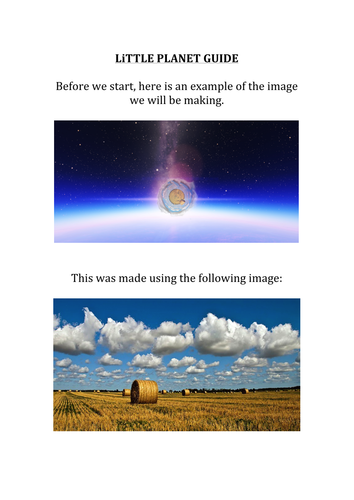 I don't know about you but in my more megalomanic dreams I've ruled the world. Now I know this isn't possible, mores the pity, but I have figured out a way to create my own world by using Photoshop and GIMP, the image and photo manipulation and editing software. Photoshop is quite pricy but is the worlds leading software in the field, however GIMP is free and does an amazing job too. Within a few minutes you could create an amazing planetoid, similar to the ones seen below or like the ones in Mario Galaxy.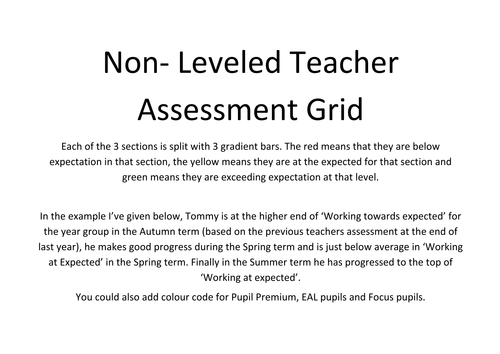 With the reforms to the National Curriculum, the system of 'levels' used to report children's attainment and progress was removed in September 2014 and was not replaced. The hope was that by removing levels teachers would be given greater flexibility in the way that they planned and assess pupils' learning. What has resulted is an unmitigated mess with different schools trying to find a way to assess pupils using teacher assessments but still showing progression. I have created a simple grid which can be utilised to assess pupil progression fluidly over the year. This can be tweaked to allow schools to request teachers date evidence of progression.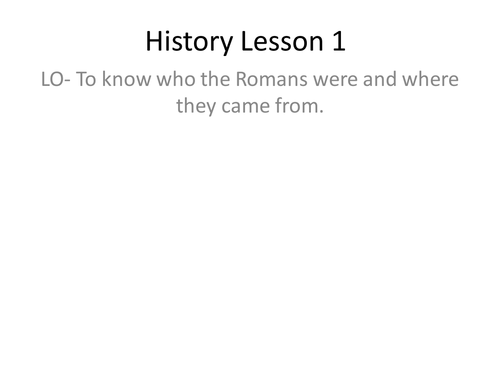 A terms worth of work on the topic of Romans, Roman Britain and Boudicca. The work covers: - Who the Romans were and where they came from - Researching the different areas of Roman life including fashion, food, entertainment, army etc - Comparing the life of rich and poor Romans - Slavery - Roman Entertainment including gladiators and chariot racing - The Roman Army and the Marian Reforms - Celtic Britain and life before the Romans came - Boudicca and the rebellion - Roman legacy in Britain including creating a Roman building model Over the course of these 12 lessons the pupils get a great understanding of the Romans.