16Uploads
1k+Views
88Downloads Fry's Instant Sight Word Fluency Drill (1 - 25) powerpoint automatically flashes sight words across the screen at one second intervals. This is designed to build instant recognition of these critical words. It is suitable for Special Education, Dyslexic, ESL, Early Literacy, Remedial reading groups, and Self-contained populations. Left to right and top to bottom progression are also developed through this module. The lesson can be for individual or classroom instruction. -Read 180 Cooperative Learning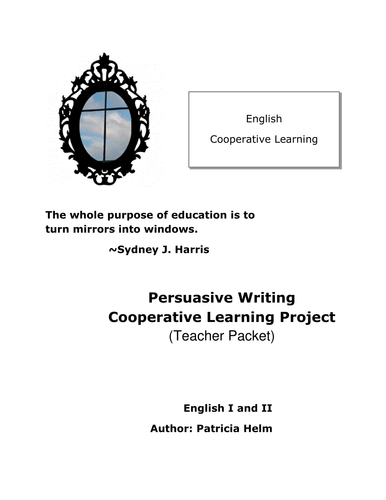 Using Commercials to Teach Persuasive Writing is a TE and a powerpoint. Students in a cooperative setting will evaluate the Persuasive Techniques that are used in commercials to sell their products. Examples of Plain folks, Emotional, Moral, Fear, Spokesperson, Humor, Transfer, Logic and Inspirational appeals are included and can be accessed from the powerpoint through hot links. If you host a teacher web page, you could put this powerpoint on it to give students access to the url's in their groups. Otherwise students would need to type the url's into the search engine. This teacher packet provides worksheets for group leader, writer, computer operator, and materials person for each group. There are also instructions on how to proceed if the powerpoint does not work as expected. - Cooperative Learning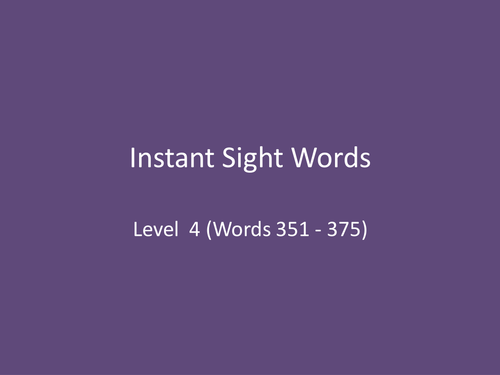 Fry's Instant Sight Word Fluency Drill (301 - 400) powerpoint automatically flashes sight words across the screen at one second intervals. This is designed to build instant recognition of these critical words. It is suitable for Special Education, Dyslexic, ESL, Early Literacy, Remedial reading groups, and Self-contained populations. Left to right and top to bottom progression are also developed through this module. The lesson can be for individual or classroom instruction. -Cooperative Learning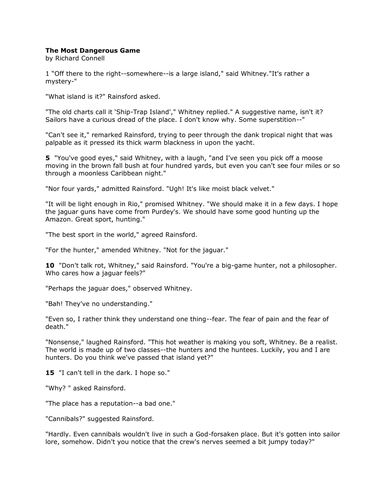 "Most Dangerous Game" by Richard Connell is a unit that divides this short story into four study guide sections to allow for in-depth literary analysis of this outstanding literature selection. This was an anchor piece for our study of English I because it has irony, suspense, strong characters and superb characterization, relevant setting, vivid imagery, fast moving plot, distinct climax and a strong and relevant theme. The assessment is four short answer questions and suggestions for key ideas that should be included in the answers.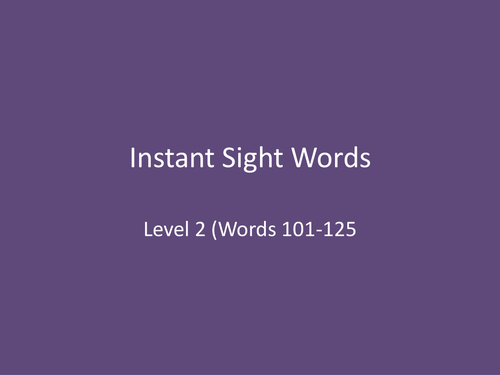 Fry's Instant Sight Word Fluency Drill (101 - 200) powerpoint automatically flashes sight words across the screen at one second intervals. This is designed to build instant recognition of these critical words. It is suitable for Special Education, Dyslexic, ESL, Early Literacy, Remedial reading groups, and Self-contained populations. Left to right and top to bottom progression are also developed through this module. The lesson can be for individual or classroom instruction. -Cooperative Learning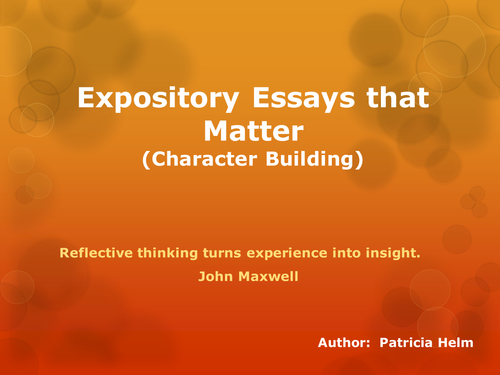 Character Building:Expository Essays that Matter powerpoint is a unit of STAAR-ready expository writing prompts over Eight Traits of Strong Character: Honesty, Respect, Patriotism, Kindness, Courage, Responsibility, Empathy, and Self respect. Each topic has a well developed STAAR prompt and suggestions for other prompts within the same subject . These can be used for essays, journal entries, or quick writes. "Reflective thinking turns experience into insight". (John Maxwell) Sometimes we don't know how we feel about a topic until we write about it. Here are about 40 ways to consider these important values. - Cooperative Learning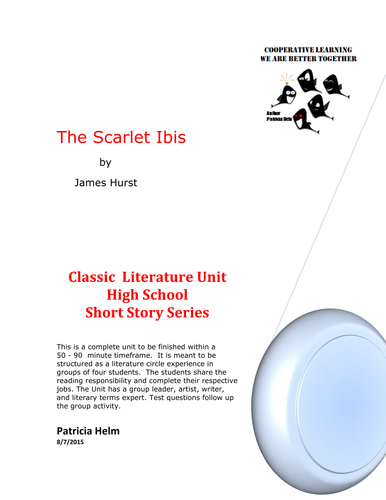 The Scarlet Ibis Literacy Circle Unit includes all instructions and worksheets necessary to organize students to work together in groups and analyze this classic story. There are four jobs per group : Leader, Artist, Writer, and Vocabulary expert with the appropriate worksheets. There is two Unit tests. One is for regular students ( four multiple choice answer choices) and the other for Special Ed students (three answer choices.)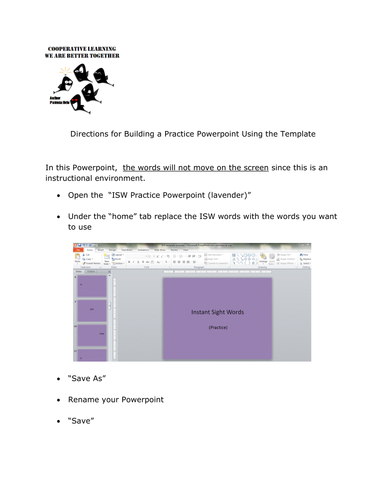 Teacher Resource to Build Fluency Drill for Specialized Vocabulary has instructions and templates to enable the teacher to build a fluency drill for Academic Vocabulary from a specialized teaching unit quickly and efficiently . This can be easily tailored for speed of presentation and content. There is an instructional template as well as an assessment template.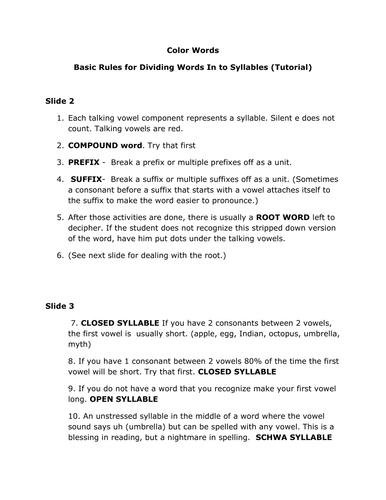 Color Words Syllable Division is a systematic approach to syllable division that has proven to be successful with dyslexic and learning disabled students who are struggling with reading the longer words. Color draws attention to the vowels, prefixes , and suffixes that are necessary to decipher the longer words. This is a chunking system which de-mystifies the reading process.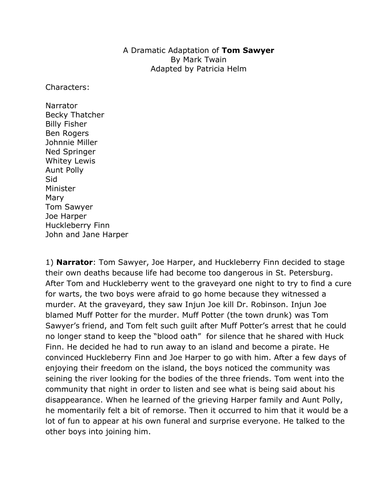 A Dramatic Adaptation of Tom Sawyer by Mark Twain is an original play that is designed for an ELA classroom. Students read the roles of characters as they gather to eulogize three "dead" boys who watch the proceedings from the balcony of the church until they decide to make a grand entrance at the end of the play. There are 15 characters. Some have lines while others do not. This is a fun way to teach the basic elements of drama to a secondary classroom.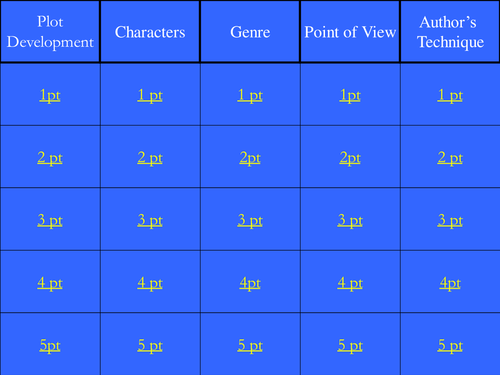 Jeopardy Review of Literary Vocabulary for ELA is a review of critical vocabulary in game format. Divide the class into two teams and get an honest scorekeeper and you and the class can have fun together. I had one person on each team who was a team leader who listened to all team responses and ideas and was the "final answer" for the team. That worked well and encouraged participation while it cut down on arguing and students insisting that they said the right answer.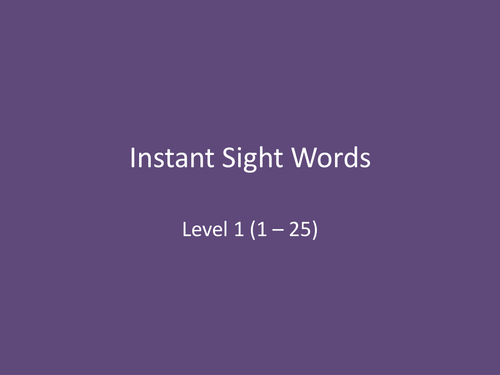 Fry's Instant Sight Words Timed Fluency Drill (Level 1) is an automated display of the first 100 words at 1 second intervals to develop sight word fluency, top to bottom and left to right directionality. This is the first of 5 levels of word drills. This series would be useful for dyslexic and special education students, as well as beginning readers.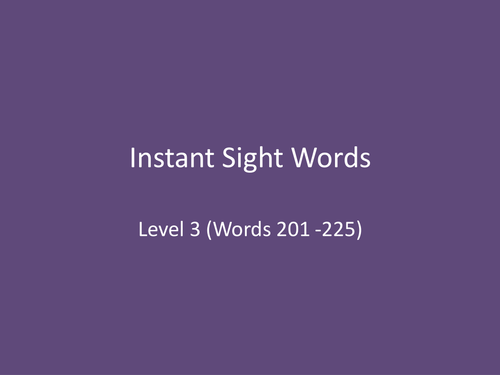 Fry's Instant Sight Word Fluency Drill (201 - 300) powerpoint automatically flashes sight words across the screen at one second intervals. This is designed to build instant recognition of these critical words. It is suitable for Special Education, Dyslexic, ESL, Early Literacy, Remedial reading groups, and Self-contained populations. Left to right and top to bottom progression are also developed through this module. The lesson can be for individual or classroom instruction. -Cooperative Learning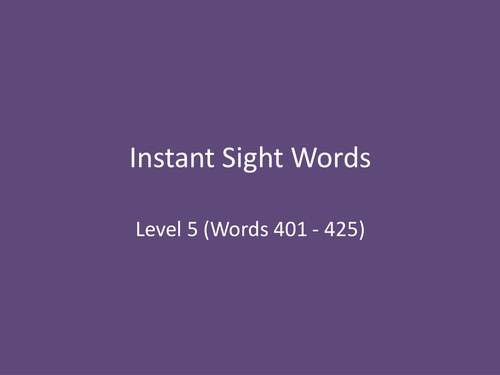 Fry's Instant Sight Word Fluency Drill (401 - 500) powerpoint automatically flashes sight words across the screen at one second intervals. This is designed to build instant recognition of these critical words. It is suitable for Special Education, Dyslexic, ESL, Early Literacy, Remedial reading groups, and Self-contained populations. Left to right and top to bottom progression are also developed through this module. The lesson can be for individual or classroom instruction. -Cooperative Learning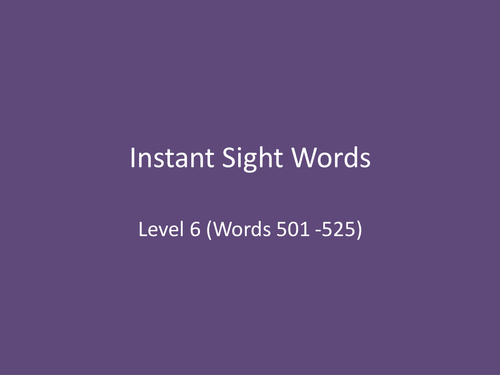 Fry's Instant Sight Word Fluency Drill (501 - 600) powerpoint automatically flashes sight words across the screen at one second intervals. This is designed to build instant recognition of these critical words. It is suitable for Special Education, Dyslexic, ESL, Early Literacy, Remedial reading groups, and Self-contained populations. Left to right and top to bottom progression are also developed through this module. The lesson can be for individual or classroom instruction. -Cooperative Learning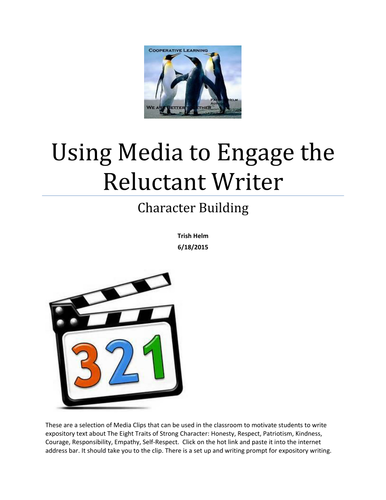 Character Building -Using Media to Engage the Reluctant Writer Project includes eight expository writing prompts over Eight Traits of Strong Character: Honesty, Respect, Patriotism, Kindness, Courage, Responsibility, Empathy, and Self respect. Each topic has a video clip that addresses the topic and a writing prompt to consider. These can be used for essays, journal entries, or quick writes. "Reflective thinking turns experience into insight". (John Maxwell) Sometimes we don't know how we feel about a topic until we write about it. This unit provides an opportunity for students to see familiar characters on screen wrestling with these thought provoking issues. - Cooperative Learning