TES Teach Spotlight: Marcy Prager
TES Teach and TES author Marcy Prager has been a public school primary teacher for over 38 years in the Boston area.
We interviewed her because of the fantastic and engaging TES Teach lessons that she's created on TES. Learn how she uses TES Teach to teach the Constitution to fifth graders, below.
Please introduce yourself.
I've been a public school primary teacher for over 38 years and am currently teaching students in Boston from grades 5-7. My passion is teaching social studies, and I love helping Boston scholars develop the language arts skills they need for college and career success.
How do you use TES Teach?
I use TES Teach to organize my teaching materials and ensure that I have enough content that engages a diverse group of students. TES Teach allows me to answer:
- Do I have enough visuals for ELL students and all students?
- Is there enough scaffolding?
- Will my students be motivated to learn each lesson?
- Do I have enough of a variety of materials to meet the needs of every student in my room?
I like how students can use TES Teach to do homework, prepare for a test, and create final presentations.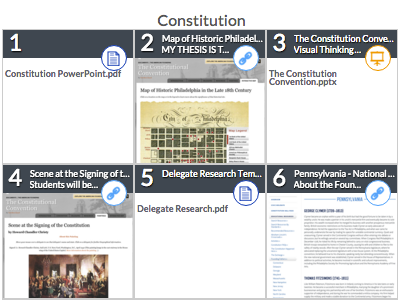 What's your favorite TES Teach lesson that you created? Why?
The U.S. Constitution lesson is my favorite so far! I've included my own hand-made materials as well as videos from YouTube, age-appropriate U.S. Constitution sites and books and worksheets about the Bill of Rights I found online. I've tried to sequence the tiles so that my entire unit is all in one place. This lesson includes the best of what I know after having had so much experience and professional development as a teacher.
What advice would you give a new teacher?
Find materials that will "hook" each student and help them understand new vocabulary and hard concepts. Learning about amendments can be taxing, so it is up to teachers to find new ways help students learn hard lessons. Technology can help since students love it. It is when they're most quiet and focused.