5 New Global Education Resources for Teachers
By the AFS-USA in honor of International Education Week
This fall, International Education leader AFS-USA is doing more to bring the world into US classrooms with an assortment of new global learning resources for middle and high school students. Designed with the needs of both students and teachers in mind, these resources foster 21st century skills while also fulfilling Common Core requirements and, in some cases, complementing traditional Science, Technology, Engineering, and Math (STEM) curricula.
"Ideally, global competency development is a dynamic process
— one that begins in US classrooms and becomes
solidified through immersive experiences abroad."
Increasingly, students at all levels are supplementing their traditional education with study abroad experiences in order to gain the global competencies needed to thrive in today's world and workplace. As a provider of more than 140 study abroad programs, AFS-USA understands the inherent value of these experiences; yet, the organization believes that global learning has its place in traditional education as well. Ideally, global competency development is a dynamic process – one that begins in US classrooms and becomes solidified through immersive experiences abroad.
Understanding this need, the US Department of State and US Department of Education are currently sponsoring International Education Week (IEW) from November 16-20. This annual event aims to promote activities in communities and classrooms across the nation that prepare Americans for a global environment.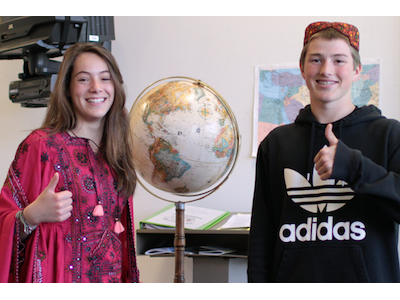 Students at an AFS-USA partner school
participate in a cultural lesson about Pakistan.
So, in honor of IEW 2015, check out these five global learning resources from AFS-USA and its partners:
1. Upfront Magazine – Intercultural Learning Edition
AFS-USA and Scholastic teamed up to create a special Intercultural Learning edition of the popular New York Times Upfront classroom magazine. The issue focuses on fostering global competency and an understanding of intercultural experiences through free lesson plans (including one with a STEM focus) that align with Common Core standards. A free digital version, along with additional articles, lesson plans, and other resources for global educators, can be viewed at www.scholastic.com/globalcitizenship.
2. Project: Change
In October, AFS-USA launched its second annual Project: Change essay contest for 8th – 12th grade students. The unique contest asks students to think of an issue they would like to solve in the world and develop a volunteer project idea to address it. Students then submit their idea in the form of a 200 to 500-word essay or a one-minute video for a chance to travel abroad with AFS on a full scholarship and put their idea into action. The contest's microsite, which provides statistics and information on key countries and issue areas, serves as a global learning resource in itself, providing each contest entrant with a unique educational experience. Learn more and enter by December 1, 2015 at www.projectchange.me.
3. IEW Lesson Plan
AFS-USA recently released a special lesson plan for International Education Week 2015 entitled, "Fostering Cultural Diplomacy in the Classroom." Teachers can use it to introduce students to the concept of cultural (or citizen) diplomacy, and to help them understand its importance as a means of fostering mutual understanding, empathy, and respect for all cultures. Download the lesson plan.
4. AFS-USA Grants for Educators
AFS-USA provides US educators with grants to enable a wide variety of activities that foster intercultural learning, including but not limited to: professional development in line with intercultural learning objectives; participation in Global Education conferences; hosting events to raise awareness about intercultural learning opportunities; and other activities for and with students. Grants of up to $1,200 are available, and applicants are encourage to incorporate IEW into their planning. Grantees may also collaborate with AFS-USA Volunteers and Staff. Learn more and apply.
5. IIE/AIFS Enrichment Grants
As a commitment partner of IIE's Generation Study Abroad initiative, AFS-USA also encourages US educators to apply for a $1,000 academic grant through the IIE AIFS Foundation Generation Study Abroad Enrichment Grants program. The goal of the program is to help raise global awareness in the classroom and prepare students for global citizenship by providing teachers with funding to conduct learning activities that enhance students' international outlook. Learn more and apply by December 1, 2015.
For more general information about global education priorities, resources, and opportunities abroad, visit the AFS-USA Educator's Portal.
This article was originally written in celebration of International Education Week as a guide for educators and published on AFS-USA's blog.