Bullying Prevention Month
---
Teach your kids how to prevent bullying whether it happens at recess or online. With these resources, your students will learn strategies to help them feel safe in any environment.

We'd like to give a special thanks to everyone who uploaded resources specifically for this collection. We're also excited to include Blendspace lessons and wikis (below) in a TES collection for the first time.
Assist helping children understand what bullying is, and discover that there are solutions to stop bullying behavior through using the best literacy comprehension skills.
Take A Break Spot, Cool Down Corner, Zen Zone, Calm Camp. Every classroom can benefit from a space that a student can go to for a brief time to use strategies to manage and control their emotions.
Two games that cover how to deal with bullies in the classroom and on the internet. Stop the Bully is a game encourages conversation about scenarios which involve bullying, encouraging children to puzzle out what to do in groups and learn from others.
Here is a presentation about bullying. It is aimed at raising students awareness about the issue and get them ideas on how to fight it.
Help your students understand what bullying is and isn't, how to spot it, how to stop it, and who they can go to for help. This 45+ page packet contains: graphic organizers, scenarios, Bully free pledge and more!
Use these writing prompts to help initiate class discussion on "being bullied". Have students complete in rough on scrap paper, then transfer to sheets to hang around the room as a reminder.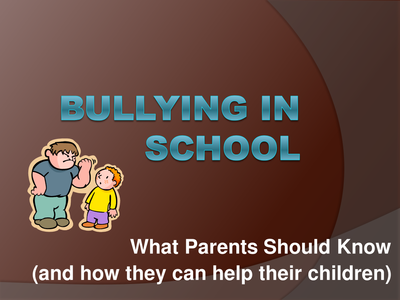 Bullying in School PowerPoint - What Parents Should Know. Defines bullying and cyber-bullying, how to recognize bullies and victims of bullying, and what to do to help.
This unit provides a proactive approach that helps students connect with and identify their roles in bullying incidents as the one bullied, the one bullying, joiners, or friends of the victim who either speak up or say nothing.
Resource with lesson plans to help students understand what is meant by collective responsibility.
This book centers on the topic of name calling and fitting in at a small town middle school. Four students labeled by their peers on a repeated basis take a stand and run for Student Council on a platform of No Name Calling. The characters are all people who kids can relate to, this book is an excellent launch point for the topic of in-school bullying.
More bullying prevention resources
Blendspace by TES
Teach your students about the four different kinds of bullying: physical, social, emotional, and cyberbullying and how to prevent and overcome them with these resources.
Scott's Blendspace lesson provides a reflective assignment about bullying, prevention strategies for kids, and a TSwift song to top it off.
Help your students at any age understand and prevent bullying everywhere.
Ms. Caprarola's Blendspace lesson showcases multiple short films about bullying in elementary, middle, and high school, shocking statistics, and useful bullying prevention skills.
Wikispaces by TES
Teach your students to become an "upstander" rather than a "bystander" to cyberbullying with these resources.
Digital ID's wiki is about the broader concept of digital citizenship and has a lot of great resources about cyberbullying.
Work with your students to prevent cyberbullying with these resources and links.
Educational origami's wiki is about 21st century teaching and learning and has a dedicated page for cyberbullying.
Collection Archive