It's game time. Let's play!
---
Game-based learning is a great way to get students excited about and invested in new topics. Use these resources to bring some of that playfulness into your classroom this week!
This pack is full of Autumn/Fall themed math games suitable for Kindergarten children and upwards. These games will support and encourage early number recognition, counting and addition.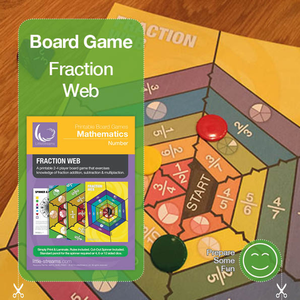 Fraction Web is a printable board game that aims to strengthen the knowledge of Fraction addition, subtraction and multiplication.
Mitosis and the cell cycle can be difficult to teach and learn. The Cell Cycle card game can increase interest in the subject and help students see how the phases fit together, what disrupts the cycle and what prevents mutations.
Games, Games, and More Games for Students of all ages. 20 student favorite and teacher approved activities. Add some of these new and exciting activities to any stellar curriculum and let's fight childhood obesity one game at a time!
Pizza! Nearly everyone LOVES pizza! Students will race to match their custom order request and create their pizza while avoiding the "Burnt Pizza" and "Pay Up" cards! Yup, all that while practicing Fry's first 100 words.
A BINGO career game for science, technology, engineering, math (STEM) careers! Includes career descriptions and fun facts about each career. American and UK versions available.
Previously downloaded over 27,000 times, this worksheet is an excellent introduction to Scratch. Scratch is a fantastic free program developed by MIT to teach programming concepts to young children. The worksheet is very visual, providing a clear set of instruction on how to create a basic 'shark chasing fish' game with movement, control and scoring. Royalty free images are supplied for use with the worksheet.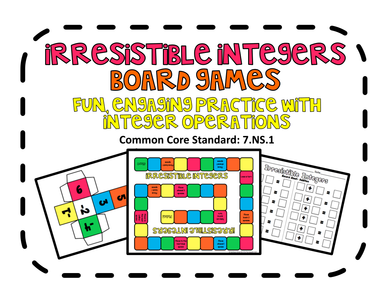 This fun and engaging integer game includes 3 different Irresistible Integers game boards, 2 different integer dice, 3 different operations dice, 6 color dice and 8 different recording sheets.
These activities are prefect for engaging your entire class in a quick game of "I have…Who has…?" The game promotes listening and speaking skills. My students love doing a timed edition where I compete between classes for the class that can get to 100% without errors in the shortest amount of time.
A detailed comic-style A3 poster/placemat I made to help pupils with approaching unseen poetry. Probably most useful for KS4, but would be helpful for older and younger learners as well.
Other Collections