In the 21 years that I have worked at Lockerbie Primary School, we have developed our international curriculum to help change the perception of what most people think of when they hear Lockerbie – the air tragedy in 1988 – and instead showcase our town to the world in a more positive light and help broaden pupils' horizons, too.
We've done this in numerous ways, from the European Union's Erasmus+ programme, which provides funding to schools for international activities, to working on a number of British Council eTwinning projects, most notably Hands of the World, which brings children of the world together through music and Makaton.
But the international connection that has sparked the most joy over the years has been our link with the Al Shurooq School for Blind Children in Palestine.
International partnerships
The partnership began in 2005 after a series of emails between me and Al Shurooq's founder, Helen Shehadeh. Our local minister, who met her on a visit to Bethlehem, introduced me to her.
By the end of the year, as pupils, parents and members of the wider school community looked on, I was using my mobile phone and a microphone to talk to Helen during our Christmas assembly. Two of our P7 pupils, aged 11, then spoke with two pupils from Al Shurooq about their respective schools and how they celebrate the festive season, before wishing each other a "happy and peaceful Christmas". It was one of the most moving moments in my whole career.
Promoting peace
Around five years ago we moved on to focused, whole-school joint curricular projects after Ruba Aburdeinah was appointed as the new director at Al Shurooq.
These mini-projects have primarily centred on the United Nations' International Day of Peace in September. Every year each of my 12 primary classes, plus our nursery classes and Learning Centre for children aged 2-18 with complex and continuing needs, exchanges work on the theme of peace with a different partner school from around the world. Last year, we exchanged items with schools in 15 different countries, with our Learning Centre pupils making "peace postcards" to send to Al Shurooq.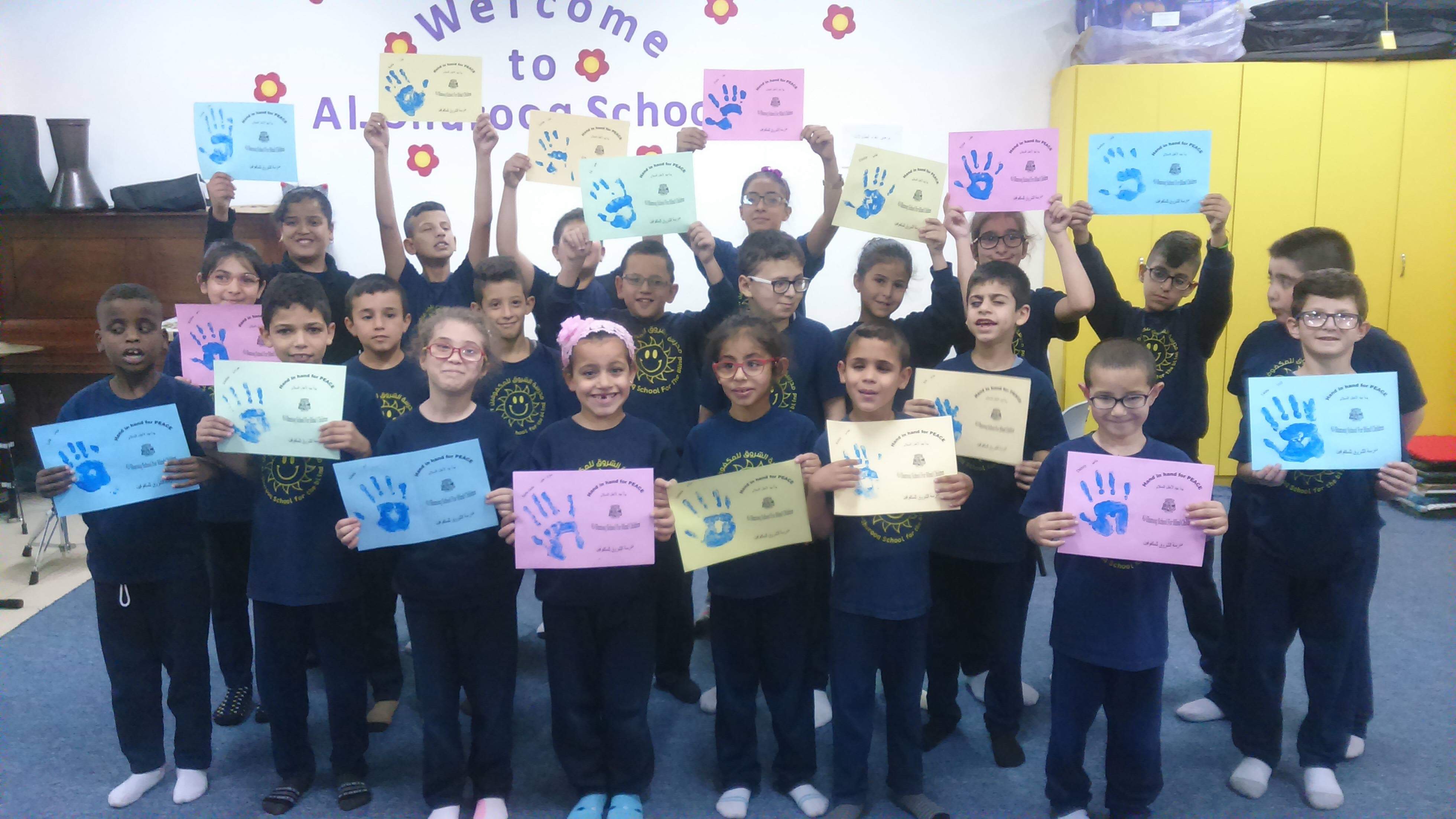 Schools' cultural exchanges
Music has proved to be a unifying force, too, with students using the World Voice Songbook to learn about each other's cultures through traditional songs in each other's language.
We have also enhanced pupils' understanding of life in Palestine through the Culture in a Box project. This eTwinning initiative asks pupils to choose 10 items they think best represent their culture and explain why. These items then go into a shoebox, which is exchanged with boxes from schools in other countries.
Refugee Week is also an important focus for us, once again prompted by our connection with Al Shurooq. This year we took part in Refugee Week's Ration Challenge, which asked people to eat and drink the same as a Syrian refugee living in a camp in Jordan for a week. Our class teachers also led themed activities throughout the week and we invited parents and the wider community to attend a Time for Reflection assembly.
Connecting Classrooms through Global Learning
In 2017, we took the partnership one stage further with the help of the Connecting Classrooms through Global Learning programme, funded by the British Council and Department for International Development (DfID), to support partnerships between UK schools and their partners from the Middle East and North Africa.
We used the funding to travel to Amman in Jordan and worked with Ruba Aburdeinah, Al Shurooq director, to develop shared curricular projects based around core skills: digital literacy, critical thinking and problem-solving, creativity and imagination, student leadership, collaboration and communication, and citizenship.
The focus on student leadership, in particular, had a major impact. This year, for example, as part of our work alongside Al Shurooq on the UN's Sustainable Development Goals, students have been proactive in leading activities. For example, one group met with their local MSP and councillor to discuss their concerns over climate change and why this needed urgent action.
International outlook      
These efforts to become an internationally focused school have been noticed far beyond Lockerbie: we currently hold our third full International School Award, a British Council-led initiative that rewards schools committed to encouraging international awareness among pupils, and we were a finalist in this year's Scottish Education Awards.
Ultimately, though, it's opening pupils' eyes to their own life chances that's a privilege. Through work such as partnerships with Al Shurooq, I have seen them grow and develop in confidence and self-esteem and I am proud of their ability to be positive ambassadors for both the school and Lockerbie.
Karen Carter is the headteacher of Lockerbie Primary School, in Dumfries and Galloway, Scotland
Find out more about Erasmus+ funding for UK schools. Sign up to eTwinning to find an Erasmus+ partner school. For support with getting started in global learning, and information on training and funding for partnership activities and visits, please check out Connecting Classrooms through Global Learning.