When did you last stop to look at a tree? Really look at it, not merely notice it. Trees play such an important role in our lives and yet day to day we often don't really notice them; we take them for granted.
Yet if you are looking to enhance your grounds, reduce pollution around your school, improve your children's health and wellbeing and develop your science curriculum, then planting trees is definitely the way forward.
Why should schools be planting trees?
The first and most obvious benefit of starting a tree-planting scheme is the environmental impact.
Children are passionate, and often highly knowledgeable, about climate change and the main causes of it. They are also engaged by projects that can make a difference to their community's carbon footprint. Planting trees is an easy, and long-lasting, way to involve pupils and to have a positive impact on the climate.
Trees combat climate change by removing carbon dioxide from the atmosphere; they improve air quality by absorbing a range of gases and filtering particulates from the air; they prevent soil erosion, especially around river banks; they reduce the risk of flooding; and they produce oxygen.
And it's not just people who benefit: trees provide habitats for hundreds of species of insects, birds and small mammals. A tree-planting scheme offers teachers the opportunity to discuss biodiversity and gives pupils the chance to engage with a tangible example. It's a real-life science experiment and will provide you with amazing habitats to study in science lessons for years to come.
Trees boost pupils' wellbeing
As well as the obvious environmental benefits, planting trees can also have a positive impact on children's mental health. One in four people in the UK will experience mental health issues at some point in their lives and one in 10 children aged 5-16 have a diagnosable mental health condition, according to The Children's Society.
Mental health is a complex issue with many causal factors and no simple solutions. However, according to the Mental Health Foundation, the opportunity to play and learn in outdoor environments has been quoted in research studies as a significant positive influence.
Being active will also improve children's general health and wellbeing, as well as boosting engagement more generally by providing an enjoyable context for learning. Parents and the community, too, will enjoy the improved aesthetics of the school grounds.
A global problem
Yet, even with all these obvious advantages, there's an issue around trees – or the lack of them. A recent study at Yale University in the US, published in Nature, estimates that there are about 3 trillion trees worldwide. About 15 billion of these are cut down every year and in the past 12,000 years humans have destroyed 46 per cent of the Earth's forests.
In the UK, Forestry Commission figures show that only 13 per cent of land is now covered with trees – far behind the 35 per cent average across the rest of the European Union. Much of the deforestation that has occurred in the UK has been to make way for the increasing urbanisation of the countryside, new houses, roads and amenities. Timber production in the UK now mostly relies on sustainable forests but has contributed significantly to the reduction of forests and woods across the country.
According to Beccy Speight, chief executive of the Woodland Trust: "Threats to woodland, wildlife and the wider environment are growing, and this has an impact on all our lives. We need to act fast and effectively against these threats and realise the opportunities we have to make the UK a better place."
Between 2010 and 2015, 11 million trees were planted in England as part of various government schemes. The Conservative Party manifestoes of 2015 and 2017 pledged to plant another 11 million trees, 1 million of them in towns and cities, between 2015 and 2020. That target is a long way from being met and there is criticism that it was never high enough in the first place. It has also been suggested that the UK could be "on the cusp of deforestation – cutting down more trees than it plants".
Trees for Schools project
However, there are ways in which schools can get involved and help. The Woodland Trust has been sending tree packs to schools for over 10 years to benefit pupils, schools and the environment. Then in 2016 the Department for Environment, Food and Rural Affairs (Defra) joined forces with the Woodland Trust, and set out a national commitment to plant 1 million trees with schools by 2020. Since then, 325,655 trees have been planted by 233,060 children in 2,446 primary schools across England.
The target is to plant another 400,000 trees by 2020, targeting the 7,000 primary schools that have never planted a Woodland Trust tree pack, or haven't planted one since 2011. The trust is working with schools and communities across the UK to create a "UK rich in native woods and trees, for people and wildlife". As well as significant tree-planting projects, it wants to "rekindle people's love for woods and trees and show them the benefits that trees can bring to our lives and communities".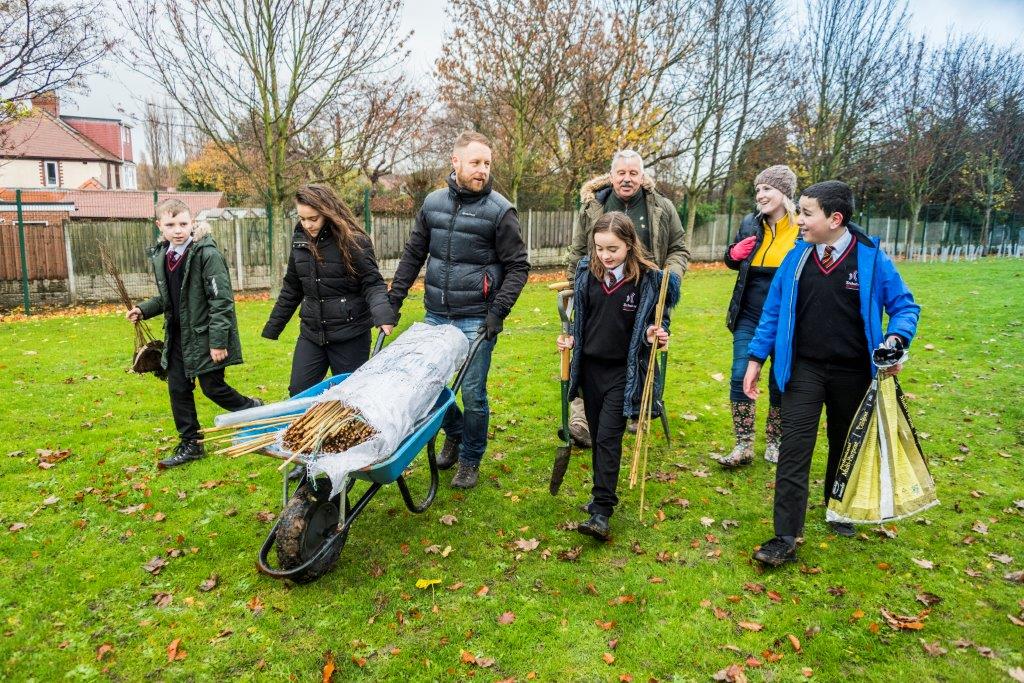 How can your school get involved in tree planting?
One way to get involved is to visit the Woodland Trust website, choose a free tree pack that most suits the area you want to plant and sign up. There is a Planting Planner so you can visualise what your trees will look like – this is a great starting place with children before you choose your tree pack.
You need to legally own the land you're planting on, or obtain permission from the landowner. You need the six-digit grid reference for the land you wish to plant, which you can get from the grid reference finder on the website.
Once you've signed up, the saplings are delivered to your school, in either March or November, and there are instructions online, in the Tree Tools for Schools section, as to how and when to plant them and how to maintain them as they grow. There are a variety of tree packs from six to eight metres of double-row hedging to enough saplings to cover a football pitch-sized area.
Being an inner-city school is no barrier to getting involved as the Woodland Trust has a sapling pack specifically designed for urban schools with very little space, and provides ongoing maintenance advice. Another charity, Trees for Cities, also has advice on planting trees in urban areas and details of ways to get involved in different planting projects in your school, including creating "edible playgrounds" to encourage pupils to cultivate plants and find out more about where their food comes from.
Learning inside and out
And the learning doesn't stop outside: using your own tree planting as a jumping-off point, you can share information about trees and forestry to extend pupils' learning inside the classroom. The Woodland Trust has created curriculum-linked resources on its Tree Tools for Schools page for schools to use to increase children's knowledge of native British trees and the multiple benefits they provide.
Alternatively, for more inspiration on outdoor learning, Education Scotland has produced a report giving practical advice, ideas and support for teachers and practitioners.
With climate change in the news and at the top of the political agenda, now is the perfect time to discuss these issues with your pupils – and getting them to plant trees could be the perfect way for them to become part of the solution.
Paul Tyler is a teacher and science coordinator, at Mearns Primary School in East Renfrewshire. He is a Primary Science Teaching Trust fellow and active member of the Association for Science Education. Paul produces a monthly Topical Science Update for schools and tweets at @Glazgow