The course that helps teenage mums plan for the future
A course that supports under-18s through pregnancy not only provides young girls with information about what to expect from birth and parenthood, but also helps them prepare for a future beyond the nappies – including a return to education, as Jacqueline Knight and Jo Potter explain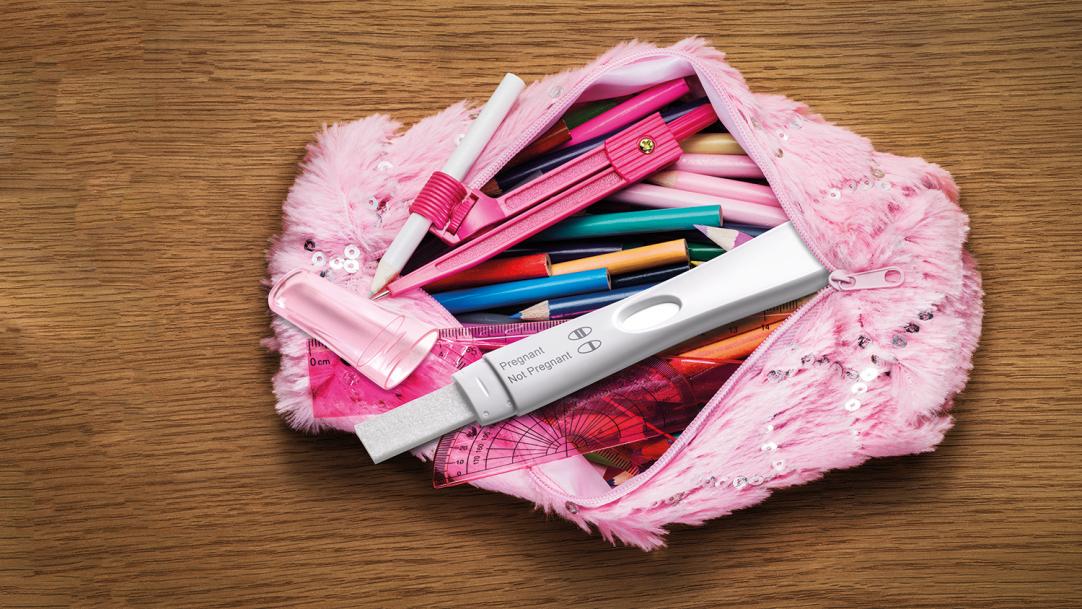 Shannon is five months pregnant. She is 16, she left school before taking her GCSEs and she lives with her boyfriend Jimmy and his parents, with the young couple sleeping on a pull-out sofa each night. She says that she has no plans for the future.
In Peterborough, where Shannon lives, this is not uncommon. In 2016, around 30 girls for every 1,000 aged 15-17 became pregnant in the area. This figure has since fallen, but the area still has one of the highest teenage pregnancy rates in the country.
Support for these girls is crucial. Often, they are not pregnant because they intended to start a family early – some don't have contraception or sexual health awareness, while others have experienced sexual assault or other factors are involved.
Many of these girls don't know what to expect from pregnancy, birth or motherhood, either: they don't have a support network to ensure they are equipped with that knowledge and they are not attending education provision where support may be available. It is these girls whom we aim to help. As part of a charity initiative, we offer girls who are pregnant and not attending education provision the chance to take part in an innovative programme called Bumps to Babes.
The scheme was set up in 2010, when the local authority introduced the Peterborough Teenage Pregnancy Team. As part of this team, Nacro – a social justice charity with education hubs across the country offering vocational courses and study programmes for young people from the age of 14 – was given funding by the local authority to develop a programme that supported girls through their pregnancy, improved their maths and English, and raised their educational aspirations.
Together we (Jo Potter, a midwife specialising in teenage pregnancy, and Jacqueline Knight, a young person's tutor and safeguarding officer) run the course. In her role, Jo looks after all under-18s who are planning to deliver at Peterborough City Hospital. Other midwives also inform her about girls aged between 18 and 20 who are pregnant – they may not fit into the under-18s bracket but they, too, need support. If the girls agree, Jo passes on their information to Jacqui. Jacqui then sends out invitations to be part of the programme once the girls are 20 weeks pregnant.
Capable mothers
What does the programme involve? Well, it was clear that preparing girls to be capable mothers was key, as was ensuring that they had all the medical knowledge they needed to stay informed about their pregnancy.
But equally, we wanted to ensure that the girls saw a future for themselves beyond the birth of their baby, whether in further education or employment.
So we developed a course to run three times a year, with each cohort meeting for three classes a week for 12 weeks. Half of this time is spent working with mums-to-be on a huge range of practical skills, advice and training for when it comes to caring for their child – from budgeting and breastfeeding to child development, family relationships and the responsibilities of a parent. The course content has also naturally evolved to respond to emerging societal issues that affect the girls, such as knife crime, child exploitation and "county lines" drug gangs.
As part of this half of the course, sexual health and contraception is a big focus, and attendees also get support in accessing housing and finance services, as well as targeted youth specialist services. This ensures that they have a bank of people to contact for further advice and help.
The other half of the course provides the girls with the opportunity to re-engage in education. This can take time as many have been out of standard education for years.
We work to encourage the girls to think about the progression to vocational courses that they could take up once the baby is born. This includes courses such as level 1 and 2 qualifications in retail skills, employability skills or children's play, learning and development. We run modules on career planning, how to access Care to Learn (a scheme that helps with childcare costs while parents are in education) and college applications.
The girls are given support to improve their maths and English skills, too, which can then lead to some taking a level 2 qualification in either subject.
Both arms of the course have been hugely successful. The extra support ensures these girls are informed and supported, and since the course started, the percentage of teenage girls who go on to have a second pregnancy in Peterborough has fallen from 20 per cent to just 1 per cent. On the education side, many of the girls say that they want to become social workers or midwives, so the childcare qualifications we offer are a popular choice. We've also had a handful of girls go on to university and one is now a solicitor.
Obviously there are challenges. The biggest is getting the girls to engage and take part. Fortunately, because of our overlapping skills and networks, we are in an ideal position to meet and talk with girls who would benefit from the services we offer and start to build that relationship. We take the time to get to know each of the girls individually and gradually build up their trust in us.
Usually, once a young person does sign up for the course, we develop relationships that continue long after the course has ended. For example, one of the girls we worked with now runs our drop-in clinic, where girls can come and see us after they've had their baby for support or if they have questions.
Another key challenge is that these pregnancies are often hugely complicated. Sometimes we have to deal with upsetting or troubling situations, relating either to the circumstances of how a girl became pregnant or if a mother has to have their baby removed by social services for some reason. This is always a difficult time, but we work with them and children's social care to address all the concerns they have. Furthermore, if a child is removed, we do not leave the mum unsupported. We continue to work with them and encourage them, once the time is right, to come back into Nacro and look to the future with one of our study programme skills or work-based courses.
The 'F' word
A final issue for the programme is funding. We have government funding for education delivery, but that doesn't cover the cost of everything else that makes the wider course work. It is reliant on a lot of goodwill and partnership work and support from other local agencies. We have also both done many car boot sales to raise funds, and Jo even did a sponsored cycle to Paris.
Sadly, without more alternative funding, we're unable to grow the course as we would like, such as developing an entirely separate course for the young boys to work with them and help address the concerns they, understandably, have about becoming fathers. Because of this funding shortfall, the more immediate future for Bumps to Babes is to focus on remaining able to support pregnant teenagers in Peterborough.
To this end, we regularly bring in student midwives and educators to gain experience and we take it seriously when former students reach out to say they would like to be involved in the delivery of the course. This is all designed to ensure the course continues long into the future.
It would be great if similar initiatives were introduced in other areas of the country – Peterborough is not the only place with high teenage pregnancy rates, after all. If this was to happen, then the importance of a dual approach between a midwife and a tutor cannot be overstated. For further education colleges and schools, adopting elements of this approach could also be of huge benefit.
Supporting girls through their pregnancy and teaching them to be capable parents is vital, but equally so is opening the door to education to help them have the opportunity for a better, more secure future – not just for them but for their children, too.
Ultimately, engaged parents who understand the value of education will pass that on to their children. That is what we are all about: breaking the cycle.
Jacqueline Knight is a tutor and safeguarding officer at Nacro and Jo Potter is a specialist midwife for teenagers
This article originally appeared in the 20 March 2020 issue under the headline "Delivering a brighter future for teen mums"