"There's no time like the present", the famous saying goes. During such unprecedented times, our sense of control on our daily lives may be slowly slipping away and with the current climate, it is very easy to become inactive and lose control of your normal routines.
Although it may sound counter-intuitive, developing a routine can help us to feel more in control, to cope with change, reduce stress and form healthy habits.
Right now, staying active and healthy couldn't be more important for all of our students and staff across the country. Being active can come in many different forms. Do not think you have to run 10 miles. Even a short walk around your neighbourhood is a great way to stay active.
---
Coronavirus: How can colleges support their students?
Remote learning: How we prepared staff for online teaching
The key worker list: What should colleges do?
---
So today, I would like to outline five reasons why being physically active has to be a priority during this pandemic…
1. It replenishes you and increases your energy levels
Feeling tired or running low on energy? The best way to beat this is to get up and be active. Exercise increases your metabolic rate, which causes you to feel more energised. However, this burst of energy not only occurs during exercise, but also after you exercise. So, 30 minutes of activity in the morning will help you to feel energised throughout the working day.
2. It helps burn more calories at rest
Being physically active over time helps to increase your muscle mass and subsequently decreases your body fat. Muscle burns far more calories at rest then fat does. So being more muscular will increase your resting metabolic rate. This means your body will benefit more from those all-important hours working from home.
3. It supports your mental health
Being stuck indoors with family members may be some people's worst nightmare. Therefore, going outside for that walk might just be the best thing for you. Exercise helps you to withstand stress. When exercising, the blood flow increases the amount of oxygen carried to the brain, increasing your level of alertness. Being more alert and aware of your surroundings can help you deal with stress effectively. Also, let's not forget the "feel-good hormones" that are released when we exercise – the same ones as when we eat chocolate.
4. It decreases the risk of illness
Did you know exercise builds up and improves circulation of our white blood cells? We need white blood cells to fight off harmful bacteria and germs that cause us to get sick. The regular exercise that improves our circulation can also aid in reducing our recovery time after falling ill.
5. It increases our level of focus
Lacking focus/concentration on your work? During this time, it's very important we stay focused on our work to avoid losing routine and falling behind. Daily exercise teamed with eating healthy will help improve blood flow to the brain, increasing our ability to concentrate.
With all of the above, you may question why everyone isn't exercising on a daily basis? The answer to that may be the current barriers we are facing because of gym closures and restricted time outside. But there is nothing stopping you from turning your garden/living room/bedroom into a home "gym". For starters, try the three simple exercises below.
Three simple circuit activities to do from home
Chair tricep dips
• Find a chair/sofa/end of your bed
• Place the object behind you
• Place both hands behind you onto the object with straight arms
• Walk your feet forward to an angle of 90 degrees
• Keep your feet still, push your bottom down and bend your arms into an angle of 90 degrees
• Push arms back up to starting position.
To increase difficultly move your feet further away
Wall sit
• Stand against a wall 
• Place your feet hip-width apart, keep your back straight and arms parallel out in front of you
• Bring your body down into a floating seated position
• Hold position for 30 seconds then stand back up into your starting position
To increase intensity, hold the seated position for longer

Tabletop press-ups
• Find a sturdy table/bed/chest of draws
• Take four steps back
• Place your hands with straight arms on the edge of the object
• Lower your body towards the object and bend your elbows, pushing them backwards
• Push up and through your arms to return to your starting position  
To make it more difficult, move feet further away from the object
You can also use some basic household objects in place of weights to perform weighted exercises. See the diagram below for some examples: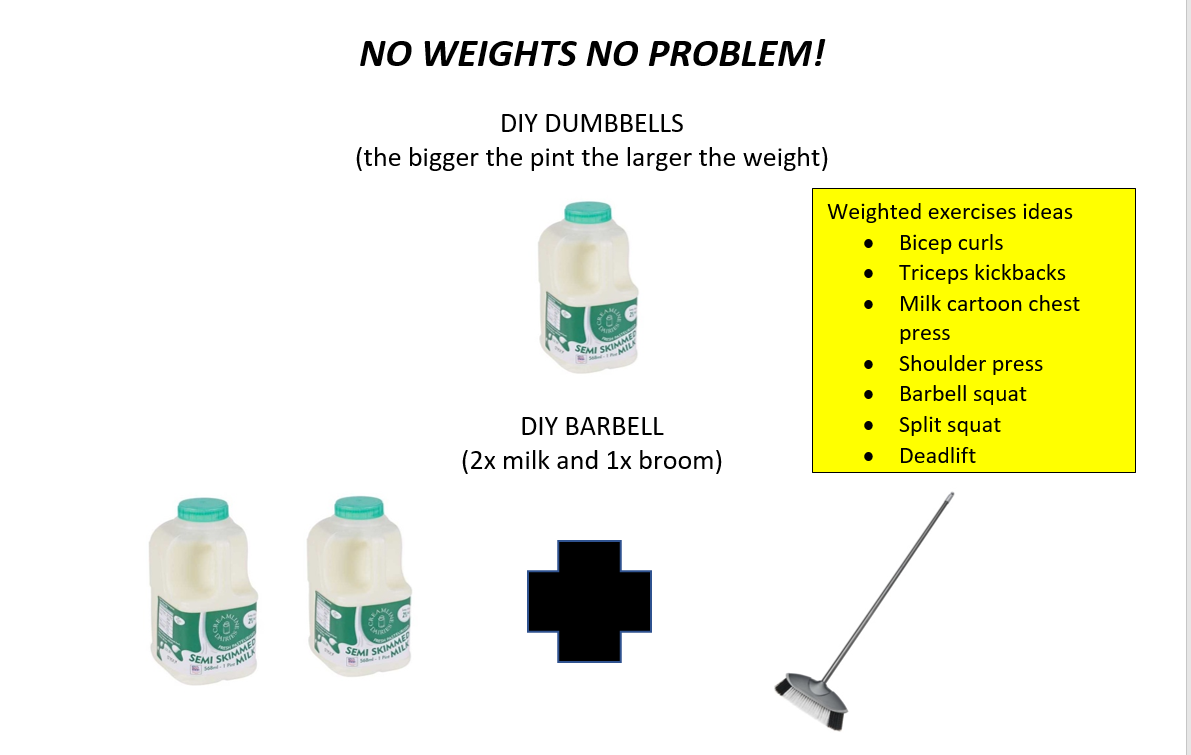 Eating healthy while at home
Eating a healthy diet all year round is recommended, but particularly in these times, we need to look after our bodies and fuel them correctly. Keeping on top of hydration is key. However, to help boost our immune systems, the following foods are recommended:
Citrus fruits (oranges, lemons, limes)

Red bell peppers

Broccoli

Garlic

Ginger

Spinach
Following these simple steps can help keep you and your family safe and healthy throughout this period. For those of you who have already established a daily routine, keep up the good work. Just remember: "There is no time like the present."
Anne-Marie Smith is physical activity and wellbeing co-ordinator at Leyton Sixth Form College.