The percentage of teachers in the UK who allow their students to use ICT for projects or classwork is among the lowest in the developed world, according to an international study published by the Organisation for Economic Cooperation and Development today.
Online learning is therefore not as natural for teachers and students in the UK as it is in other countries at a time when schools are closing due to the coronavirus pandemic, says OECD director of education Andreas Schleicher.
The Teaching and Learning International Survey (Talis) report examines responses from 260,000 teachers in 48 countries.
---
Read: England's teachers 'most stressed' in developed world
The research finds that despite the UK schools having among the highest level of ICT resources in the developed world, just 40 per cent of teachers say they "always" or "frequently" allow students to use ICT – putting the UK in the bottom quarter of the countries listed.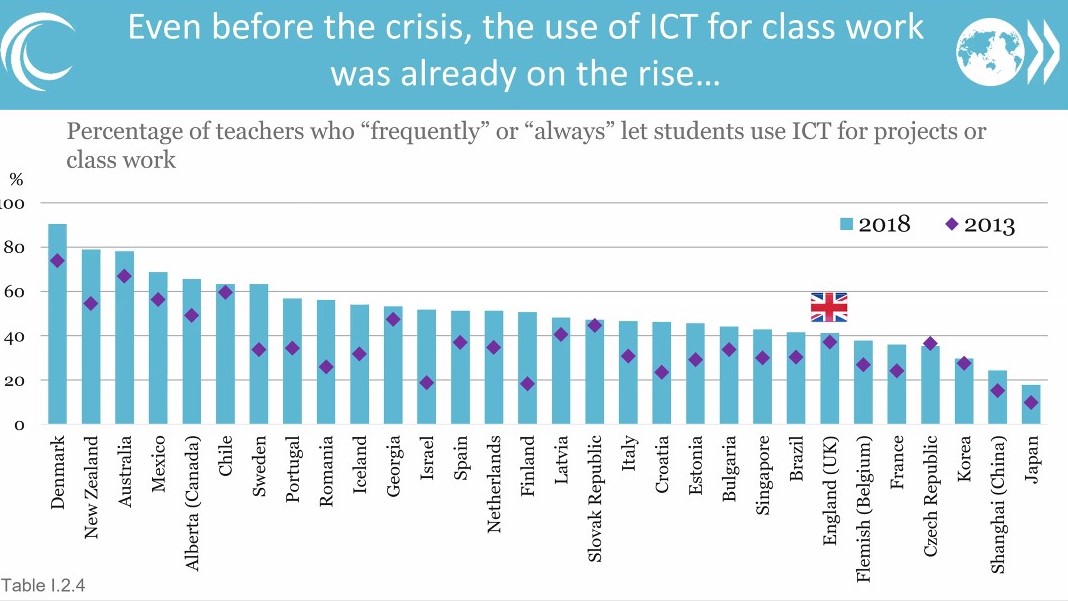 Mr Schleicher said: "The UK is pretty much at the lower end. The technology seems to be there but its integration and frequent use by teachers is not as prevalent as it is in other countries, and that provides us some indication as to what extent online learning has become natural to students and teachers, and that's obviously what this crisis really really needs."
Edtech 'vital for coronavirus response'
The report also shows that UK teachers are among the most stressed in the developed world.
And it reveals that just 60 per cent of teachers in the UK "agree" or "strongly agree" that they have autonomy over the content of the courses they teach (compared with an OECD average of 85 per cent) – putting the UK third-from-bottom in the developed world (above Malta and Portugal).
Mr Schleicher added: "If you go to Sweden, Iceland, Norway, Korea or the Netherlands, almost all teachers have pretty much control over what they teach.
"England here is at the lower end of the spectrum…and again if you think about this moment of crisis you've got to rely on teachers very much to shape the learning environments and the design. It's them, basically, that are linking with their students.
"And of the countries that have faced this crisis first, if you look at China, they have done quite well in establishing and using that social fabric and connecting teachers with their students and empowering teachers more to give [lessons], but again it requires a pretty high degree of control."
Writing for Tes today, Mr Schleicher also says: "I meet many people who say we cannot give teachers and education leaders greater autonomy, because they lack the capacity and expertise to deliver on it. But those asked only to reheat precooked hamburgers are unlikely to become master chefs."