Three-quarters of teachers say their pupils have fallen behind on their learning because of the pandemic, a Tes survey shows.
And nearly a third say that, on average, their pupils are at least six months behind where they would normally expect them to be, the findings reveal.
In a Tes survey of more than 6,400 teachers in England, a majority (57 per cent) reported an average learning loss of at least three months.
---
Tes survey: Huge shortages in DfE pupil laptops revealed
Exclusive: Tests reveal 'dramatic' GCSE learning loss
Boris Johnson: Schools to get further £300m for catch-up tutoring
---
One primary teacher said they believed that all children "would benefit from resitting this academic year".
Coronavirus: The impact on pupils' learning
"I would prefer that all children and young people stay in the education system for an extra year...as opposed to the damage that will be caused by trying to get them to catch up on missed work over the past academic years," they said.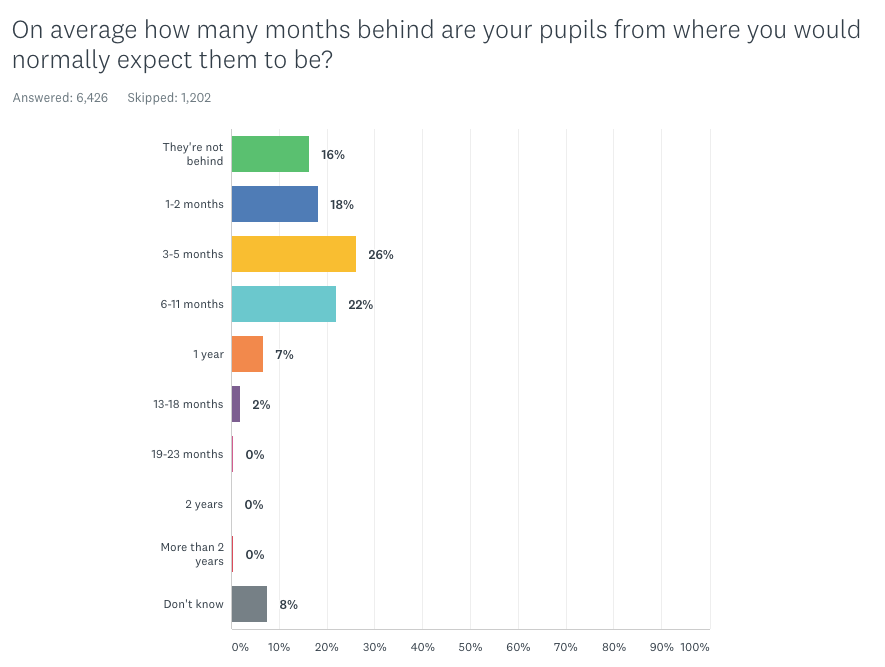 A secondary school teacher said they were "hugely concerned" about next year's key stage 4 and 5 students as a result of the learning lost.
"They will not have had the same literacy/numeracy input as in previous years and therefore may find it difficult to access GCSE and A-level content (and the rigours of the exams)," they said. 
"This is already apparent in this year's Year 10 group."
Another primary teacher added: "Children entered the current academic year with huge gaps in their previous year's learning. Autumn term was then very disrupted with lots of absence due to Covid-19.
"Now there is inevitably a loss of education as children aren't in school, and some children are engaging more than others; some not at all."
Geoff Barton, general secretary of the Association of School and College Leaders, said: "This finding gives us a stark insight into the scale of learning loss that has happened as a result of the pandemic and the disruption to schools.
"It is an incredibly challenging situation, and we pay tribute to everything that teachers are doing to provide some semblance of educational continuity in the current circumstances.
"It is going to be crucial that the arrangements for assessing GCSEs, A levels and other qualifications take account of this degree of learning loss and particularly the fact that the impact will vary so widely.
"There is also clearly going to need to be a huge focus on helping children to catch up and we look forward to seeing the details of the government's plans on this front. The ray of hope is that schools know their pupils well and are very good at identifying learning gaps and supporting pupils, but obviously this is going to take time."
The Department for Education has been approached for comment.