A London primary is understood to have closed after an Ofsted inspector tested positive for Covid-19 following a visit to the school.
According to the school's website, St Mary's CE Primary School in Islington closed on Friday 16 October and was set to reopen on Friday 23 October.
The news comes on the same day headteachers have called for Ofsted to move this term's school visits online, warning there is a public health question over inspectors moving from school to school as Covid cases increase.
---
Exclusive: Heads call on Ofsted to move visits online
Covid: Ofsted inspectors fear unwittingly spreading virus
Visits: Inspectors fear new visits will not work
---
A spokesperson for Islington Council said: "St Mary's C of E Primary School was closed for a week following a positive Covid case. No pupils were required to self-isolate.
"The council works closely with all its schools, the Department for Education and specialists from Public Health England, who provide expert advice and support.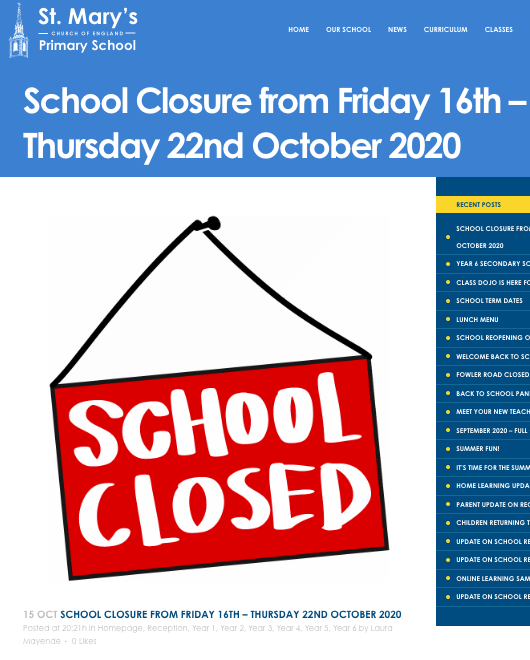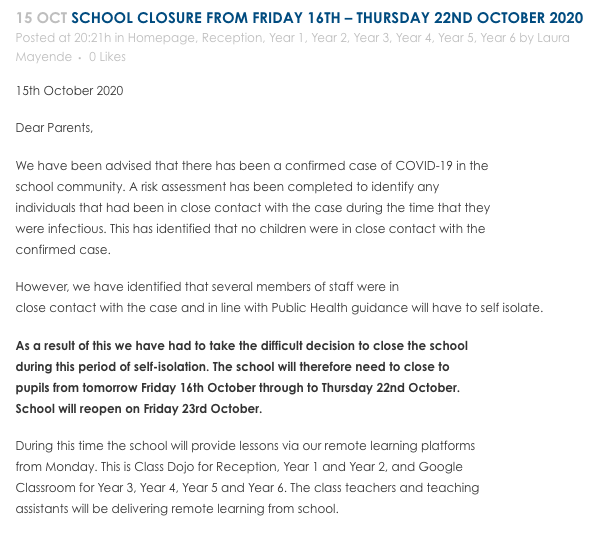 "Together we ensure appropriate measures are taken if a positive Covid case is reported and we continually monitor these situations closely."
A spokesperson for Ofsted said: "At every stage of a school visit, inspectors follow Public Health guidelines, taking all appropriate precautionary measures.
"Should an inspector receive a positive test result, we would immediately alert those that attended meetings with the inspector."
Tes revealed earlier this year that there were concerns among Ofsted's own inspectors that its new visits could expose them to risk of catching Covid-19 or that HMI could spread the virus between schools.
Inspectors have raised fears that they could become a "Typhoid Mary" by unwittingly spreading the virus from school to school.
Senior inspectors had also asked chief inspector Amanda Spielman why the visits could not be conducted remotely given that inspectors were not going into lessons.
Ofsted is planning to visit more than 1,000 schools this term as part of its autumn visits, checking how pupils are being supported to return to education following the coronavirus lockdown.
Schools are visited for one day and Ofsted publishes a letter detailing its findings, but schools do not receive an inspection grade.
Tes revealed earlier this month that the first set of letters resulting from these visits highlighted how pupils had gaps in their knowledge in phonics and maths.