All school staff should be given personal protective equipment (PPE) when more pupils return, according to 76 per cent of those working in schools.
The finding comes from a Tes survey, which more than 17,000 UK school staff responded to this week. 
The poll also reveals that almost the same proportion think that social distancing in schools is "impossible".  
---
---
The results come on the day that teaching unions are to attend a Department for Education meeting to discuss the safest way to end the school shutdown, with plans for how to reopen due to be set out by the prime minister next week. 
Existing DfE guidance says school staff do not need PPE, even if working with children who "may be unable to follow social distancing guidelines".
Coronavirus: School staff want PPE
But the Tes survey shows that just 8 per cent of school staff agree that they do not need the equipment, with another 14 per cent saying that "some" of those working in schools should have it.
Staff from primary, secondary and special schools responded, and the results were largely the same for all of them.
Asked what kind of PPE should be available for school staff, 84 per cent said it should include a face mask covering nose and mouth.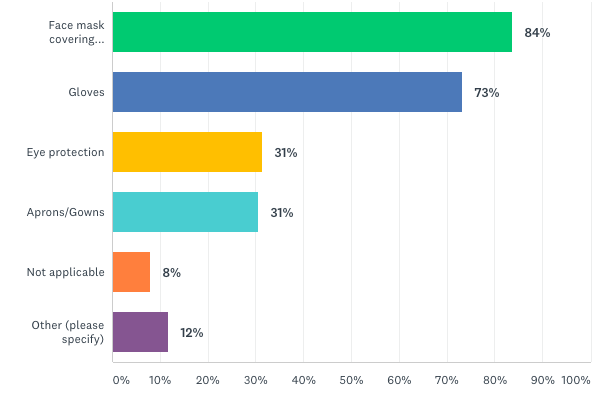 Around a third think eye protection or aprons and gowns are needed.
Mary Bousted, joint-general secretary of the NEU teaching union, said it was conceivable that teachers could wear masks and gloves in the classroom, and that the union would await government guidance on the matter.
But she said: "I do think masks in teaching is a difficult issue because you're talking and you are communicating with pupils but these are new times and we'll have to find new ways of working."
Some of those responding had similar concerns. "I do not think you can teach effectively and wear PPE," said one.
And others thought PPE could "frighten" younger pupils: "Working with small children, it doesn't really seem feasible to wear PPE – it would be impractical and may scare them."
'PPE is necessary to protect children and staff'
But the majority regard its availability as essential. "We cannot read with the children, or support individuals, or give first aid whilst remaining at 2m distance. PPE is necessary to protect children and staff from each others' germs," said one respondent.
Paul Whiteman, general secretary of the NAHT heads' union, said: "We have argued that the government's advice needs to go further on PPE.
"Staff have a right to feel safe when they go to work, and to be safe in reality. If PPE is not required, then the government will need to be clear and honest about why, otherwise teachers will not feel safe without it.
"If PPE is required, then it should be readily available to all settings where the science says it is needed, before staff are expected to work, and before lockdown measures are relaxed."
When contacted by Tes about the survey, the DfE said schools would not reopen until its five tests have been passed, one of which is that it "needs to be confident that testing capacity and PPE are being managed, with supply able to meet not just today's demand, but future demand".
The DfE also says it has published "extensive guidance" that outlines current advice on PPE for teachers and staff in schools. This says it is not needed.