Hundreds of thousands of overseas teachers would move to teach in UK state schools, if the right job came up, new research suggests.
While the recruitment crisis in England continues, with two-thirds of secondaries struggling to employ enough maths teachers, a survey reveals that more than four in five overseas teachers who believe they could be qualified to work in the UK, would be prepared to teach here.
And maths teachers are more likely to say they would consider teaching in the UK, than teachers in other subjects.
The Tes survey of 2,866 teachers working outside the UK, found that 34 per cent were qualified to work in the UK with another 48 per cent saying they could be.
Of that pool of potentially UK qualified teachers, 84 per cent said they would work in the UK if the right job came up - rising to 91 per cent of US teachers - with 83 per cent prepared to work in a UK state school.
Around half the respondents already worked in international schools - and with around 483,000 teachers employed in international schools, according to market research company ISC Research, this suggests there could be hundreds of thousands of English-speaking teachers prepared to move to England.
"Despite the battering it has taken in the last eight years, England still has an attractive, comprehensive education system," John Bangs, a special consultant to the Education International teaching unions federation,said.
"It doesn't surprise me that teachers in the US want to come here because when we say how fractured our system has become it is nothing compared to the US, where it really is a lottery depending on what state you teach in."
In general teachers overseas are more than twice as likely as British teachers to consider teaching in  a different country.
While almost two in five UK teachers would be prepared to move abroad at just a term's notice, according to a Tes survey - 78 per cent of teachers outside the UK would consider moving to another country within a similarly short time.
Mauro Bonaccorsi, a design and technology teacher in Livorno, Italy, is one of them. "Some colleagues in England have told me that not every day is a paradise," he said. "But I would like to have a bit of a change and widen my horizons."
The survey revealed that of those teachers who believed they may be qualified to work in Britain – 88 per cent of maths teachers, 85 per cent of English or science teachers and 84 per cent of humanities teachers would be happy to do so.
Modern foreign languages teachers were less likely to say they wanted to teach in England – although 79 per cent would consider it.
Although work-life balance was the top reason given for wanting to move to another country, this was mentioned by just 25 per cent of non-UK teachers, compared to 71 per cent of UK teachers.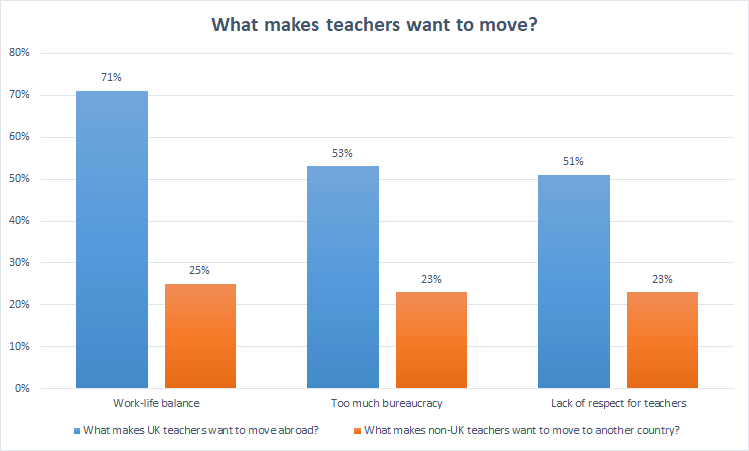 * Source: Tes survey, 2018
Earlier this year the Tes launched the #Letthemteach campaign, calling for an end to non-EU international teachers being turned away from Britain. The campaign has been backed by London mayor Sadiq Khan and more than 5,000 people have signed the parliamentary petition calling for the profession to be added to the shortage occupation list, which gives higher priority for visas.
Robyn Biggs, 30, a maths teacher in Cape Town, South Africa, said that she was planning to target schools in England that can sponsor visas for South African  teachers.
"I would like to teach in England for a number of reasons," she said. "The UK has a centralised system (as we do in South Africa) but it is not as tightly controlled and so I would like to see what the effect of that is on the teaching and learning of mathematics. There are better opportunities for me as a teacher to develop professionally and according to my calculations, my standard of living would improve."
For her, the biggest difficulty with teaching in South Africa is the lack of professional development opportunities – and the rigid nature of the system.
There have also been recent concerns in South Africa about violence towards teachers from pupils. Ms Biggs says her experiences with pupils has been largely positive, although there can be a lack of respect for teachers from parents and other adults.
But when it comes to attracting teachers to the UK, Mr Bangs points out that there may be more to it than the education system.
"There are all sorts of attractions in coming to the UK, particularly in the big cities, particularly for young people," he said. "It is on the leading edge of cultural innovation in music, theatre, visual arts and so it feels exciting to be part of it."