Philosopher of education Gert Biesta uses the term "learnification" to describe the way learning has come to dominate the discourse in education.
Our students are learners, teachers are facilitators of learning and we judge our effectiveness by measuring whatever learning outcomes we think can be easily measured.
Ironically, this leads to a narrowing of the scope of learning to its identification with measurable outcomes, and of the value of education to that which improves those outcomes.
However, with campus closures due to Covid-19, schools have had to grapple with interruptions of traditional face-to-face classes and to respond creatively with greater use of online environments and, in doing so, rethink what learning can be.
This is how we did just that over the past 18 months.
The Flexible Learning approach
International College Hong Kong is an international secondary school of 440 students in north-east Hong Kong. Campus closures began in late January 2020 and we switched to fully online provision at that point.
Initially, we taught online lessons in English, maths and other languages each morning, and to balance this we offered a more flexible, self-paced experience that would motivate students and offer opportunities to be more active within the limits imposed by Covid.
We called this offer Flexible Learning, and it began as a bank of online standalone units lasting from a few minutes to week-long projects, as illustrated by the image below.
The units can be very short, involving listening to a podcast or viewing a piece of art. They can involve committing yourself to a new habit over several weeks or starting a project that will take months, such as the unit that asks students to curate and create their own "Mini Museum project" based on the Cabinets of Curiosities popular from the 1600s onwards.
Open to ideas
Units are designed to surprise, challenge and engage students.
We even included a unit that enables students to design their own unit and the first of these are already included in our offer, such as the "Design a Pokemon Region" unit, which invites students to create a region for Pokemon gaming based on a part of the real world they have explored and researched.
All units can be taught live by a teacher or studied independently with a mentor to offer help and to feed back on the outcome.
The creation of the units has been an aspect of their flexibility, too, based as it is on teacher interest. In the initial drive to develop a bank of resources, we split our workload with some teachers involved in live online teaching and some writing the initial set of units.
Since then we have balanced quieter times where those interested continue to write units when inspired, and periods of greater energy, when we clear meeting times or training days to facilitate writing.
More recently, we have asked students to make requests and suggestions for units they would like to see.
All units are quality checked by a dedicated team before inclusion.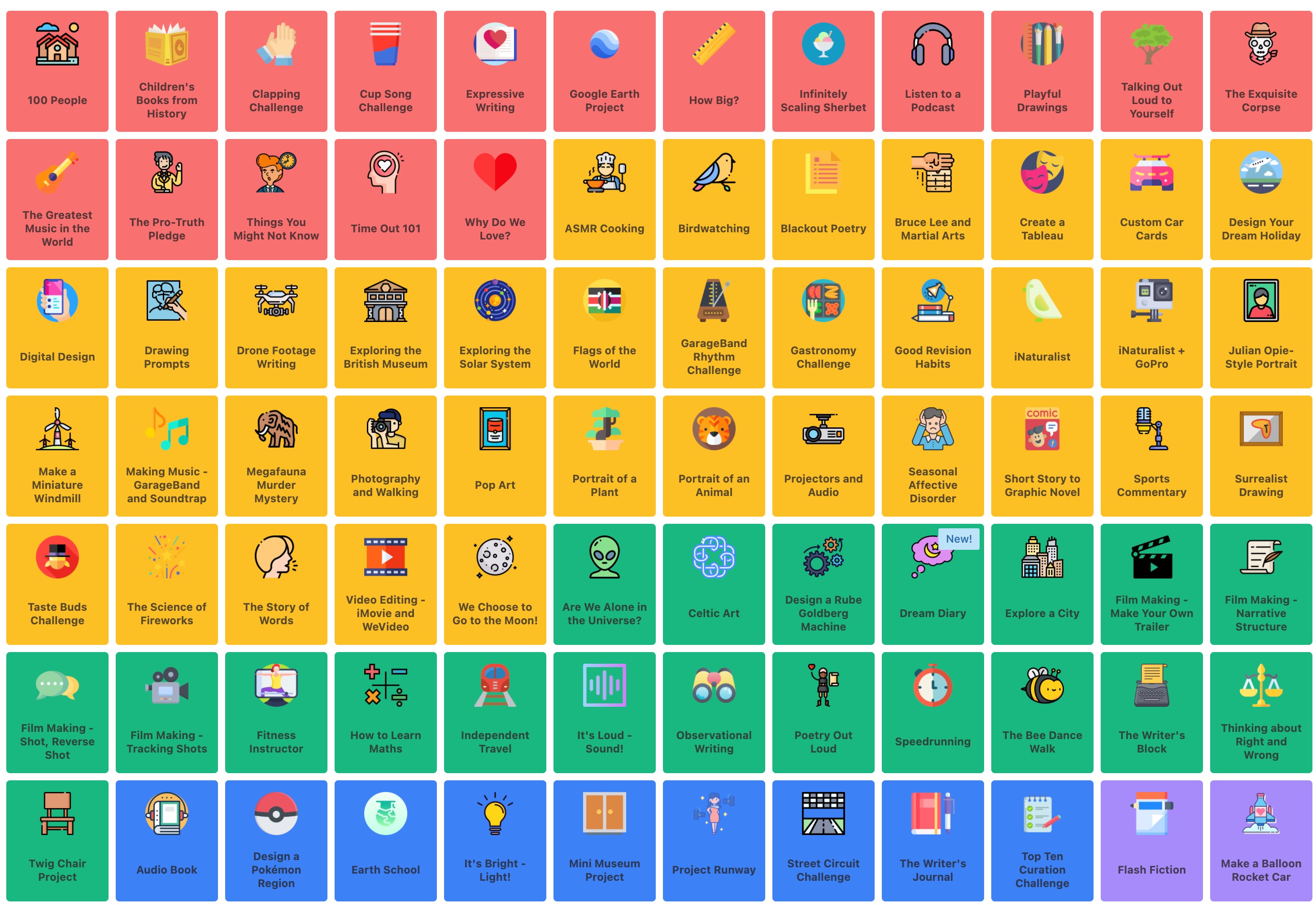 A screenshot of some of the units presented in Flexible Learning. Right-click and select ''open image in a new tab' to see the complete list of options
Positive feedback
Initial reactions to Flexible Learning were very positive. Some students appreciated the freedom to study as they liked with some very active, creative and outdoors-based units, while others preferred the live teaching offerings – where a unit was introduced online then followed up through an afternoon.
Parents reacted positively to seeing their students active and engaged despite the lockdown, with the cooking units particularly popular.
In fact, all proved so popular that, as campuses reopened in mid-2020, we retained Flexible Learning and began exploring alternative ways it can be used within the school.
This means teachers are now using Flexible Learning to help students work on self-management and project management skills – for example, in tutor time.
We have also started timetabled weekly sessions blending free choice amongst Flexible Learning units with a sign-up option to live sessions where teachers lead units.
This session also allows for other projects to be given specific time, such as our Student Council.
We can direct students to the units as a choice activity to enrich their experience when circumstances require a swift response, such as disruption caused by extreme weather.
Expanding what learning can be
Flexible Learning provides an infinite palette for inviting exploration. Indeed, the very name presents an opportunity to think about the challenge of learnification, to explore everything that can be part of the experience of education both in a school as well as outside.
A few examples of different units illustrate this:
The unit "The Greatest Music in the World" gives students a few stimulus pieces and then the chance to think about and explain their choice of their favourite music.
The unit "Are We Alone in the Universe?" introduces Fermi's paradox, which asks why we have not met aliens, before exploring possible answers to the paradox, which students are invited to contribute to.
The unit "Celtic Art" demonstrates how to draw a Celtic motif and gives students free licence to be creative and share their designs.
As our bank of units has increased, teachers and students have drawn inspiration from each other and their own interests, hobbies, reading and lives.
Learning about yourself
One activity Biesta describes in his book The Rediscovery of Teaching is the idea of specifically not learning. He describes a challenge he gave some of his students to "adopt a concept".
Their task was to complete a series of activities with a concept in mind but with no conscious aim to learn anything about it – just to use it as a lens or frame for what they did.
We have added units based on this idea – for example, a unit that asks students to take multiple walks around an area they know with a different prompt each time.
They take photographs with a theme like insects, weather or people, noting how their perceptions change. We are asking ourselves what role the teacher is as a guide to students in forming habits and developing their powers of attention.
Flexible Learning opens the door to different kinds of dialogue between student and teacher in a safe environment.
Teachers are able to focus on who students are, how they wish to be in this world and contribute to it, rather than solely on their learning outcome.
The teacher's role is not to ask them to account for a specific (learning) outcome or piece of work, but to engage with them and offer guidance in the choices they make and the "selves" they are becoming.
Douglas Kidd is director of curriculum X at International College Hong Kong