It's a sad fact that many girls in developing countries miss out on education because they have their period.
According to a Unesco report, in Sub-Saharan Africa, girls can miss as much as 20 per cent of their schooling because they lack access to sanitary products or are too embarrassed to go to school. In Sri Lanka, Bangladesh and Pakistan, over a third of girls report missing school days every month.
Period poverty causes millions of girls and women to miss school and work, raising the risk of them dropping out completely, playing a huge part in continuing gender inequality.
Lack of access to menstrual hygiene products can lead to an increased risk of infections, while in some regions, girls are kept inside and forbidden from touching people or handling food, or even punished for menstruating.
These stark facts prompted three students here at JESS Dubai to begin a project that has become something the school and local community have fully got behind.
"It is unacceptable that over 40 million women and girls are still being stigmatised for having a menstrual cycle," says Sarah Bailey, one of the students behind the initiative.
"Our school project is aimed at empowering females. We want, more than anything, to give them the same opportunity to education as their male counterparts, thus enabling them to escape the potential poverty they face".
International Baccalaureate CAS projects: Raising awareness of period poverty
As part of their International Baccalaureate (IB) Diploma, all students are required to create a project that aligns elements of creativity, activity and service (CAS), while addressing an issue of global importance on a local level.
For Sarah and project collaborators Anushka Mahesh and Aurusha Kharas, that issue was period poverty.
Their project began in October 2019 with the aim of producing 2,500 sustainably made sanitary towels, but has since captured the heart and imagination of the whole school.  
Having set out with this goal of 2,500 towels in mind, the project soon received the support of the wider community and local organisations. The students were interviewed on local radio station Dubai Eye, while Emirates Linencraft (the Emirati airline's laundry service) donated 22kg of fabric from used airline towels.
The students began by sewing washable period pads based on a design they sourced and adapted from the local organisation Rags to Riches. Using this technique, the students were able to turn their fabric into sanitary products and quickly moved to scale up production.
A weekly sewing session for parents to participate in, as well a PSHE day where the entirety of the Year 10 cohort worked together to produce these towels, have not only helped to boost the number of pads made, but have also contributed in raising awareness of the consequences that poor menstrual sanitation has on females in developing countries.
During lockdown, the students developed sewing packs with all materials included, and a social media call to action resulted in a Dubai-wide community of sewing volunteers that began sewing packs at home.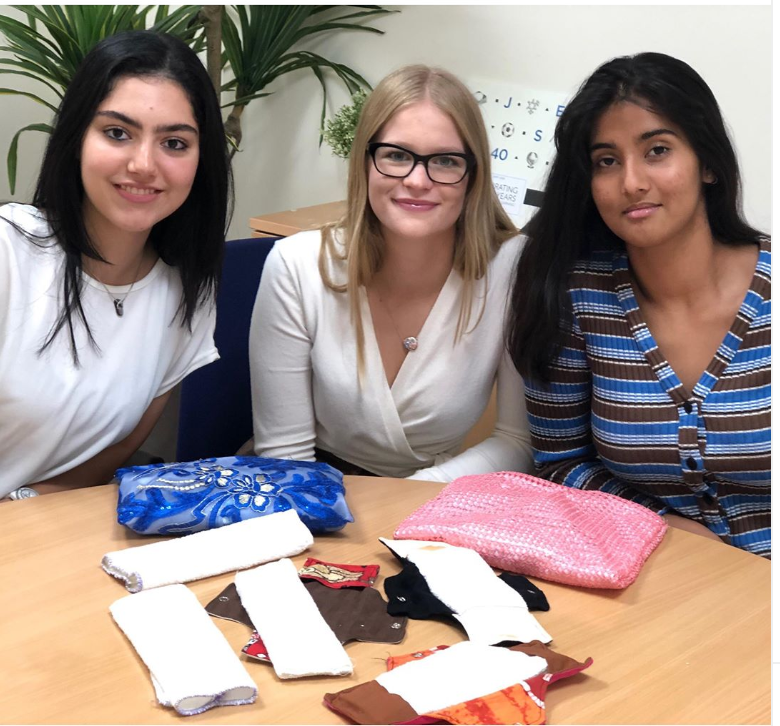 Long-term ambitions
The CAS project has turned out to be just the beginning of what looks to be a very rewarding and long-term project for the school.
With the support of a local community group, The Lions Association, the project now aims to see younger students take the lead, eventually donating sewing machines to communities that are affected by period poverty and teaching teenage girls how to sew so they are able to make the towels themselves.
The students are also in the process of forming an NGO, while composing a business plan and adapting the design of the towels to meet factory standards, so that 10,000 of these towels can be manufactured, keeping women in rural Pakistan employed whilst supplying the towels to other communities in need.
What began as a small CAS project with aims of making some sustainable towels and raising awareness has quickly turned into something that will produce long-term impact; empowering women through employment, breaking down taboos and, hopefully, eventually mobilising policy change.
How to design a winning CAS project
Creating a successful CAS project doesn't need to be done on a huge scale. "Thinking globally, acting locally" centres on considering how you can help people in your local environment (school, religious and/or social groups and support staff such as caretakers, cleaners, etc).
For example, one project here involved serving the support staff a homemade lunch once every fortnight as a way of saying thanks for all the unsung work they do for us. The simplest projects can often have such a huge, positive impact on others.
Below are some suggestions to help enable students to create an effective project.
1. Project ideas
Think of global issues, such as the plight of animals in areas affected by natural disasters or the displacement of people due to conflict or the outbreak of disease. Brainstorm possible shortages of certain products (masks where there's an outbreak, blankets or supplies for orphaned animals, etc) and develop strategies to produce such items yourselves where possible.

Create sustained awareness campaigns on issues of global importance (eg, homelessness, mental health, etc) and brainstorm ways to help. From art exhibitions and assemblies destigmatising mental health issues to students donating unwanted blankets.

Consider a box appeal – ask the school community to donate unused household items such as shampoos, sponges, toothbrushes, etc; and place them in a box and give them to a group in the school or wider community who may struggle to afford such necessities.

Consider supporting a local food bank. A group could grow their own fruit and vegetables for donating, another could source food donations from the school and wider community.
2. Getting things moving
Liaise with your CAS coordinator and actively seek the support of the wider school staff, who will be in the best position to steer you in the right direction or help you find ways to raise the profile of your project and generate enthusiasm for it.

Reach out to companies for contributions, ask parents to donate any unwanted items, invite your school community to come in and support in the making of products (eg, buildig furniture out of discarded wood for a local/school garden).

Research existing agencies and find out what communities (local or global) could benefit from your idea or vice-versa. Identify what needs they have and work towards fulfilling those.

Rather than raising money for charities, why not try to engage the interest of the school community to help in more meaningful or practical terms, like donating time to an animal shelter.
Don't be afraid of things not working. Ultimately, the most effective projects are those that provide opportunities to reflect.
There is really no such thing as failure in CAS. In fact, major CAS projects that have "failed" or have been "catastrophic" provide the best opportunities to reflect on and reshape the direction and goals of the project.
Julia Richardson is CAS coordinator at JESS Dubai in the United Arab Emirates