The country's most experienced teachers will get a pay rise significantly lower than that trumpeted by the chancellor this morning.
Rishi Sunak had announced a 3.1 per cent pay rise for teachers from September.
In fact, while starting salaries for new teachers are to rise by   5.5 per cent, experienced teachers and school leaders will get just 2.75 per cent, detail now released by the Department for Education shows.
---
Early Boost: New teachers' starting salaries to increase by 5.5%
Dismay: Teacher pay deal a 'kick in the teeth' for long servers
Statistics: Male teachers paid more 'across all grades'
Comment: 'We're the experts – and we should be paid as such'
Analysis: 5 reasons to be cautious about Sunak's teacher pay rise
---
The government says this will still be an above inflation pay rise but one school leaders' union is describing it as a "kick in the teeth". 
The 2.75 per cent for experienced teachers is however slightly higher than the 2.5 per cent the DfE had originally proposed,  a figure that unions said would be "devastating". 
Ministers have also accepted a School Teachers' Review Body recommendation that pay points should be re-introduced to the main and upper pay ranges.
Set out below, they are aimed at supporting "schools to adopt a pay structure which best supports recruitment and retention" but are only advisory.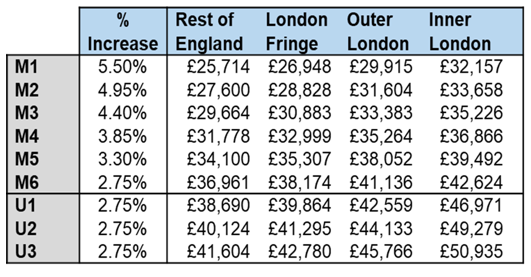 NASUWT general secretary Patrick Roach called on the government to do more to retain experienced teachers in the profession.
"Increases to starting salaries for new teachers will be widely welcomed," he said. "But schools also rely on the contributions of experienced teachers who are playing a vital role in ensuring that children are able to recover their education following recent months of disruption.
"It will be a disappointment that the government's proposals on teachers' pay do not provide experienced teachers with the increased rewards they also deserve, and does not do enough to redress the 18 per cent real-terms decline in levels of teachers' pay over the past decade.
"The NASUWT will be looking to the Government to set out how it will deliver this year's pay award to every teacher or risk losing the trust and confidence of teaching profession."
Education secretary Gavin Williamson said: "We want to make teaching attractive to the most talented candidates by recognising the outstanding contribution teachers make to our society.
"This is why we are introducing the biggest pay rise the profession has seen since 2005, with above-inflation rises to the pay ranges for every single teacher in the country, ahead of introducing a £30,000 starting salary by 2022."