In a matter of weeks, Chichester College Group principal Shelagh Legrave will pack up her office and, after almost two decades, take up a new role: the FE commissioner.
Legrave, who was finance director at the college before becoming principal and saw the institution through significant structural change, is clear on what she wants to achieve in her new role. 
"We've got to remember it's the only role within the [Department for Education] who can really champion further education. And the more I've learned about it, the more I realise the department do talk regularly to the team of practitioners – the FE commissioner and their deputies and advisers – to get advice on what makes sense."
She is less clear on how that influence can extend into the Treasury. "Because I am an accountant, I understand the difficulty the Treasury has with all these competing demands on their purse, and the health of the nation has got to be the priority at the moment, physical and mental. So that makes it more difficult to extend funding into further education. But I do think the FE commissioner can champion.
"The second purpose is to provide strong, active support to colleges, with the objective that everyone becomes 'good' and 'outstanding' quality wise, delivers a wonderful student experience and also ensures that where colleges are in financial difficulties, we find a solution that makes them financially sustainable in the long term."
---
Background: Who is Shelagh Legrave?
From Shelagh Legrave: What I know about leadership
News: Principal Shelagh Legrave appointed
---
What qualifies her for the role, Legrave believes, is her experience. "It was quite a narrow field, because you had to be somebody who was getting to the end of their career, because it doesn't offer a pension. And you had to be somebody who [leads] a 'good' or 'outstanding' college and who had a national reputation. I'd chaired Collab Group for a couple of years, was well known in the sector, we've had two 'outstanding' ratings from Ofsted. I applied, and here I am."
Her own education, she says, was not initially a positive experience. Her father was a chaplain in the army and Legrave was born in Libya before the family settled in Leicestershire. With her identical twin sister and a brother, she was brought up with a strong sense of social responsibility. "[A clergy household] is where it stems from, because you see people from all different sorts of lives."
Legrave attended the local primary school before being sent to boarding school. Neither experience, she says, was great. 
"I'm possibly a bit dyslexic – I don't actually know, it's never been diagnosed – but, interestingly, my son is a bit dyslexic and it often passes down in the family," she says. "I got perfectly good O levels, but I should have moved and gone somewhere else to do my A levels. The choice was very narrow – a problem we've still got now."
The thing that kept her sane, she says, was sport. As a child, she didn't let her asthma get in the way of her taking playing sports, and today, she runs and plays tennis, as well as supporting Leicester City Football Club and the Leicester Tigers from the stands. 
At secondary school, her headteacher showed little faith in her academic potential – "I was told I wouldn't go to university and was determined to prove the headteacher wrong." she says. She did just that, and went on to study a general degree, focusing on history and theology, at Durham University. 
Moving into finance
Following university, she joined the army and served as an army officer in what was then the Women's Royal Army Corps. The role saw her move around and take various posts in the UK and abroad. After six years, she left and found a job as an operations manager for telecommunications in a bank.
"In the 1980s, all money was sent around the world by Telex. It was at the time of the Big Bang, when the dealing from the [London] Stock Exchange moved from face-to-face to online. I employed 20-plus switchboard operators and on Sundays, we had 18,000 calls a day coming through the switchboard."
She moved up within the organisation and qualified as a management accountant. Then, having worked in the City for more than 12 years, she moved to take up a role at the University of Roehampton as its finance director.
Having started a family, she moved out of London to Sussex, and after commuting to the university for a couple of years, she decided to look for a job locally. It was at that point that she came across an advert for the post of finance director at Chichester College.
She later applied for the principal role and, only a few years later, the college was rated as "outstanding" by Ofsted. 
Area-based reviews
The area reviews brought about another big change for Legrave. "We were continuing to get squeezed on funding. And so we decided as a governing body that a merger – achieving economies of scale, but also sharing our quality processes because we knew how to get to 'outstanding' – with another college was a good idea.
"In 2017, we took on the most indebted college in the country, which was Central Sussex College. And then in 2019, Worthing, which is a sixth-form college, decided that it couldn't stand alone," she says. 
"They needed a merger partner and they decided they wanted to merge with us. At the same time, we were asked by the commissioner's office along with the local council to reopen Haywards Heath College."  
What drove her decision making in all of this? "Despite being an accountant, I will take a calculated risk. I've always been keen to see the opportunity, but at the heart of it has always been the student."
In 2020, the college group was once again rated as 'outstanding'.
Legrave and leadership 
Her secondary headteacher's assessment, however, has stuck with her. "Nowadays, I think to myself: how on earth have I ended up where I am? I am definitely not the brightest person. The only reason we're 'outstanding' is because we have a great team. I love teamwork, I love working with people, I love them encouraging people to use their potential. I think with the right leadership and management development, which is what our college is based on, you can take people on that journey."
As a leader, she is aware of her own strengths and weaknesses: "I am very focused on the team. My besetting sin is patience – I am not very patient. The other thing that people would say about me is that sometimes I jump too quickly to conclusions without incorporating everybody's views. But people like working with me. I will probably undersell myself now – there are lots of things people like about me, but those are the areas that I will constantly struggle with. I'm an accountant, of course; it helps that I am based in figures. I always think about the financial aspect of something.
Even in her summer break, running the college has never been far from her mind. "I always read a management book in the summer holidays. This year it was Gareth Southgate's brilliant book Anything is Possible, which is a great message to young people. My leadership is really based on Jim Collins' Good to Great. That was a great blueprint for me. It's not about heroic leadership, it's not about me as a leader, it's about us as a team."
The challenges facing FE
The challenges the colleges sector faces, she says, are obvious, and institutions' cash difficulties are often historic. On top of that, many colleges have been hit hard by the coronavirus pandemic, she says: "Covid hit particularly colleges that deliver to adults, because no adult wanted to go in and do a course during lockdown, and any online course is nothing like as well funded. And then colleges like my own, [which have] had a big commercial business that is rooted in overseas and international students, have also been very badly hurt.
"None of that could be predicted. The underfunding of colleges, the problems we had with capital funding early on, and Covid. So to an extent, it is a miracle that colleges are still delivering so wonderfully."
Legrave knows, however, that there are some colleges that will need intervention from her and her team once she becomes commissioner.
"There are some difficult places where they haven't been able to find solutions. Some of my focus will be on finding a solution for those difficult places. But I'm really keen that the FE commissioner role is seen as a positive, is not seen as 'the commissioner comes to my college, therefore I must be in trouble'. We are here to provide positive, active help. Yes, of course, we will take action where there's been clear mismanagement. But that is an absolutely tiny proportion."
Base rate funding
It is those cases that grab the headlines, she says, not the vast majority of cases where college leaders have tried to cope with less funding. "You can't carry on continuing not to have an increase in the base rate. There's got to be a recognition that the majority of young people aged 16 go to sixth forms or general further education colleges.
"They are the people who are going to provide the skills for the future of our economy and they need the investment to get them to a stage where they are employable, where they've got the right skills."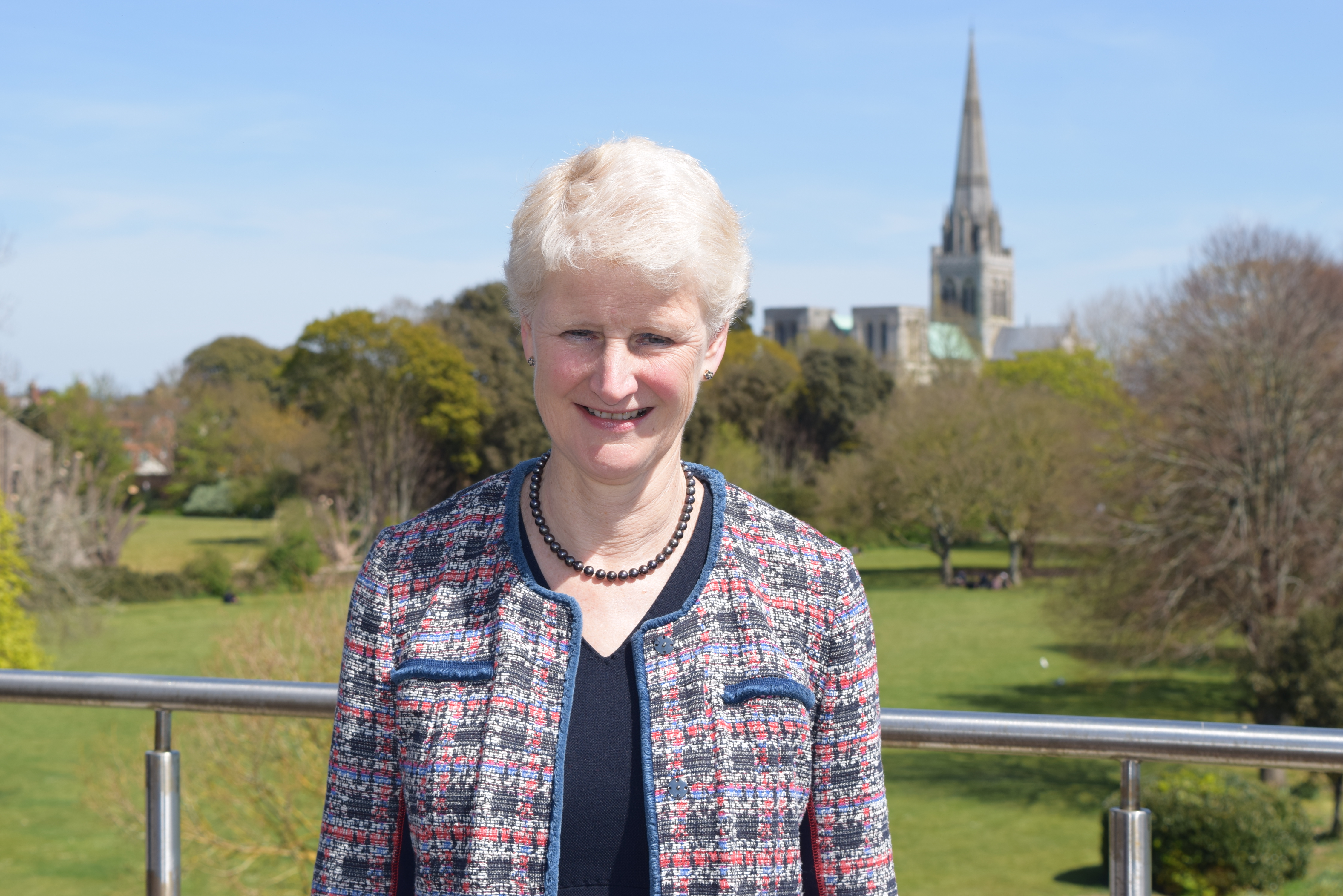 Undoubtedly the FE commissioner role has created some fear, she stresses, but in her own organisation, she has tried to remove any sense of a blame culture. People make mistakes, she acknowledges, and sometimes those need dealing with, but mistakes, she believes, are there to learn from. 
"I am a practitioner first and foremost: I want to use that experience, but not preach it. It's not about preaching, it is a 'why don't you try this'". And it is not me: it is me, six deputies and some advisers, and then you've got principals in the sector who are also national leaders in further education, and they all bring something really special to it. I think it's a real opportunity for people to use the FE commissioner's office in a very positive way."
Her social conscience will also continue to drive her – and she is determined to continue in the volunteer roles she carries out in the community, too. "I am still a practising churchgoer, I have kept my religious beliefs, but it's deeper than that. It's that understanding that everybody comes from a different background, and that some people are much less privileged than others, and everybody has the right to a fantastic education that will establish them to get on in life."
"I am worried that I can't make a difference. In the end, what will my legacy be? I want it to be that FE colleges are seen as a key part of the education system, that they are better funded than they are now, and that they are securely supporting the local economic community. We've got some work to do in some areas of the country where that isn't the case."