It was a sunny lockdown weekend when I started watching my grandfather, Captain Sir Tom Moore, emerge from his house to start a gentle walk to aid his rehabilitation.
My dad shouted out, "Keep walking, Tom, and we'll give you £1 a lap until your 100th birthday."
And that is how the Captain Sir Tom Moore story began.
Captain Tom goes viral
Initially, I created an iMovie of my grandad starting his 100-lap challenge and mum asked one of her team to set up a JustGiving page in a bid to raise £1,000 for the NHS.
But within days of attempting the feat, Captain Tom Moore had gone viral, attracting worldwide attention and, to date, he has raised a staggering £38.9 million in donations, including gift aid.
After my family suggested the idea to my grandad, he was really keen to undertake the challenge.
At my suggestion, we set up a Twitter account to document his progress and raise awareness but in no way did I expect it to gain a following of more than 75,000 people in just a week.
I was left utterly speechless by the huge outpouring of love that my grandad and our family received.
It has all been completely overwhelming and certainly unforgettable – a whirlwind experience but one that I have thoroughly enjoyed, especially as it was an intergenerational opportunity working with my grandad, parents and younger sister.
Putting school skills into practice
This also meant I had to manage juggling my school work and learning online while taking a leading role in the biggest positive news story of the year.
And many of the skills I used to do so came directly from the classroom.
Working on this unexpected phenomenon has allowed me to transfer what I've learned in the school out into the real world and put it into practice.
It goes to show how much you can achieve by putting in some hard work. Literally anything is possible.
I utilised IT training and skills in communication techniques to help to create and manage the Twitter account, which has now accrued more than 322,000 followers and 196 million impressions.
Experience in public speaking also helped me to reach out to a number of high-profile journalists, who interviewed myself and my grandad over video links and Skype calls.
Building confidence
Coronavirus brought a new meaning to TV interviews.
Social distancing meant that my family and I had to set up our own microphones and look into the right cameras while monitoring the sound bar and looking at the VT. We were quite literally thrown into the world of TV production.
And, using my social media expertise, I secured a much-coveted spot on The Michael Ball Show on BBC Radio 2.
I worked as a critical part of the team in gaining the support of BBC Breakfast and Piers Morgan at Good Morning Britain, who made military veteran Captain Tom, who was in the 8th Battalion The Duke of Wellington's Regiment and served in Burma and India, a regular on the nation's TV screens.
In short, I became part of the press office team with my family, liaising with local, national and international media outlets on a daily basis.
And, as my confidence grew, I also took the initiative to contact celebrities and ask them to record video messages of support for my grandad and received clips from the likes of Dame Kelly Holmes, Lord Sugar and Jason Donovan.
I think much of this success was the result of my upbringing and education, which have taught me to understand society as a whole and how to create messages that are all-inclusive – particularly lessons I learned as part of the religious studies curriculum at Bedford School.
The feel-good story we needed
I was completely blown away with how our little challenge took off but I can see that it was something everyone could buy into – that we were all in the same boat and that my grandad was giving people something positive to focus on.
We're just a normal family from Bedfordshire who wanted to help the NHS, particularly as members of our family have received such wonderful care in hospital.
Grandad broke his hip just over 18 months ago and is currently recovering from skin cancer, while my dad has been seriously ill in recent times.
I suppose all I can say is that the challenge captured people's imaginations and won their hearts.
In fact, Captain Tom's endeavour became a beacon of hope at a time when newspapers, TV channels and radio airwaves were filled with the devastating news of Covid-19 deaths.
The public was desperate for a feel-good story and Captain Tom was exactly what they were waiting for.
So much so that when Captain Tom's birthday finally arrived and he finished his 100 laps, the whole nation celebrated.
School as a sorting office
My family and I worked with the BBC to coordinate that celebration, enlisting the support of Bedford School to house the 160,000 birthday cards that arrived – including a personalised note from the Queen.
In total, more than 200,000 cards,150,000 letters and 7,000 gifts were sent to Captain Tom from around the world.
I am so thankful to everyone who supported us in terms of donations as well as those from my school and the volunteers who helped us to open the rafts of birthday cards.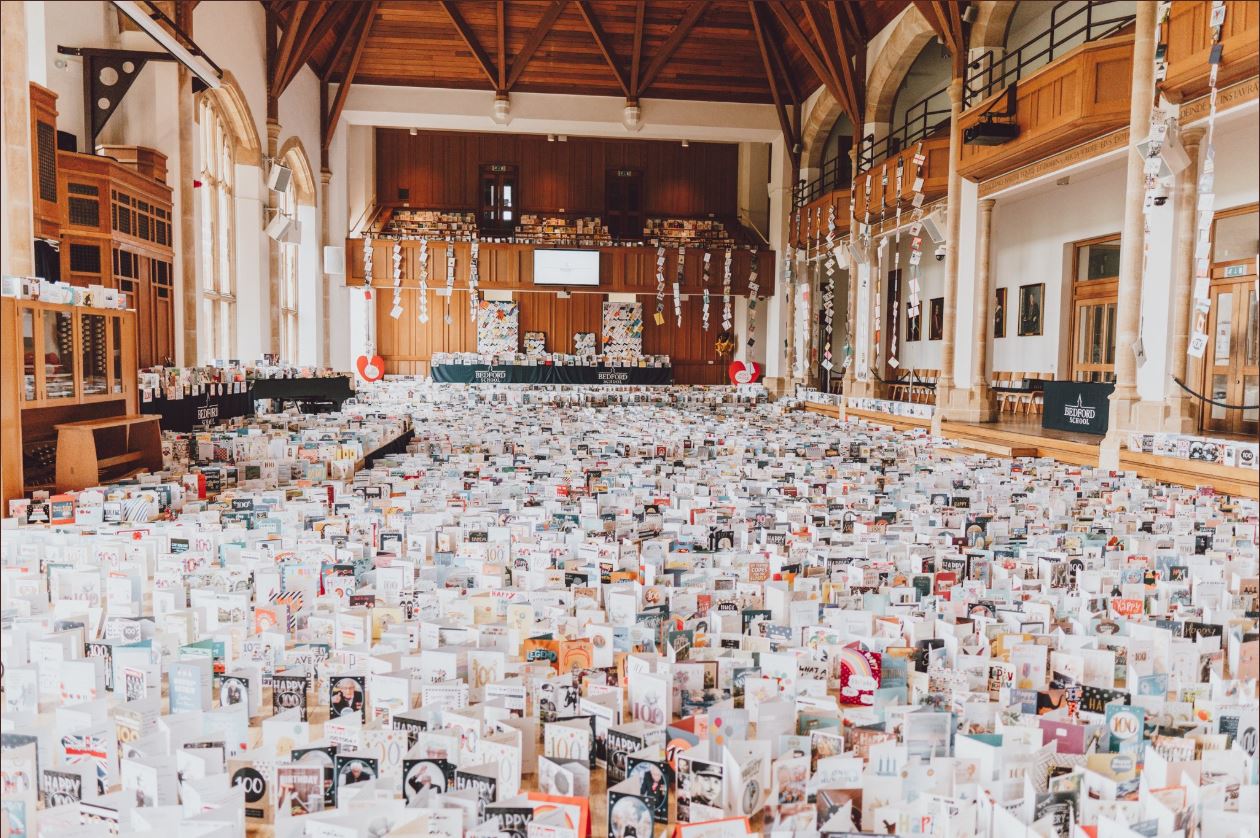 My family and I worked with my school, which became a hotbed of activity. More than 100 pupils, parents, Old Bedfordians and staff – all maintaining social distancing rules – volunteered to carry boxes overflowing with cards upstairs into classrooms and then carefully open them.
Bedford School's Great Hall was effectively turned into a sorting office, setting aside envelopes to save the stamps and separating gifts, cheques and donations to my grandad's cause.
The volunteers helped to create a spectacular display of cards, filmed time-lapse videos and took photos to document the entire process.
Inspiring others across the land
Since then, there has been further cause to celebrate.
Not only did Captain Tom and our family's challenge raise a phenomenal amount of money for the Covid-19 appeal, but it led to a raft of awards recognising his achievements.
Captain Tom has received a knighthood from the Queen at Windsor Castle, was appointed as Honorary Colonel of the Army Foundation College, was given a Pride of Britain award, and was presented with a gold Blue Peter badge.
He has also been made a Freeman of the City of London, an honorary member of the Guildhall, given the freedom of his hometown of Keighley and topped the charts with a cover of You'll Never Walk Alone with Michael Ball and the NHS Choir.
His feat has also inspired many more to follow in his footsteps – quite literally.
Among those are my fellow pupils at Bedford School, with prep school boys having taken on 100 challenges.
No summer holiday – but worth every second
It is fair to say that my life has changed since April.
I may not have been able to sit GCSE exams because of lockdown, but I've appeared on TV screens and front pages around the world.
My family and I have been given this incredible gift and are truly humbled by people's reactions around the world.
It has profoundly affected us. We work seven days a week because we want our newly formed Captain Tom Foundation to succeed and I am excited to continue to drive my grandad's legacy forward.
I've had no summer holidays because I've wanted to work every day from 8.30am to 6.30pm, but I have loved every single part of it, even when it's been tough.
Benjamin Ingram-Moore is a pupil at Bedford School