"Fine." It's a funny word.
As a school leader, I like to check in on how my staff are doing, and they often respond with "fine".
But that word can contain a multitude of meanings.
---
Quick read: 'We must change our definition of teacher wellbeing'
Quick listen: The truth about mental health in schools
Want to know more? Is mindfulness the answer to teachers' wellbeing woes?
---
I've heard so many:
"Fine" ("It's all good. Please leave my room. Genuinely, I've got this.")
"Fine" ("Oh God, it's you again!")
"Fine" ("It's all OK, but if you could just hover with an excuse to be in my class and give an extra presence, that'd be great.")
"Fine" ("Fine!")
"Fine" ("Please leave. I really don't want you to see this, but please check in on me later.")
"Fine" ("Can you not tell from the look in my eyes that I'm about to commit career suicide by chucking one of these kids out of the window?")
"Fine" ("Get out!")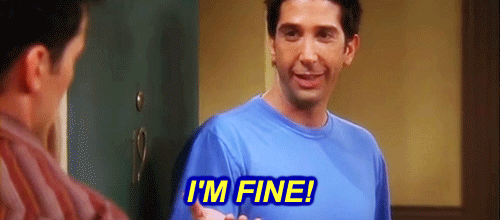 We need to recognise when a colleague's "fine" doesn't really mean that at all. Like when the dread suddenly appears on their face as break time ends and they have to leave the safety of the staffroom to face a class who will give them an hour of hell.
Protecting teacher mental health
Yet, in many schools, the expectation is that they have to endure that class, or risk being labelled as a bad teacher with poor behaviour management skills. This is not fine. At all.
All of us need to make sure that our fellow staff members not only feel like there is a ladder of intervention and support available to them, but also that they can ask for help without risking repercussions further down the line.
There are so many things we can do when someone is pasting on a "fine!" face. These include:
Offering to switch classes for a period of time (if it doesn't impact progress of the learners);

Offering more in-class support if it is available (as a Sendco, I know this isn't always easy to arrange);

Calling on members of staff who have had success with members of that tricky class and developing a list of tips and interventions that have worked with them and can be shared whole-school;

Having a cup of tea or a Post-It note of encouragement waiting for them;

Above all, being explicit about always being there to help.
No one should ever have to dread entering a classroom. And even though you may have had lovely classes this year, you never know what the timetabling gods have waiting for you the next.
So let's all keep an extra ear out for the unconvincing "fine", and help each other to articulate what's happening and how we feel.
If we want and need help with our behaviour management, that's fine. Really.
Nikki Cunningham-Smith is an assistant headteacher and centre lead of a pupil-referral unit