For me, UKFEchat is a big deal.  It's a community of FE professionals that grew online, but has spread into the real, physical world too. And later this month, we'll be holding our third national conference.
But what is this whole UKFEchat thing really about? I've been having a ponder how best to explain it.
If you've read anything I've ever written, if we've met in real life, or on the computer, you'll know how fond I am of taking an important topic, shaving the sharp edges off and applying a thin coat of daftness.
---
Read more: How to give a 'revenge class' – and why it can backfire
Opinion: 'It's hard to turn off teacher-mode outside of the classroom'
Background: 'Nothing unites teachers and students quite like Ofsted'
---
'Five bums on a gate'
This has been a theme throughout my higgledy-piggledy tangle of careers. At drama school, I was told that my interpretation of Shakespeare's words "make it sound like he'd written them yesterday. Not in a good way".
A sitcom I co-wrote for the BBC was reviewed by the Observer as having a script with dialogue that sounded like it was "copied from the wall of a public toilet". I took it as a compliment. And to be honest, it probably was. What? It was the '90s.
I like to take my talent for the trivial into the classroom. When creating any sort of written work that requires exploration, I urge my students to picture five bums on a gate. I'll be honest, I thought this was a well-known teacher thing until I casually brought it up in an early #UKFEchat real-life meet up, only to be met with confused and, frankly, concerned faces.
I'll have to do you a drawing to explain.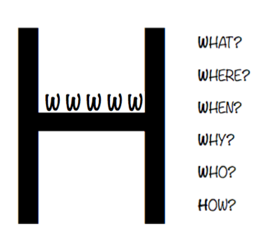 The five bums are the W questions: what, who, when, where and why. And the gate? That's the H question: How?
Once explained, this system usually sticks. Though it can prove tricky. The last thing you need when you have Ofsted in is for an enthusiastic student to helpfully ask "Is this a time when we get bums out?"
The five bums approach can be applied to all sorts of other lines of inquiries – for example planning a conference. So here's a little introduction to all things UKFEchat.
What is it?
It's a get-together. A meeting of minds. A chance to see that the challenges we face in FE are universal, and more importantly, to work out together how we can learn new stuff to give our students the best we can.
We don't bother with hierarchy in UKFEchat – we know that every person who's interested in what they do has something useful to share, be that PGCE student or college principal. And it can be a relief to shed the expectations of whatever role you are in and just be part of a community.
Who is it for?
It's for anyone who's interested in education. Though there's a clear focus on post-16 education, in colleges, in the community, in the workplace, the conference is intended for anyone, working at any level in any area of the profession. There's practical stuff you can use in class when you go back to work on Monday, mixed with massive ideas to set you thinking and rocket-power your enthusiasm.
When should it be?
Ahhh it's the age-old dilemma when planning a gathering of edusorts. Plan a conference for during the week, and the time can be plumbed into official working hours. However, a weekday jaunt excludes the majority of us who teach. It's a very patient line manager who'd casually say "Off you go", if I ever asked to ditch my students for the day, causing all sorts of cover nightmares. 
So, Saturday it is. And yes I know it could be seen as working at the weekend, but every time I make the effort to get stuck into some extra learning, I always feel rewarded for it, by getting a real boost, making new pals and inviting a load of ideas to flood my brain.
Where is the best place to have an FE conference?
Though we've had UKFEchat real-life get-togethers all over the country, the first two big conferences were in London. So, it was time to head up North. The Manchester College is hosting this year's conference in its St John's Centre campus in the city centre. We've had loads of fun working together to work out what a useful, relevant, motivating programme looks like. My only regret is that I can't attend every session at the same time – because there are some bloomin' corkers.
Why bother?
We started UKFEchat in 2012 because at that time colleges were working in silos. As a teacher, I felt isolated, not just in my classroom but in the college in which I was working at the time. I felt like I was a right weirdo-teachers'-pet for being invested in my own practice and keen to learn more about it. It was only when I found out through Twitter there were thousands of similarly curious FE weirdoes who wanted to learn and could pool their experience, that I finally felt like part of the community - the only FE online community, at that time.
The conferences started for the same reason. FE conferences didn't exist and the UKFEchat gang wanted to go to one. So we made one. Happily, there are loads of FE conferences and cross-sector FE communities now. Loads of fabulous weirdoes who want to be brilliant at what they do. And more people building their own conferences and communities, because the one to meet their specific interests doesn't exist. Yet.
How?
How to organise a conference? First off, find your people. Actively seek out the ones who have similar motivations to you and grab 'em for a chat. Work out together where you go from there. Drop me a line if you want to have a chat about it. I love a chat, I do. I'm at sarah@ukfechat.com.
Sarah Simons works in colleges and adult community education in the East Midlands and is the director of UKFEchat. She tweets @MrsSarahSimons
Tes are media partners for the UKFEchat Conference, which takes place on Saturday 15 June at The Manchester College. Tickets cost £20. For more information visit the website.