What toll has Covid taken on teachers' mental health?
How have those who work in education coped during the Covid pandemic? Researchers Kathryn Asbury and Lisa Kim recorded teachers' experiences over the past year, including how staff dealt with the huge workload and what they thought of the constantly changing edicts from policymakers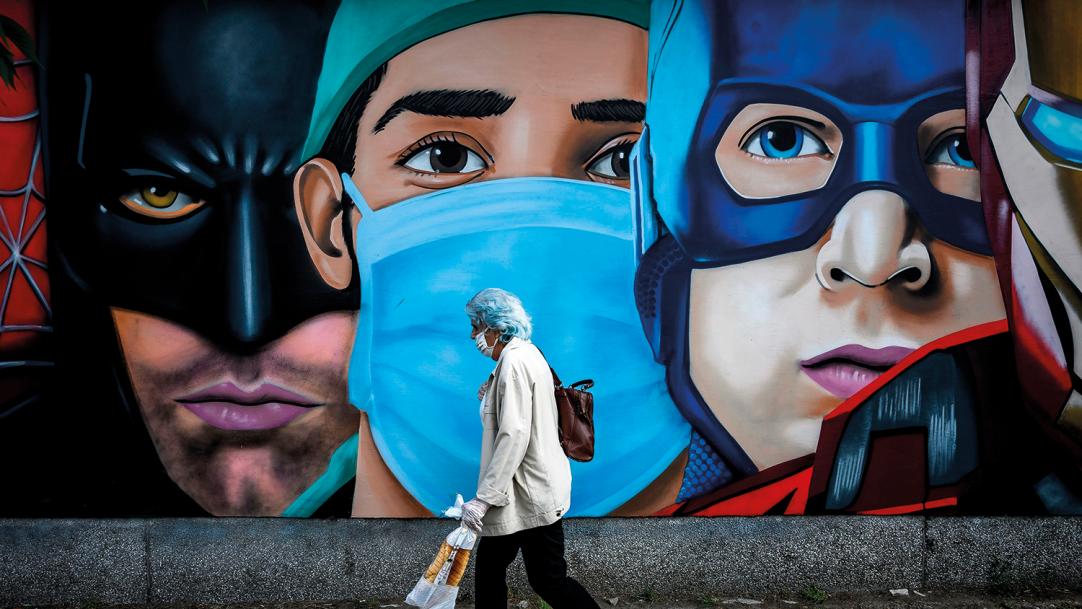 When schools closed to most pupils last year, many people reasonably expressed concerns about how this would affect young people. But researchers at the University of York were concerned about something else: how the seismic change in circumstances wreaked by Covid-19 would affect teachers and the teaching profession as a whole.
So, they began working on a project titled Being A Teacher in England During the Covid-19 Pandemic, funded by the Economic and Social Research Council. They recruited 24 teachers who, in spite of everything else that was going on for them at that time, agreed to be interviewed at regular intervals about the effects of the pandemic.
The group includes senior leaders and classroom teachers from mainstream state primary and secondary schools, across a variety of school sizes and catchment areas.
To date, researchers Kathryn Asbury and Lisa E Kim have conducted 116 interviews with these teachers – speaking to them in April, June, July and November 2020, and February 2021 – offering an in-depth look at how the profession has and continues to cope through a time like no other in living history.
Tes caught up with them about what their research has revealed so far.
Tes: How have teachers coped with the pandemic in general?
Kathryn Asbury and Lisa Kim: The bottom line is that it has been hard. Our data suggests that, overall, teacher mental health and wellbeing has declined. However, the pattern is not a steady decline. As one secondary school classroom teacher told us: "It's been a roller coaster. It's been up and down, all over the place."
How did your interviewees respond to the initial announcement of lockdown?
Last March, as the scale of the issue started to become clear, uncertainty was the dominant theme. One participant said: "It felt a bit like …you're shown the diagram of how the parachute works and then you're pushed out of the plane."
Another told us: "Within a 24-hour period, we were trying to cope with the fact that we were going into lockdown; the fact that schools were shutting but not really knowing what that meant; not knowing what hours that meant – we were working and trying to get our heads around what work we could deliver."
This initial shock had an instant effect on teachers' mental health and wellbeing, as they navigated unfamiliar territory under substantial pressure.
A pretty negative picture, then. Were there any upsides at all?
Some teachers did point to positives of the situation. Senior leaders described an initial sense of pride and pleasure in being able to rise to a new challenge. Classroom teachers reflected on having more time, flexibility and autonomy.
Although many were anxious about their pupils' wellbeing and about new ways of working, many recognised the benefits of this change of pace for their own mental health.
Some of these benefits were still present when we interviewed teachers for the second time, in June 2020, just after schools opened to early years foundation stage pupils and Years 1, 6, 10 and 12. Teachers had missed their pupils, and each other, and when we spoke to them for a third time in July, they were still clearly enjoying the social interaction that the return to school had enabled.
There were signs that this social support was acting as a buffer against increasing job demands, with the upcoming summer holiday no doubt also providing a boost.
So, how were different groups affected, exactly? And why was this?
Members of the senior leadership team (SLT) in primary schools, including headteachers, appeared to have been more negatively affected than other groups between April and July. The least negatively affected group was secondary school SLT members.
We don't know the precise reason for this – and it could reflect idiosyncrasies in our sample – but our hypothesis is that this might relate to social support. Senior leaders in secondary schools are typically members of a relatively large team, providing support to each other and sharing the burden. By contrast, primary leaders are usually members of a very small team and are more isolated.
One told us: "There are times when you go: 'I just can't do this'. It's just another thing on top of another thing. You just think: 'what next?'"
How has the mental health picture changed as the pandemic has progressed?
By November, everybody was flagging and a large proportion of our sample described a dip in mental health and wellbeing.
One teacher said: "My brain feels like a browser with 100 tabs open."
Another told us: "I crawled towards half term. We're exhausted."
It was clear that November was a low ebb and that this was, in part, driven by workload.
By now, most of the teachers in our study had got to grips with remote learning and had developed new skills to enable it. But with pupils back in the classroom, they were expected to teach in the traditional manner, with the additional demands of managing elaborate hygiene and safety routines while also providing remote learning for those pupils at home.
With bubbles constantly bursting, it was hard to ensure that all pupils were at the same stage, making classroom teaching more challenging and planning extremely difficult.
One participant said: "There are times when I felt, and feel, that I've had enough. I don't want to do this anymore."
At the same time, teachers were also feeling undervalued and even vilified. As one put it: "You've got the issue that people think you're at home on full pay doing nothing, which is not great for your mental health."
What did your interviewees have to say about the government's handling of the situation?
When we first interviewed these teachers in April 2020, some were sympathetic to politicians, empathising with the challenges inherent to responding to a crisis.
However, by November, it was clear that they felt disrespected as a profession, and that their mental health and wellbeing was negatively affected by feeling that they were operating at the will of fickle and capricious politicians. They felt that leadership of the education sector was chaotic and ill informed, with little or no compassion or care for teachers.
Do your most recent interviews tell us anything about how to improve teachers' wellbeing, a year into the pandemic?
We interviewed the group for a fifth time in February and, while we have not yet analysed the data, our impression is that, overall, mental health and wellbeing has improved somewhat. This is partly because, since Christmas, most teachers have not been required to teach in multiple ways at the same time.
That said, their views on finding out via the news and at the 11th hour – once again – that school buildings would close to most pupils in January were, shall we say, impassioned.
The teachers in our study, like many others in this profession, are planners. By consulting with them ahead of major decisions, the government can support their need for planning and, by extension, their mental health and wellbeing.
Kathryn Asbury and Lisa E Kim are researchers from the department of education at the University of York For more information on the project, please visit lisaekim.com/#projects
This article originally appeared in the 19 March 2021 issue under the headline "My brain feels like a browser with 100 tabs open"