The number of young people aged between 16 and 25 who are not in education, employment or training (NEET) has reached a record low, the Office for National Statistics has revealed today.
The data found that there were an estimated 757,000 NEET young people in July to September 2020, which is a decrease of 43,000 when compared with the same period last year. It is also down 12,000 compared with April to Jun 2020. 
The ONS said that the decrease was partly due to a large increase in the proportion of young people in full-time education in recent quarters.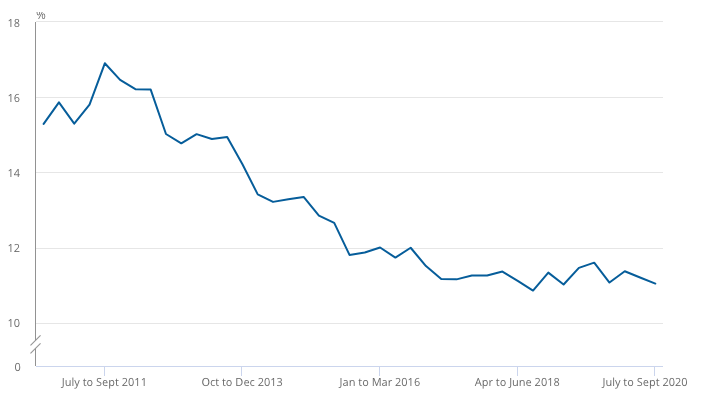 ---
News: Put legal duty on colleges to collaborate, says commission
More: Can we avoid mass youth unemployment post-Covid?
Background: Fewer young people not in education or training, says ONS
---
Data from the Association of Colleges published last week showed that there were an extra 20,000 students in further education colleges this year – and the Sixth Form Colleges Association has also warned of oversubscribed colleges.
In August this year, Francis Grady, general secretary of the Trades Union Congress (TUC), warned that the "progress could be reversed following the pandemic if the government does not take the action needed". 
At the time, she called for the job retention support scheme to be extended beyond October. 
At the beginning of November, chancellor Rishi Suank confirmed that furlough scheme would be extended until March 2021.
A gender split 
The ONS data published also found that the 11 per cent of all young people in the UK were NEET between July and September 2020 – this is down by 0.6 percentage points compared with the same time last year, and 0.2 percentage points lower compared with April to June 2020. 
However, the ONS found that there was a gender split in the statistics: the number of unemployed men aged between 16 and 24 increased 53,000 compared with April to June 2020. However, the number of unemployed young women who were NEET was down by 7,000. 
The data also showed that the proportion of young NEET people who are unemployed has risen by 39.6 per cent in July to September 2019, and that of all the young people who were NEET between July and September this year, 45.5 per cent were looking for, and available for, work and therefore classified as unemployed. The remainder 55.5 per cent were either not looking for work and/or not available for work and were classified as economically inactive.