Half of England's school staff have no trust "at all" in Department for Education policies and decisions on coronavirus and another 39 per cent say their trust is only limited.
The findings come in a snap Tes poll responded to by more 3,000 teachers and other school staff, which also shows that their faith in the DfE has plunged since the outbreak began. 
More than half report that their trust in the DfE has "dropped significantly" since the start of the pandemic, with only 4 per cent reporting that they trusted the DfE more than they had done before the coronavirus outbreak.
The overwhelming majority (85 per cent) of respondents also feel the DfE is not doing enough to support school staff at the current time.
---
'They won't listen': Teachers' Covid problems ignored
Coronavirus: Teachers 'need support for online lessons'
Quick Read: 'We can't home-school the UK's children'
School reopening: 'I worry this mess isn't an accident'
---
The Tes survey had responses from school staff in all four home nations, and showed that trust in education ministers and officials was easily the lowest in England. 
In Wales, only 19 per cent said they had no trust at all in their government's education department on coronavirus. In Scotland, the figure was 24 per cent, in Northern Ireland, it was 41 per cent – but in England, it was 50 per cent.
Coronavirus: Teachers' concerns about reopening schools
Asked about their level of trust in the DfE over coronavirus and schools, one respondent commented: "I don't feel like they're looking enough at the science. I feel like they just want all the children back to alleviate childcare issues to allow more people back to work."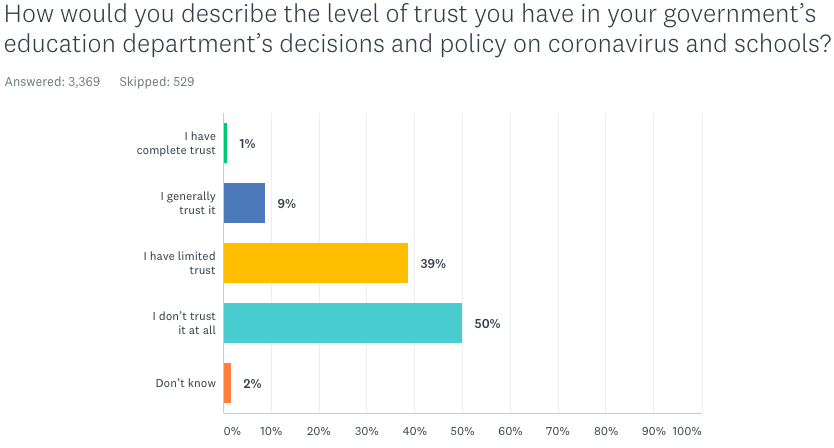 Others commented on the lack of personal protective equipment for teachers, and questioned the idea of whole year group bubbles for secondary schools.
"I feel they have no regard for teachers' safety at all. No PPE is to be provided, special schools are being treated just like mainstream, when our students are very different. How can mainstream schools have year group bubbles which could have well over 200 pupils in them? What is the point?" one respondent said.
Another said they felt the DfE does not "care about the lives of teachers. We are purely being treated as babysitters so the economy can keep going. No value is put on the life of teaching staff, otherwise we would be encouraged to wear PPE to protect ourselves".
When asked how their level of trust in the DfE had changed since the coronavirus outbreak began, 53 per cent of respondents said it had "dropped significantly", while 19 per cent said their trust had dropped "a bit".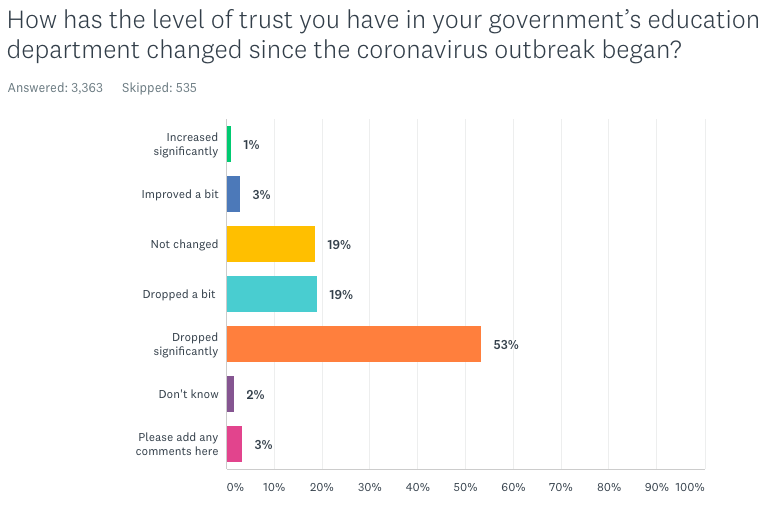 One respondent said: "I didn't think my opinion of the DfE could drop much lower, but what were they doing for the months of closure when they had time to plan for safer reopening?
"Everything from FSM, laptops for disadvantaged students to 3 months to release a plan that gave schools 3 weeks to put in place for September. They have the opposite of a Midas touch."
Teachers' leaders have suggested the government has not had a good "report card" on its response in education during the pandemic, while heads said they felt "let down" by the lack of a coherent strategy from the government.
Mary Bousted, joint general secretary of the NEU teaching union, said: "Those results are not at all surprising. We can't say that the government's report card on coping with Covid in schools has been good. I don't think the DfE are mainly to blame for this. I think the problem lies in Number 10 trying to run the response centrally and not listening to civil servants.
"But it's clear that when you have to send out multiple revisions to guidance for school leaders about reopening schools, and when you're reluctant to issue the scientific advice on which the guidance is based, it doesn't look convincing and I am not at all surprised that teachers aren't convinced."
But she added that it was a "big ask" for any government or department to cope with an issue like Covid-19.
"The delay in producing advice, the constant revisions to advice, the impracticality of some of the advice, as well, particularly the latest advice around wider school opening in September, just means that people do start to lose confidence. What you need when people are concerned and some are afraid, what you need is clarity, and the government and the DfE have certainly not provided that," she said.
Geoff Barton, general secretary of the Association of School and College Leaders, said: "We recognise that responding to the coronavirus pandemic has been challenging for everybody, including those in government, and that officials in the Department for Education have worked very hard.
"However, we have all been badly let down by the lack of any coherent government strategy and a piecemeal approach, which has been extremely frustrating.
"The guidance provided to schools has been voluminous and updated so frequently that it is virtually impossible to keep up with it all, and even then, has contained crucial omissions and confusion, for example on the lack of a rationale for ruling out rotas in primary schools.
"Important announcements have been made without any real consultation, with little explanation, and are usually briefed to the media before being conveyed to school and college leaders. For example, it still isn't clear why the government decided on the model it chose for wider reopening in June, or why it abruptly ruled out any catch-up funding for early years and post-16 education.
"We waited for so long for some guidance about results days in August, that in the end we did it ourselves in lieu of anything from the government, and we still haven't had any answer on who will pay the costs of entering and holding the exams in the autumn series.
"Even when the intention has been a good one, such as the free school meal vouchers scheme, it has been dogged by logistical problems.
"There is no doubt that all of this will have eroded the trust that the profession has in the government, and that it will take time to build confidence. We really do hope that lessons have been learned and that we'll see a much more orderly and strategic approach in the future."
A DfE spokesperson said: "We know that schools and teachers have gone to enormous lengths over recent months to support children at home and enable many to return to the classroom already.
"Last week, almost 1.6 million pupils were back at schools and colleges, which is testament to the efforts of everyone working in education.
"We continue to engage with school leaders, teaching unions and the wider sector ahead of September, as well as working closely with the scientific and medical experts."