Teachers have condemned a pet shop chain for providing its "key workers" with a letter to schools, in "an attempt to bully headteachers into providing free childcare".
The Pets at Home legal team compiled a letter for employees to send to schools, stating that their roles are "necessary for the continuation of essential services" and "during this time they are unable to provide safe care for their child(ren) at home".
The letter tells schools that the company's employees, including those working in Pets at Home shops and the "Pets at Home Groom Room", should be considered as key workers.
---
Coronavirus: Schools 'struggle' with key workers' pleas
Demand: 11 of parents' strangest key worker claims
Live: Coronavirus updates for teachers
---
The company said this was "simply intended to help" both colleagues and teachers understand the government guidance, and staff were advised only to apply for key worker status if "absolutely necessary".
However, teachers and school leaders have accused the pet shop chain of "putting profit before lives", and criticised the company for "hinting at legal action".
Oliver Mills, a teacher based in Essex, said: "Note the response is to their legal team. Nice bit of passive aggression there."
Teacher Ed Finch said in a tweet to education secretary Gavin Williamson: "Gavin, could you get your people to have a word with @PetsatHome and tell them to back off...
"This is irresponsible and threatens my colleagues lives and the success of #StayAtHome."
Stuart Lock, CEO of multi-academy trust Advantage Schools, also said on social media: "I will never use @petsathome again and I encourage everyone else to do the same.
"They are putting their business ahead of lives on a technicality and hinting at legal action."
I pushed hard from early on to protect key critical workers when schools closed. We were prepared to do it on a volunteer basis if needed. At no time did we envisage pet food suppliers to be key workers. Get a grip @petsathome this is for the #nhs & #EmergencyServices

— David Metcalf (@davidmetcalf30) March 21, 2020
Simon Kidwell, headteacher and NAHT Cheshire branch secretary, added: ".@petsathome we are either social distancing or we are not!
"Many of your employees are passing this letter onto headteachers. We are working at speed on this and are prioritising our 'corona critical' workers. #InThisTogether".
Vets for emergencies. Pet food in supermarkets. Aghast

— RR (@rlrossi64) March 21, 2020
Hannah Tuffnell, an assistant principal, said: "A parent who works @PetsatHome has sent this letter to my principal. It's absolutely disgusting. They are putting profit before the health of society".
My goodness! @PetsatHome this is not good enough. You are not essential to halting or dealing with this pandemic. My vet has not asked for her children to be looked after and she just has a small surgery. https://t.co/v6F3fsyuPM

— MrsSmanwar (@MrsSmanwar) March 21, 2020
Asked about the company's policy on BBC Radio 4's Today programme this morning, Pets at Home chief executive Peter Pritchard said: "We recognise we're trying to play our part by looking after the food, health and welfare of the nation's animals, and try and take pressure off supermarkets.
"I know all the focus is on the supermarkets – and rightfully so; the supermarkets are doing an amazing job at trying to feed the nation – and we're trying to do the same by trying to feed the nation's pets.
"We've asked our colleagues that only if absolutely essential – if you can find no other way at all – to present yourself as a key worker."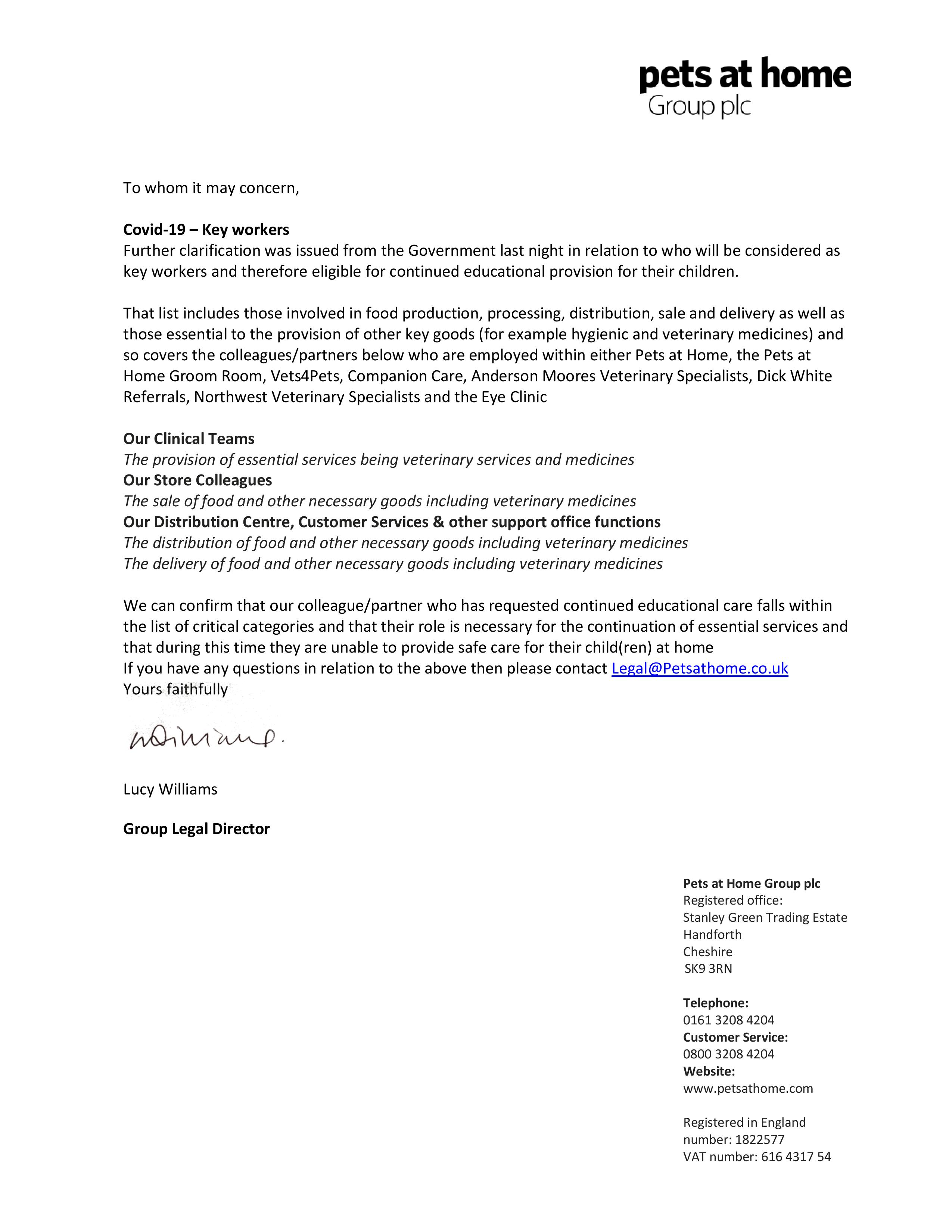 A Pets at Home spokesperson said the company had received an "unprecedented" number of calls from pet owners in recent days, who are "anxious to understand how they can maintain their pet's diet and healthcare".
"The letter we shared with colleagues was simply intended to help them, and teachers at their children's schools, understand what we believe to be the government guidelines," they said.
"There is no question that NHS workers and others on the front line are the utmost priority and so we asked colleagues using this letter to also be respectful of the needs of others and the difficult decisions schools are having to take and to only apply for 'key worker' status if absolutely necessary.
"Over 6 million owners rely on us to help them feed and care for their pets.
"We feed one in three of the country's dogs, one in four cats, and over half the other small pets, many of whom are seen as much-loved family members and, particularly for those in isolation, vital companions.
"Whilst supermarkets focus on feeding our people, we and other pet stores and vets can look after the health and welfare of the nation's pets."