Just a quarter of teachers and other school staff in England believe all GCSE and A-level candidates will get a "fair deal" through this year's grading process, according to a Tes survey with nearly 6,000 responses.
The proportion who feel this year's grades will be fair has fallen since May, when 39 per cent of school staff felt the 2020 grading process would be fair for all students.
And the latest survey was carried about before teachers became aware of the Tes revelation from Friday, that the grades they had worked out for their students have not actually been used to calculate most GCSE and large numbers of A-level grades.  
---
Exclusive: Teacher grades ignored in most GCSE results
GCSEs: Only 39% teachers think 2020 grades fair for all
Related: Teacher-assessed A-level grades 'will be unfair'
News: School social distancing 'impossible', say 74% of staff
---
Teachers used the Tes survey to raise concerns over the potential disadvantages of using historic school data to calculate grades, such as the impact this might have on high-achieving pupils in low-attaining schools.
Minorities 'worst affected'
They also suggested that pupils who crammed at the last minute to achieve exam success would be penalised, and that pupils from disadvantaged backgrounds or those from black and minority-ethnic (BAME) communities would be worst affected.
They were asked "Do you think GCSE and A-level students will all get a fair deal from their teacher-assessed grades this summer?" in the online survey that took place last month, just before the end of term. Of the 5,928 school staff in England who responded, just 24 per cent said 'yes', 35 per cent said 'no' and another 32 per cent were unsure.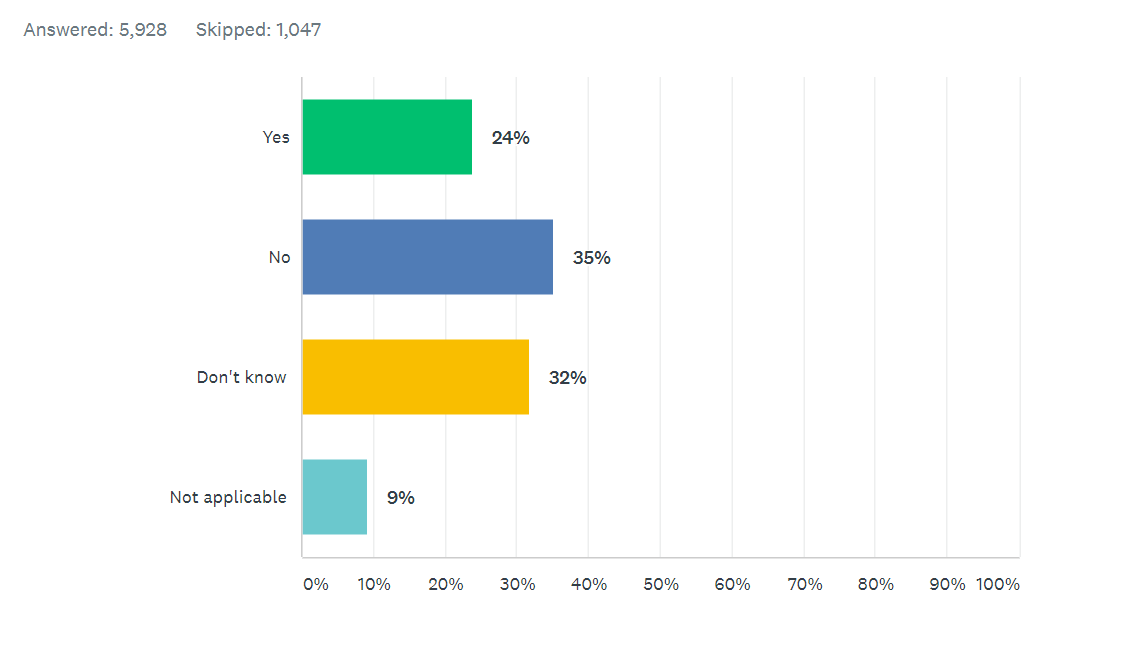 The percentages for the 4,507 teachers in England who answered the question, with teaching assistants and other support staff removed, are virtually the same. Just 26 per cent say all students will get a fair deal, 36 per cent say they won't, and 32 per cent don't know.
Confidence in process plummets 
The results are significantly less positive then when a Tes survey asked the same question in May, and 39 per cent of school staff in England stated the process this year, following the coronavirus cancellation of exams, would be fair for all pupils.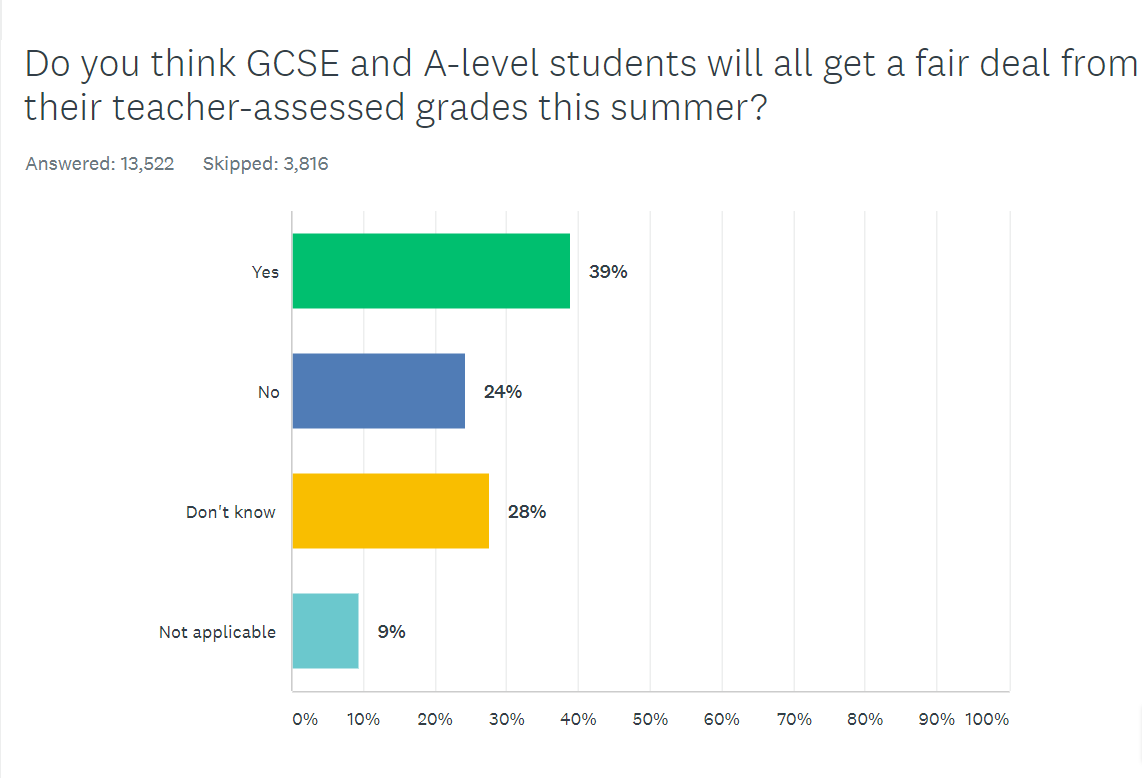 Many commented that the use of historic school performance data as part of the process would unfairly penalise students this year.
"I do not believe awarding results based on the historic performance of a school is fair. Year groups will have different abilities, and some cohorts will be stronger than previous cohorts, so it does not seem fair for that to be the big decider," one respondent said.
Another said: "I tried to be realistic but I inherited a group in a cohort who have had a really rough deal. Results were terrible last year. If our grades are adjusted because they are compared to last year's, it won't be fair.
GCSE students 'deserve better'
"The students and my staff have worked hard to turn it around. They deserve better."
However, as Tes revealed on Friday the teacher assessed grades are not actually being used to calculate final results for the "vast majority" of GCSE entries and 60 per cent of A-level results in large-entry subjects.
Others teachers responding to the Tes survey pointed out that exams allowed pupils to make unexpected gains based on their previous performance – especially for boys.
"Most class teachers know that students can surprise you – and quite a number of students have that lightbulb moment around March after their last mocks," one respondent said.
'Make or break for borderline students'
"This is when teachers also tend to put the pressure on. This can be make or break for those borderline students. This is the group of students who I feel are the most disadvantaged here," they added.
Others cautioned that pupils from BAME backgrounds would be disproportionately disadvantaged by the process this year.
"I know from personal experience, I scored two grades higher on most subjects in my GCSEs. BAME students will be impacted largely and this seems unfair," one respondent said.
Some staff also expressed frustration with the time and care invested in the teacher-assessed grading process, which they felt would not be reflected in the final grades pupils achieved.
One respondent said they had worked for "hours and hours" on the teacher-assessed grading process, but added, "our School Assessed Grades will undoubtedly differ from the actual results. And who can tell the difference between this cohort and the previous two, four, 12 years? Not a computer; the teachers. And it is not left to the teachers, but to a computer with a couple of exam board discussions, probably."
However, other staff pointed out that GCSEs can be unfair in their own way, or suggested the process this year was the best outcome in the circumstances.
"I don't think the overall level of unfairness will be different to exams, although different students may be affected," one respondent said.
Another said they felt the process would be fair, adding: "Teachers will have a very good idea on students' academic abilities. Students who are not happy can now sit an exam if they want to. Students who rely on last-minute exam preparation only have themselves to blame if they have not been consistent in their coursework throughout the year."
'Disappointing' drop in confidence in grading
Geoff Barton, general secretary of the Association of School and College Leaders, said: "It is really disappointing to see that confidence has fallen about the fairness of the grades awarded this summer.
"We are sure that school staff have every confidence in the grades that have been submitted by their centres to the exam boards, but that there are doubts about the standardisation process that is then applied to these grades by the exam boards. The concern is that grades will be pulled down through this process and that students may lose out.
"In truth, there were only a limited number of options available when the decision was made to cancel exams, and while the system that is being used isn't perfect or ideal, it is the best attempt to do the right thing in these extraordinary circumstances.
"If there was no standardisation it would mean that students this year would receive higher grades overall than in previous years, which would be unfair on past cohorts and undermine the validity of this year's results.
"All of this will feel confusing and unfair to students who receive grades which are lower than they hoped. However, it is a product of a crisis caused by a pandemic which is manifestly unfair in many respects.
"It will be important that we all show a spirit of generosity in terms of the onward progression of students this year to sixth forms, colleges, universities, apprenticeships and employment, and give them the benefit of the doubt."
'Fairest possible' A levels and GCSEs
An Ofqual spokesperson said: "The arrangements in place this summer are the fairest possible to enable the majority of students to move on to further study or employment as planned.
"Final grades will be calculated using both centre assessment grades and a rank order of students provided by the centre. Centre judgements will then be standardised by exam boards, just as coursework marking is routinely adjusted through moderation, to make sure the standard is consistent between schools and colleges – with adjustments only where they are needed to ensure fairness for students.
"We extensively tested possible variations of the standardisation model to ensure we selected the one which gives students the most accurate results possible and an early review of the data suggests there will generally be no widening of the gaps in attainment between different groups of students.
"We know teachers worked extremely hard to deliver this year's arrangements and the vast majority of grades students receive will be the same, or within one grade, as their centre's judgements – reflecting the skills, professionalism and integrity of those involved."
A Department for Education (DfE) spokesperson said: "The vast majority of students will receive a calculated grade this summer that enables them to move on to the next stage of their education or training.
"Ofqual has developed a robust process that will take into account a range of evidence, including grades submitted by schools and colleges, with the primary aim of ensuring grades are as fair as possible for all students.
"Early data published by Ofqual shows calculated grades have had no impact on the attainment gap between disadvantaged pupils and their peers, and ethnic minorities and their peers."
The DfE also pointed out that pupils will have the chance to sit exams in autumn if they are unhappy with their grades, or appeal through their school or college if they believe an error has been made in the grading process.
And it noted that Ofqual's calculations showed that without standardisation, A-level grades this year showed a 12 percentage point rise compared with 2019, which would undermine the value of qualifications gained this year.