The exams watchdog Ofqual has published figures showing why it is moving some of the grades estimated by teachers down in this year's GCSEs and A levels.
The regulator has revealed that the "optimistic" grades submitted from schools and colleges would have resulted in a nine per cent improvement in GCSE results and a 12 per cent rise in grades at A level this year.
Tables show this would have resulted in major increases in GCSE grade 4s and 7s and in B grades at A level.
Ofqual has said an improvement on such a scale in a single year has never happened before and to allow it to happen would "significantly undermine" the value of these grades.
---
Ofqual: Majority of schools have been optimistic with submitted grades
Senior MP: Ofqual must not be afraid of scrutiny
Coronavirus: Williamson warned over grading 'injustice'
---
The regulator will use a standardisation process this year to award grades following the cancellation of exams because of the Covid-19 outbreak.
This will be based on teacher assessment grades, a "rank order" of students in each school for each grade and subject, and historical school performance data.
Ofqual has produced figures, which show the extent to which the grades that schools submitted as part of this process differ from last year's results.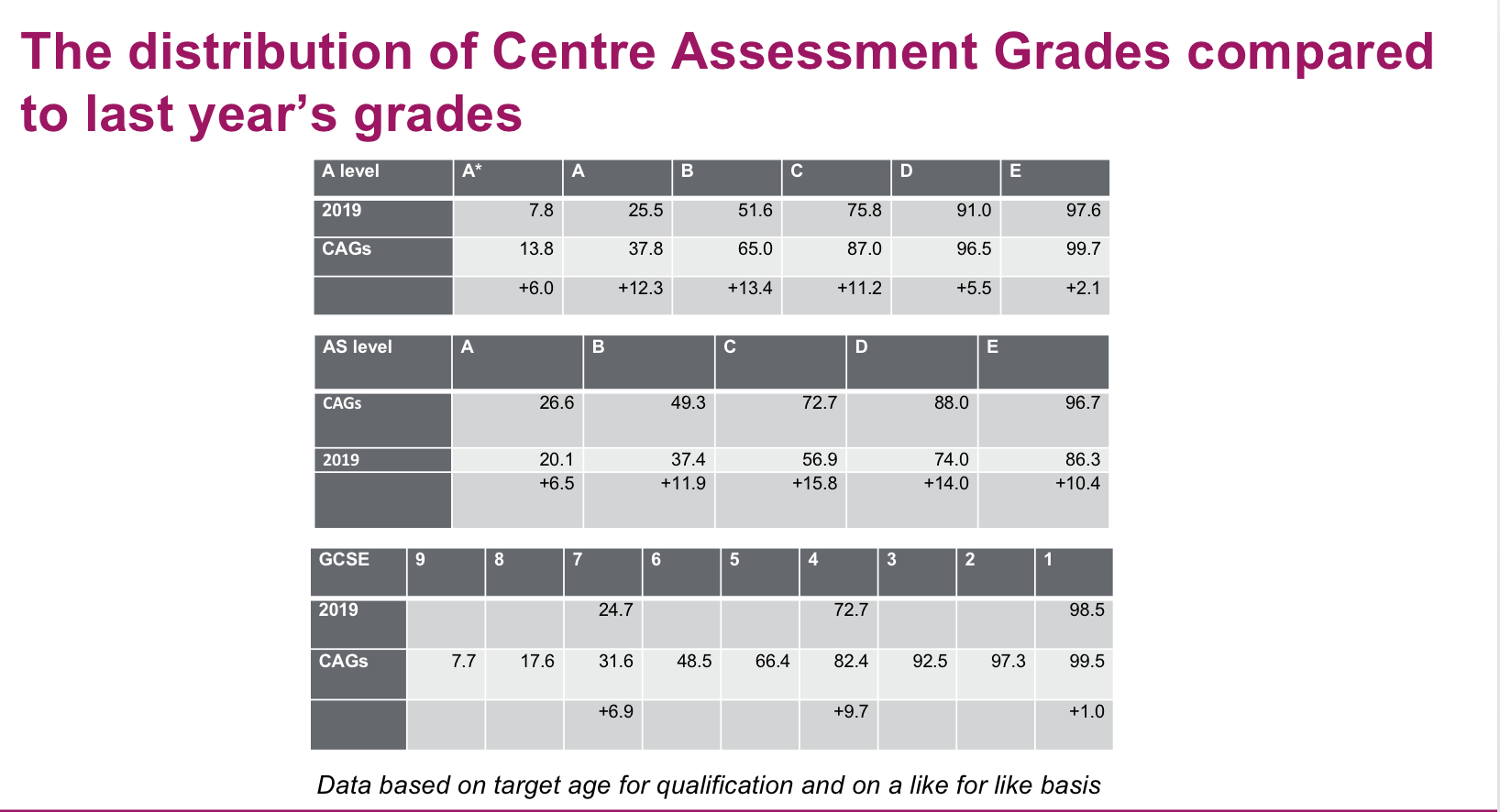 The table above shows that the proportion of grade 4s or better at GCSE was 72.7 per cent last year but would be 82.4 per cent this year if schools and colleges submitted grades were used.
At A level, the figures show a big increase in B grades –  a grade often required in university offers.
In 2019, 51.6 per cent of A levels were awarded a B or better but, in this year's teacher assessments submitted to Ofqual, the figure is 65 per cent.
After Ofqual has standardised the results, it expects GCSEs in 2020 to be around one per cent up on last year and A levels to be around two per cent up.