I think the decision to stop wearing masks in the secondary school classroom at this time is wrong. 
The classroom is a potentially dangerous place for catching Covid. Teachers and students can be sitting in a smallish room for a couple of hours at a stretch, often with the doors and the windows shut. 
We know that talking, shouting and singing all generate large numbers of aerosols, which are little particles that float in the air. Those aerosols build up in the classroom during that time. We also now know that Covid is spread by such aerosols. 
There was previously a very, very long and acrimonious battle among doctors and scientists about whether masks are effective when worn by people in the community. While some would still disagree, the overwhelming majority of scientists would say that the battle has now been won by those in favour of masks. 
Masks are definitely very effective in terms of what we call source control: they stop the person wearing the mask from spreading germs to other people. But they also protect the wearer – they stop the mask-wearer from breathing in other people's germs. 
Covid and schools: Putting teachers in a potentially dangerous position
There was a recent paper examining all the different interventions to reduce the spread of Covid in schools. The most effective thing to do was to put a mask on the teacher. The figure below shows that plexiglass increases the risk of transmission, while masking the teacher decreases it.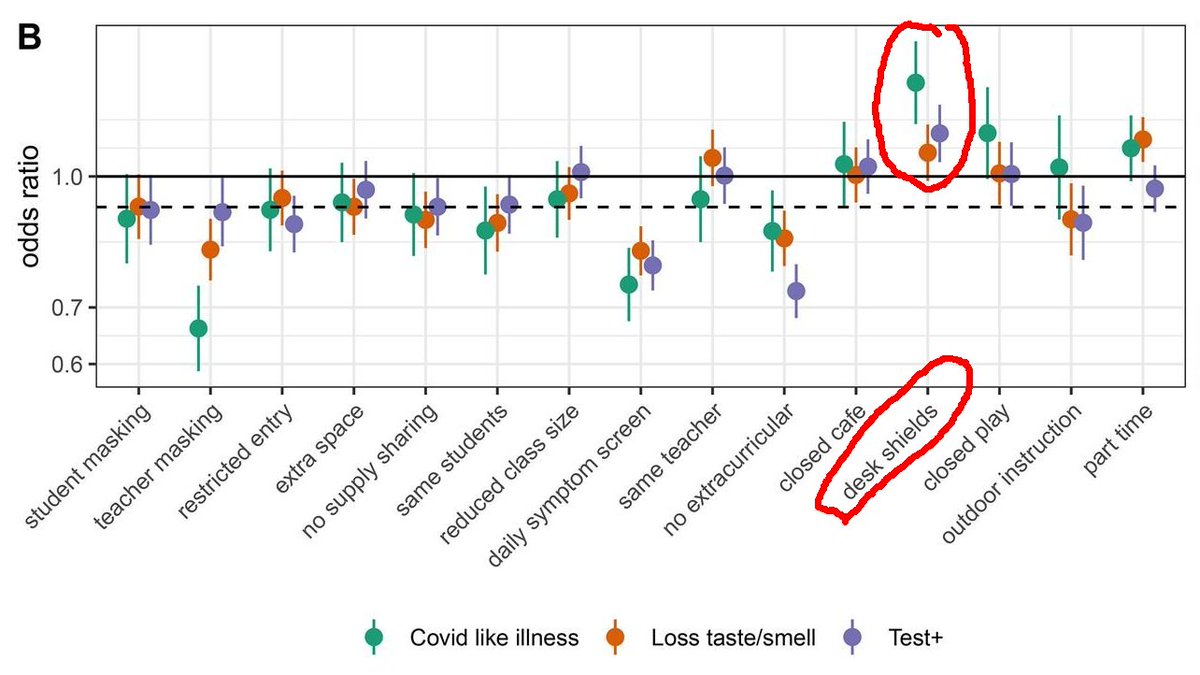 Covid is a disease with a significant mortality rate. This puts teachers in a potentially dangerous position, especially if they or a family member are clinically vulnerable. And people assume that children aren't affected, but long Covid affects them, too: it's estimated that up to 5 per cent of children will suffer long, drawn-out symptoms afterwards. 
People say that wearing masks in the classroom affects the mental health of children, but there's no strong evidence that masks are psychologically bad for them.
One thing that really troubles children and teenagers is uncertainty. After months and months of lockdown, they're finally back in school – and then, 10 days afterwards, they're told by the school that their bubble has burst, and that the class has to stay off for two weeks. It's a bit like Russian roulette: one day everything is fine, and then the next day everyone in a particular bubble has to stay home. 
So, given that they're already wearing masks, just ask them to do it for a few months longer – it's not for ever. I never, ever got up on my soap box and asked children – or anyone else – to wear masks before Covid. It's specifically because it's dangerous not to wear them right now.
The risk of new variants spreading
The argument for easing off with masks at secondary schools is that it's all getting better, allegedly – that we're at the tail end of the pandemic.
But if we look at the new variant from India, and the other variants that are coming into the country from abroad – when mutation happens, that sometimes gives the virus a competitive advantage, and it's the variants with that advantage that become dominant. That's why the new variant survives – take, for example, the Kent variant, which was more contagious, and more lethal, we now know.
The problem with this new variant that's emerged from India is that we don't yet know if it is vaccine-resistant. We also don't know if it may be more contagious, so it spreads more easily. It may also be more lethal – we don't know yet. Without a doubt, it's the fastest-spreading variant in some parts of the country at the moment – so unless we get on top of it, it could spread across the country, just as the Kent variant did. 
We don't know which variant accounts for the recent outbreaks in a lot of schools. That's a bit odd, isn't it? The government should tell us: it's of major public health significance. So let's have that data in the public domain.
Ultimately, we need to balance the alleged psychological harm of secondary students wearing masks for a few more months against the risk of new variants spreading. And, really, I cannot see how it balances out in favour of removing masks right now..  
Do I think individual heads and teachers should insist on masks in their schools or classrooms? Well, when I was a child, I hated being given mixed messages – absolutely hated it. Children can get really cross about the whole thing, and I don't blame them. 
What we should be doing is having a dialogue with students. Yes, every class will have its libertarians, but most children are quite sensible. There's enough evidence now for children to say, "We're balancing the risk that Covid will sweep through the school – not a high risk, but a risk – against the chance that one of us will pass it on to their granddad, who could become very ill." And then I'd listen to what they want to do.
The teenagers I've been talking to are actually quite keen on masks. A lot of them have vulnerable parents – a dad with diabetes, for example – and they don't want to bring Covid home from school.
Trish Greenhalgh is professor of primary care health sciences at the University of Oxford