The Department for Education has been accused of a "shocking failure" to halt the spread of coronavirus in schools as new data shows the number of Covid clusters in schools almost doubled over the past two weeks.
There were 104 outbreaks – defined as two or more confirmed cases – in primary schools and 127 in secondaries last week, compared with 55 and 70 in the week 14-20 June, according to data from Public Health England.
---
Covid: School bubbles 'to be scrapped from 19 July'
At-a-glance: Covid absence grows to 1 in 10 pupils
DfE: Schools can choose to keep bubbles this term
---
Commenting on the rise in the number of coronavirus clusters in schools, Mary Bousted, joint general secretary of the NEU teaching union, said: "As the rate of coronavirus continues to rise, so too does the disruption to education. Last week there were 104 outbreaks in primary schools, 127 in secondary schools and 20 in special schools. This is almost double the number just two weeks ago. 
"Meanwhile the same report showed that the Department for Education have made no progress encouraging the mass testing of pupils. Less than 20 per cent of secondary pupils took a coronavirus test last week which is virtually unchanged this half term and much lower than in March when 60 per cent of pupils were taking a test. 
"Gavin Williamson's failure to act to reduce the spread of coronavirus in schools is shocking. We know that every day of education lost matters to a child and yet the government appear to have written off the whole of this half term." 
Last week, 10,226 people testing positive reported attending primary, and the figure was 13,008 for secondaries, jumping from 3,513 and 5,614 (respectively) two weeks ago.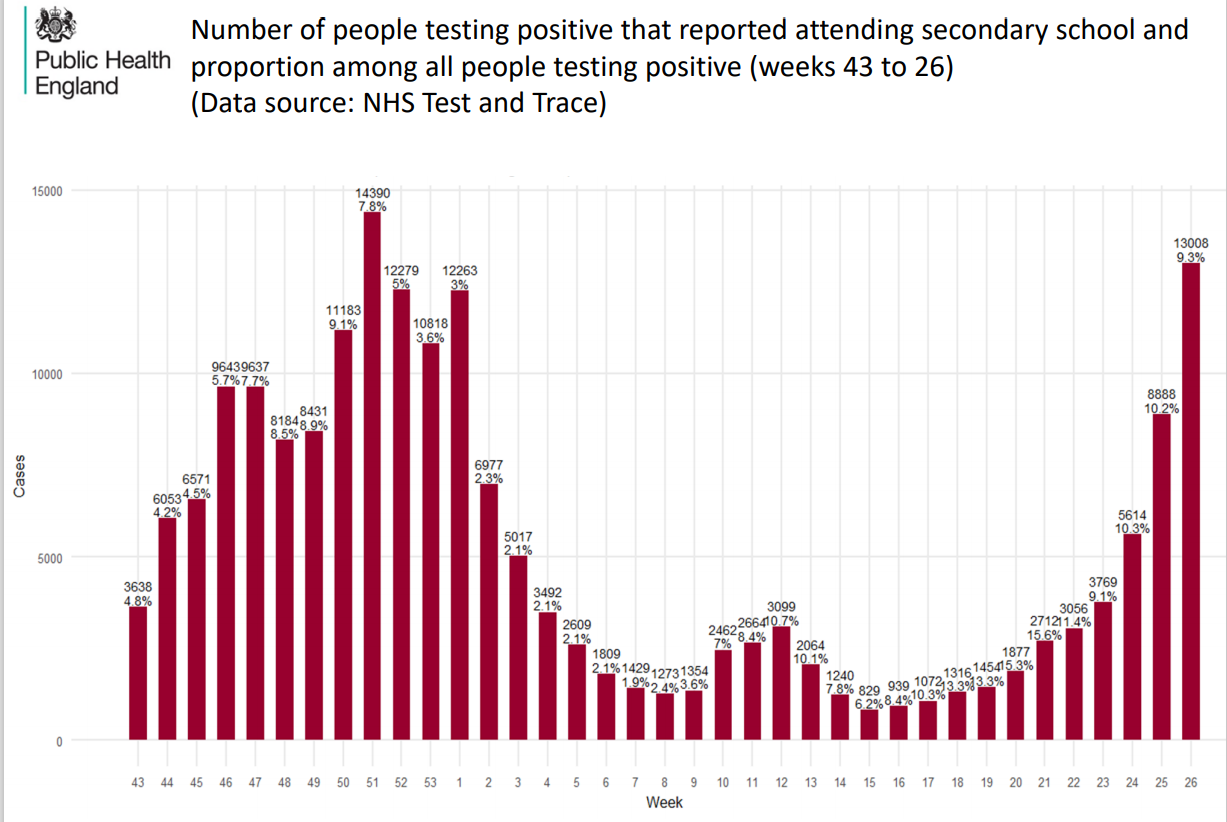 The number of cases reported by people who attended primary schools is the highest since data collection started in October 2020. 
PHE points out that people could have been infected outside of school: "Cases that did attend in person may have been exposed in other settings, such as their household or while doing other activities.
"This data can not be used to directly infer that these cases acquired their infection, or that they exposed others, in an education setting."
The DfE has been approached for comment.