The coronavirus pandemic has brought the need for the education sector to adequately prepare students for the world of work into sharp focus – but what skills are employers actually looking for at the moment?
Provider The Skills Network (TSN) analysed 1.5 million job adverts between March and September 2020 and found that employers were most likely to ask for auditing skills, followed by nursing and accounting. 
TSN's chief executive Mark Dawe said that Covid-19 had resulted in a shift in the types of skills that employers are looking for. "Navigating this difficult economy is about helping people to develop the resilient skills sought by today's employers," he said. "These are the skills that learning providers must help students of all ages to acquire, helping them to excel and ultimately secure new or better employment. "
---
Job shortages: Teaching assistants top the list
More: DfE didn't have understanding of Covid challenge
Technical qualifications: what the DfE data says
---
The report finds that technical skills in programming, coding and software development are in very high demand, with technological roles growing by 7.3 per cent each year. However, it also finds that being able to display "soft skills" like management and leadership is crucial for candidates. 
More than 15 per cent of the roles analysed required strong skills in sales – and selling and business development skills were listed in over 277,000 job postings since March. 
The analysis also finds that there are more than 50,000 nursing vacancies in the UK and that despite reductions in the care services available owing to Covid-19, there had been a 7 per cent increase in vacancies in health and social care since the pandemic began. The report also highlights that mental health-related skills are the seventh most in demand throughout the UK.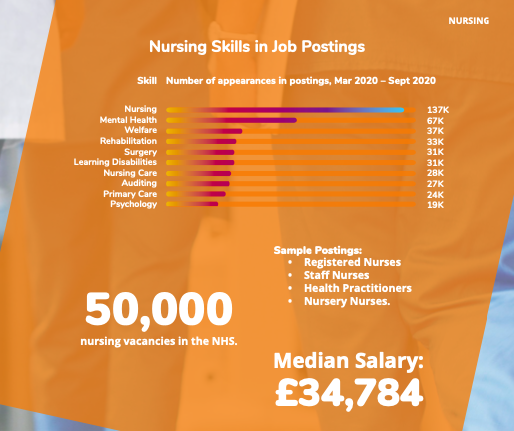 The ability to support children and adults with autism was listed in over 132,000 job postings between March and September across early years, teaching, health and social care roles.
According to the report, around 60 per cent of chief financial officers say there is a shortage of financial skills in the UK. 
The sectors continuing to recruit despite Covid-19 were construction, employment law, online retail, digital marketing, technology, and online learning.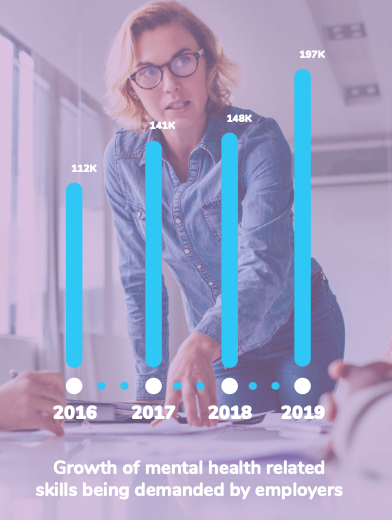 The top 10 skills – and how many times they appeared in job adverts
Auditing: 228,000

Nursing: 188,000

Accounting: 183,000

Business development: 161,000

Key performance indicators (the ability to work towards and 

understand KPIs)

: 160,000

Agile

software development

: 160,000

Mental health: 148,000

Welfare: 145,000 

Warehousing: 122,000

Selling techniques: 115,000
TSN also analysed the top 10 most in-demand skills in the education and early years sector, with welfare, autism and child protection coming in top. 
The top 10 most in-demand skills in early years and education
Welfare: 66,000

Autism: 35,000

Child protection: 30,000

Learning support: 26,000

Classroom management: 21,000

National curriculum: 20,000

Mental health: 15,000

Numeracy: 14,000

Science education: 14,000

Auditing: 13,000 
To assist those looking to discover the most in-demand skills in their local area, The Skills Network has developed an online app, which will provide a personalised list of the top 15 sought-after skills and roles available in your postcode area.
Mr Dawe said: "At the Skills Network, we offer distance learning as a way of learning remotely without attending lessons in a classroom or having regular face-to-face contact with a tutor. We'd urge any employers looking to upskill their current team to consider online training."
To read the full skills and employment trends report, please click here.