Nearly seven in 10 teachers believe that this year's grading process for GCSEs and A levels will not give all students the grades they deserve.
In an exclusive Tes survey of more than 2,800 grading teachers, 69 per cent said they did not believe the national guidelines for grading this year were fair.
The news comes on the deadline day for schools submitting their grades to exam boards in a process that has already encountered problems.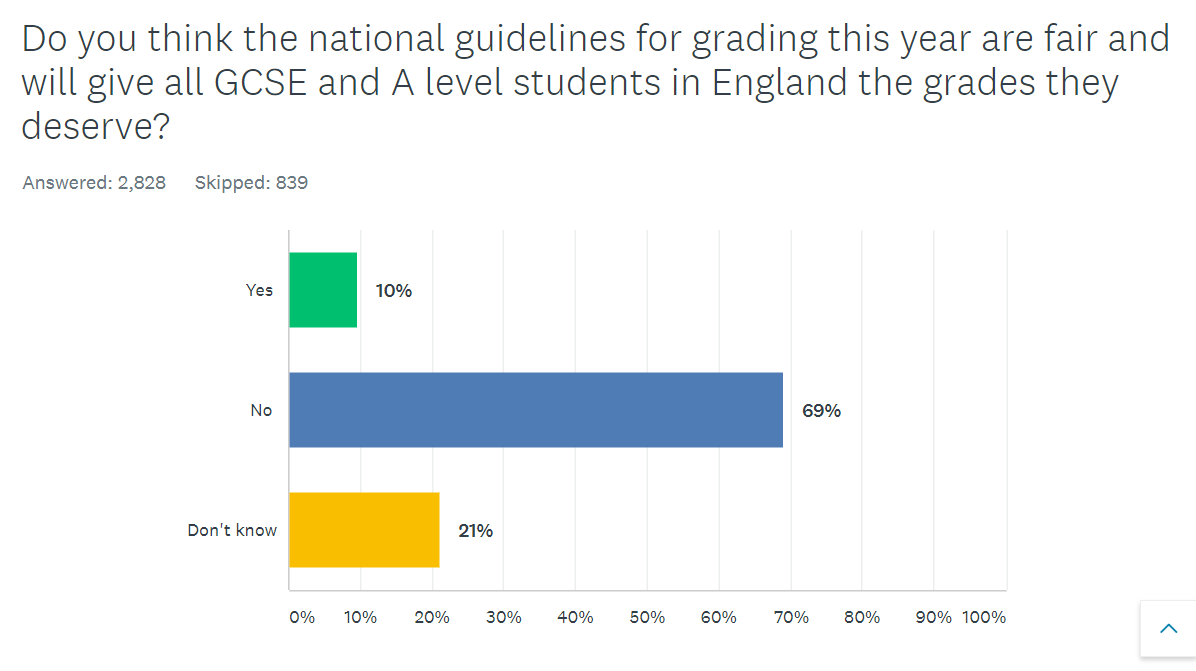 However, when it came to grading in their own school, over half of teachers - 52 per cent - said the grading process in their school had been fair and would give students the grades they deserved.
---
Revealed: Huge differences in GCSE grading approaches
GCSEs 2021: Nine in 10 teachers lacked support from boards
Revealed: Inconsistent school grading approaches
Exams: Should schools be running full mock exams?
---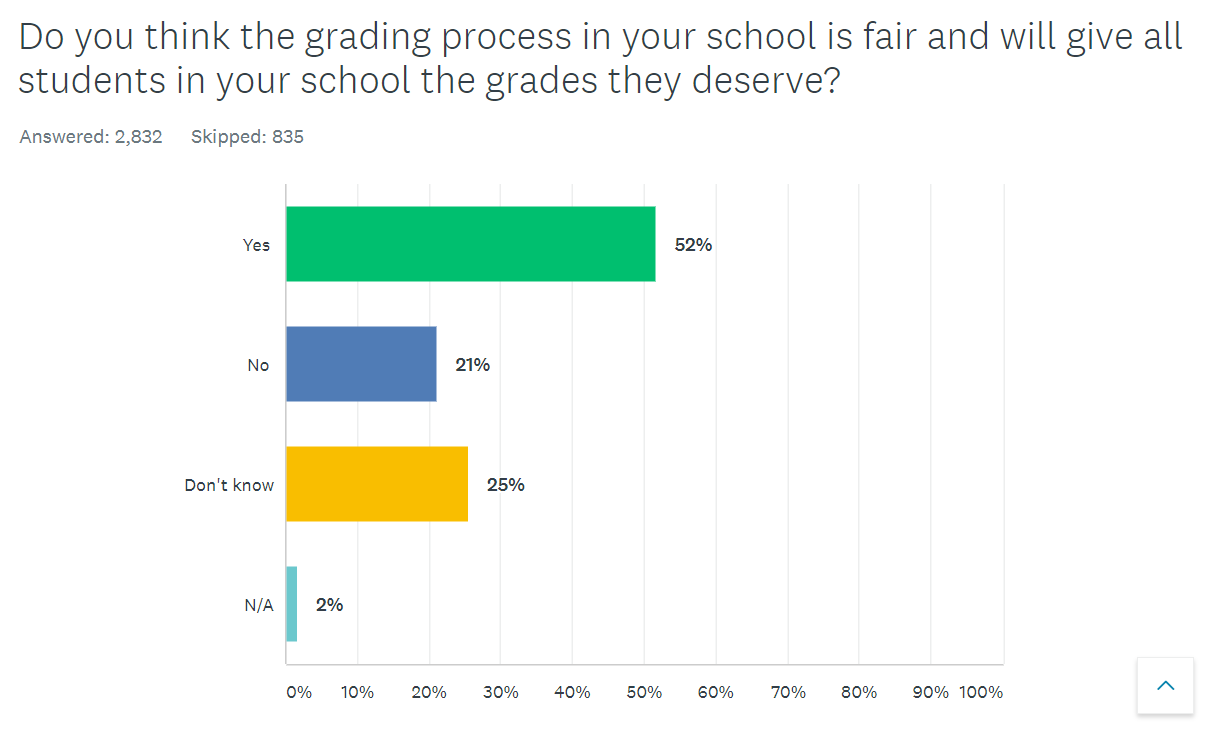 Some commented on the inconsistency of approaches taken by different schools in arriving at grades nationally, which they felt made grades this year incomparable.
GCSEs and A levels: Concerns over schools' different approaches to grading
Schools have taken a range of approaches when grading GCSE and A-level candidates, from a full suite of mock exams taken in the exam hall, to using in-class assessments and coursework.
"It's a hodge-podge of assessment methods across the country inevitably, so there is no like-for-like comparison possible across the country, in my opinion," said a head of science marking GCSEs and A levels in a private school, where full sets of mock exams had been used to grade students.
"The guidelines are about as useful as a chocolate fireguard," a state head of maths said.
"The definitions for each grade are totally undefinable. We will basically be using an algorithm of our own invention to to comparatively grade the cohort within the parameters that SLT give us."
Others said that the guidelines issued by the Joint Council for Qualifications were too vague.
"The national guidelines are opaque. The JCQ guidelines for grades are laughable. They couldn't even be bothered to write some of them, just saying that a level 7 shows all level 6 descriptors strongly," a state English teacher whose school was using a mixture of coursework and exams said.
And an English teacher in the state sector said: "The grade descriptors for English language and literature are incredibly vague and the ones that we wrote as a department last year seem far more robust. The resources are generic and we are using our knowledge as a department to assess, alongside the materials from exam boards."
Tes has previously reported on teachers' views that the grade descriptors issued by JCQ were inadequate.
However, more than half of teachers felt the process within their own school would produce fair grades for students.
"Fair within the school, yes, but with every school doing their own thing, how can the results nationwide be fair and accurate. Impossible," a head of languages in the state sector said.
One in four teachers said they did not know if the process would produce fair grades within their school.
A humanities teacher at a private school said: "Grading is fair in relation to what they've done but they've been required to do far less than other years. As we had to do past exam board questions, savvy pupils were able to prepare answers."
And a state headteacher who said they did not know commented: "Given the guidance, yes – however, I am sure that exams graded by exam boards would have been fairer, created less anxiety for staff, pupils and families. There will forever be ongoing uncertainty regarding the grades. Some will feel hard done by, employers might feel there was no consistency."
Geoff Barton, general secretary of the Association of School and College Leaders, said: "This finding reflects the fact that the guidance is very open-ended and effectively lands schools and colleges with the enormous task of deciding how to assess students and what approaches to apply without very much direction.
"Added to this is the fact that students will have been affected to widely differing extents by the learning loss they have experienced during the pandemic. Ensuring fairness is very difficult in these circumstances, and it is to the great credit of teachers and leaders that they have worked so hard to make the best of what is clearly far from being an ideal situation.
"There are internal and external quality-assurance processes which should help to address any issues which may arise and an appeals process if students do not feel their grades are fair."
An Ofqual spokesperson said: "We consulted on the detail of the government's teacher-assessed grades policy and developed the detail in light of more than 100,000 responses. Given the circumstances of the pandemic, each school has been able to choose an approach that works best for their circumstances, based on what their students have been taught."
A spokesperson for the Joint Council for Qualifications, said: "Ofqual and DfE publicly consulted on arrangements that they determined needed to be flexible because, due to the pandemic there was different and uncertain levels of disruption faced by different schools and colleges. Therefore, the flexibilities outlined in this year's grading guidance have been developed by JCQ and the exam boards to give schools and colleges the ability to adapt accordingly."