The proportion of 16- to 24-year-olds who are classed at Neet (not in education, employment or training) who have mental health conditions has almost tripled since 2012, new research has found.
In the annual Neet brief published today, research found 20.8 per cent of Neet young people had a mental health condition in 2020, up from 7.7 per cent in 2012.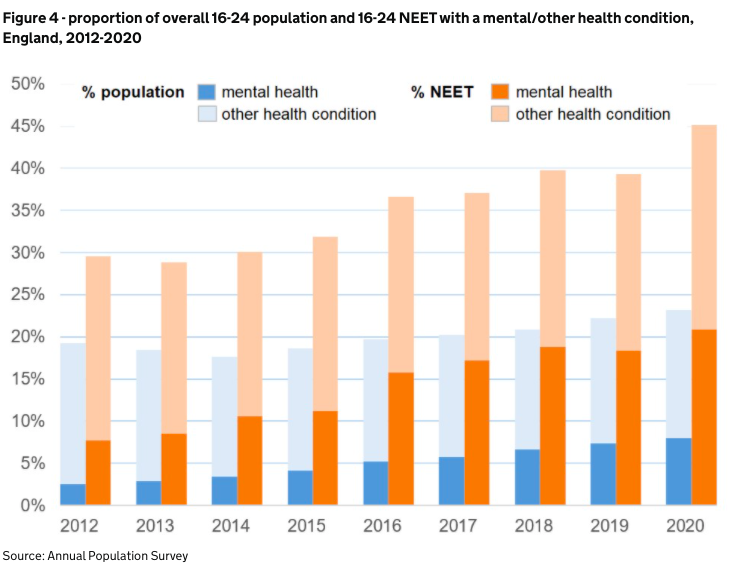 A survey published by the Prince's Trust in January found that the pandemic experience of young people not in education, employment or training is more negative than that of those in work and training.
One in four respondents said they felt "unable to cope with life" since the start of the pandemic, increasing to 40 per cent among those not in work, education or training.
---
News: Huge rise in young people classed as Neet
Long read: Meet Carolyn Savage, champion of youth engagement
Background: One in four young people 'unable to cope with life'
---
At the time, Jonathan Townsend, UK chief executive of the Prince's Trust, said: "They face a disrupted education, a shrinking jobs market and isolation from their friends and loved ones, and, as a result, too many are losing all hope for the future.
"As ever, it is unemployed young people, and those with few qualifications and little confidence, who have an even more negative experience.
"At this critical time, we need businesses, government and individuals to work with us to help as many vulnerable young people as possible.
Gillian Keegan, apprenticeships and skills minister, said: "We are doing everything we can to ensure no young person is left behind as a result of the pandemic and continue to work tirelessly across government to make sure support is available for those who need it the most.
"Employers can now apply for a cash boost of £3,000 for each apprentice they recruit, helping them to create even more opportunities and give more young people the life-changing chance to kickstart or upskill their career. On top of this, the government has tripled funding for traineeships to £111 million, giving more young people a vital route to start their apprenticeship journey, get their first job or go on to further study."
Research published by the Office for National Statistics published last week found there has been the biggest quarterly increase in the number of young people not in Neet in almost a decade. 
Stephen Evans, chief executive of Learning and Work Institute, said:"These data show too many young people were not in education, employment or training before the pandemic, with significant inequalities between groups and areas.
"We know the pandemic has made things worse, with the number of young people claiming unemployment-related benefits doubling since March 2020, despite more young people staying in full-time education.
"Being out of work when young has lasting 'scarring' impacts, reducing employment and earnings prospects for years to come. That's why we've argued for a Youth Guarantee, so every young person has access to a job, apprenticeship or training place."
Neet brief: other key findings 
The research also found the gender gap between 16- to 24-year-olds who are classed as Neet in 2020 was the largest since 2012 – the DfE says this is the first time 16- to 24-year-old females have notably lower Neet rates than males. Around13.3 per cent of male 16- to 24-year-olds were classed as Neet compared with 9.7 per cent of females of the same age. 
The DfE says females are still more likely to be Neet due to looking after their family or home than males, but the female proportion had almost halved from the same quarter the previous year, and overall, male inactivity rate for the population is the highest in the series (6.1 per cent of population).
The data also found that Neet figures had remained steady from 2019, with 11.5 per cent of 16- to 24-year-olds classed as Neet in 2020, up just 0.2 per cent from 2019. 
When it came to those who are Net (not in education or training), the percentage of 16- to 24-year-olds dropped, from 44.6 per cent in 2010 to 42.8 per cent in 2020.