Last week, Tes published the first comparison of England's academy chains made according to Ofsted's ratings of their schools.
The rankings reveal some significant disparities between trusts in terms of the proportion of schools rated good or better at both primary and secondary level.
But perhaps just as importantly, the figures shine a light on an area of the school-accountability system where information has until now been in short supply.
---
Quick read: Ofsted checking just 12 MATs this year
Tables: MATs Ofsted ratings revealed
Background: Ofsted's plan for new MAT checks
---
The case is often made that graded inspections of schools are needed because they are valued by parents.
So why, then, is that not true of multi-academy trusts (MATs)? Ofsted has wanted to do more to report on the role of MATs in English schools for some time.
And rightly so. At a time when the case is being made by some for the entire school system to be run as MATs, it seems obvious that Ofsted would want to look at their work.
So far, the watchdog has not made any actual inspections of MATs themselves. 
Instead, a new system of "summary evaluations" – the Department for Education has insisted they should not be called "inspections" – of MATs has been launched. They see the inspectorate issuing a report on a trust after inspecting a group of its schools over a couple of terms.
Ofsted's aim is to achieve an accurate picture of how trusts operate by looking at a "broad range" of MATs. And yet, as Tes has revealed, it only has the resources to look at 12 a year.
At the current rate, it would take more than 80 years before Ofsted got around to looking at every MAT in the country. 
So, as it is unlikely that the DfE will increase Ofsted's budget to extend the scrutiny of MATs, the overwhelming majority of trusts will not receive any assessment from Ofsted at all.
MAT-level Ofsted judgements
This is why the new tables are of such interest. Because for the first time they give us the big picture of trust-level Ofsted information.
The research, done by Education Datalab's Philip Nye, has used the same criteria as the DfE's own MAT league tables. Schools are only included if they have been with the MAT for three years.
It reveals there are 13 trusts where more than half of primary schools are judged to be less than good and another 13 where the same is true for secondaries.
By contrast, 117 out of 232 primary trusts in the table have all their primaries rated good or better, and 30 out of 80 secondary trusts have all secondaries judged at least good.
But as Mr Nye points out, there are caveats.
Some trusts are benefiting from Ofsted inspections of schools that took place before they were a part of that trust.
All of those schools included in the research that were inspected before joining their current trust were judged to be good or better. 
This means that while no trusts have been actively penalised by a negative judgement a school got before they took it on, they will have suffered by comparison with MATs that have benefited from an earlier positive judgement
Geoff Barton, the general secretary of the Association of School and College Leader, has also cautioned people to consider what the data is actually showing.
He points out that if a trust is shown to have a spread of schools with different Ofsted judgements, it could demonstrate that it is a MAT with strong schools that is committed to taking on those needing extra support.
As Mr Barton puts it, "School improvement is not like sticking labels on a tin of beans. It takes time."
Education Datalab research has found that the "median amount of time it took for a school to get from less than a good rating to good or better was more than six years".
Nonetheless, if decision-makers look at a MAT's track record at Ofsted inspections when deciding on the future of schools, it is only right that the public should have access to the same information.
Ofsted grades and progress scores
Another really interesting area that the tables explore is the relationship between progress scores and Ofsted ratings at trust level.
This (pictured below) shows a stronger correlation at secondary school than at primary. But both sectors point to a pattern where trusts with more schools rated as good are likely to have higher progress scores.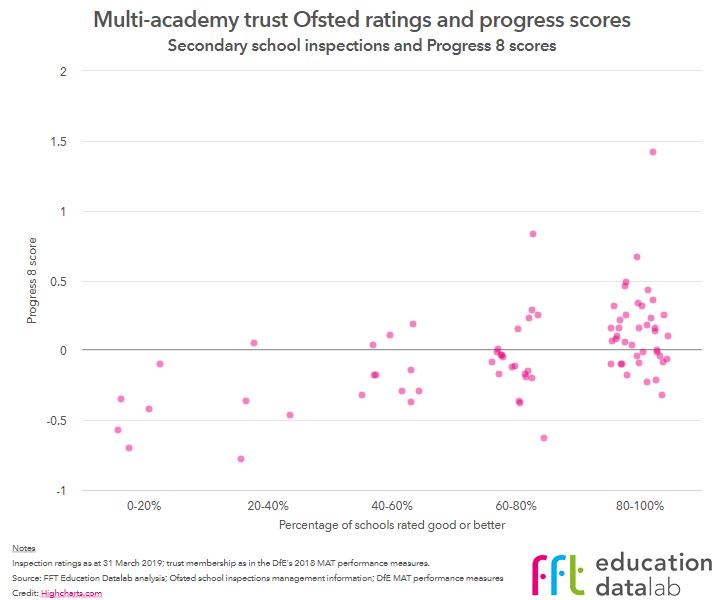 It will be interesting to see whether that relationship changes over time, as Ofsted's new inspection regime, with its greater focus on curriculum than results, comes in.
It seems reasonable to expect that if data becomes less of a driver in the new inspections, the link between progress scores and Ofsted judgements will become weaker. Time will tell.
The value of the data published today is not just in the conclusions it provides, but in the new questions it raises.