The lack of diversity in college leadership has been laid bare in exclusive Tes analysis, with data showing that 84.1 per cent of senior leaders in English colleges identify as white British.
According to information obtained through a freedom of information request, just 8.7 per cent identify as being from a black, Asian and/or minority ethnic (BAME) background. 
Some 3.5 per cent of college senior leaders say they are from Asian ethnic groups, 2.6 per cent are from mixed/multiple ethnic groups. Around 2 per cent self-identify as from black ethnic groups.
Around 140 colleges answered a Tes FOI request, which asked how many people were currently on the college's senior management team, and how many of them self-identified as belonging to each of the ethnic groups listed in the UK government's census. Altogether, these colleges had 1,623 senior leaders.
Tes did not ask for data on chief executives or principals specifically, but data for 2015 from the Association of Colleges showed that, at that time, around 13 per cent of principals and chief executives were BAME – a proportion that the AoC estimates has now dropped to just 6 per cent. 
---
More: 'We need to keep having open conversations about race'
Background: Train new recruits in anti-racism, say teachers
Opinion: 'Being a black teacher in China was frustrating'
---
According to the government's most recent census – taken in 2011 – 86 per cent of the population of England and Wales were white, and 13.8 per cent were BAME. In London, that figure rose to 40 per cent. 
But Tes' data revealed that almost half of colleges (47 per cent) had all-white senior leadership teams – one of them situated in London.
Ethnic diversity in college leadership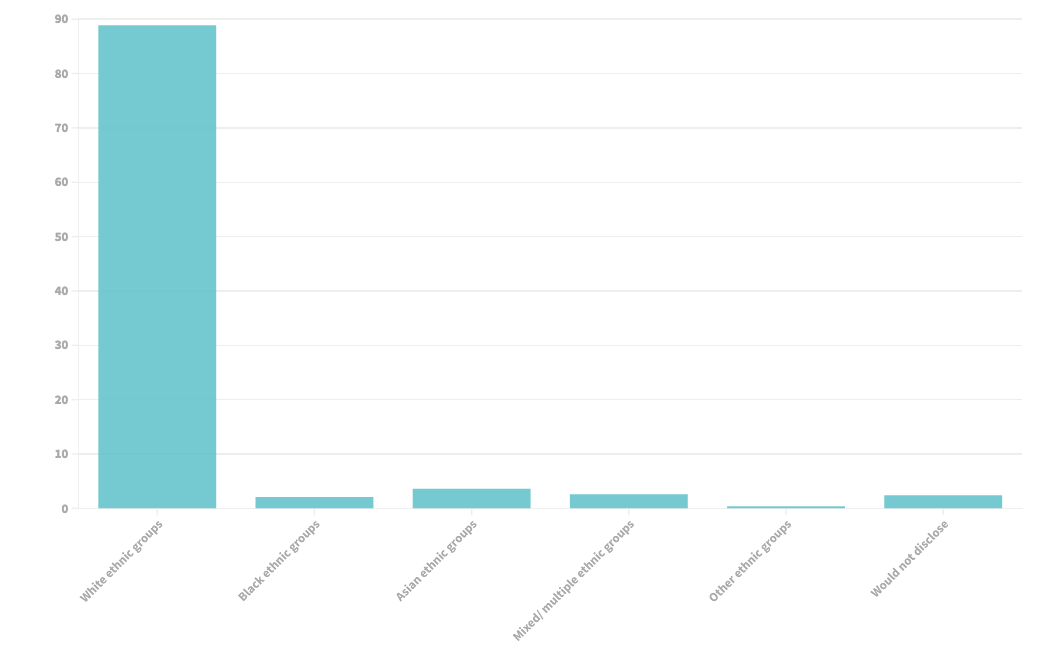 Dedicated leadership training
Anthony Bravo, principal and chief executive of Basingstoke College of Technology, told Tes that at principal level, the white British to BAME ratio was much lower than the figures from the FOI indicated. He said he did not think that, as a black man, he would be in the position he was in today if he had a different name. 
He said: "If I didn't have the name I have, if I had a Nigerian name, I'm not sure I would be in the same position. I've got my stepfather's name, Bravo – that's just opened doors for me, left, right and centre. It's the direct opposite of what would have happened if I had my biological father's name."
Mr Bravo told Tes that his leadership role was thanks to a course specifically for aspiring BAME college leaders, Black Leadership Initiative, that he completed 20 years ago.
He said: "That course made me – and others from ethnic minorities – realise that we could become a college principal. And low and behold, we did that. It was hugely inspirational for me. I was a deputy principal at the time, and I used to go to all the big meetings in London and I was always the only black face in those meetings." 
Mr Bravo said that to make tangible change, the scale of the situation first needed to be identified and then training, measurable targets and clear strategy had to follow. However, he said that to genuinely make a difference, courses like the one he attended had to be funded by the government and rolled out across the country. 
He said: "If you genuinely want to make a difference, if you talk to the black principals who are currently principals or have been, and say 'what are the things that make the difference?', I know the most common thing, apart from being stubborn and this and the other, was going on that course."
'The decrease in BAME leadership is a real concern'
Kirsti Lord, deputy chief executive of the Association of Colleges and chair of its Diversity and Inclusion Board, also supported the reintroduction of the Black Leadership Initiative. 
She said: "The decrease in BAME leadership is a real concern when considering how the diversity of student communities is represented in college management and the lack of role modelling and diversity of thinking within the sector that results from such low levels of BAME leaders.   
"Government investment in the development of BAME middle leaders to prepare for senior positions was at its height in 2000s with initiatives such as the Black Leadership Initiative. These dwindled by 2010, and reporting at the time noted small impact from these projects. 
"One could argue that the impact of these initiatives took time, as opportunities within the sector fell in line with college mergers and a general recession; the proportion of BAME principals almost doubled between 2010 and 2015, suggesting that there may well have been a measurable impact over a longer timescale."
She told Tes that the AoC had written to the Department for Education, proposing a number of strands of work to increase the recruitment and development of BAME staff to improve the pipeline of BAME leaders within the sector. 
She added: "It is clear that any such work needs to be built on research, understanding the lived experience of BAME staff within colleges and requires a sustained and meaningful approach with long-term outcomes, rather than small-scale, short-term programmes with limited impacts."
The Diversity in Leadership Programme
In 2019, the Education and Training Foundation launched a Diversity in Leadership Programme in a bid to challenge bias, remove obstacles to attaining leadership roles and to use tools to build confidence in aspiring leaders.
Mark Wright, ETF's director of design and development, said that due to the sector's struggles with funding, diversity had fallen off the agenda. 
He said that although colleges tended to represent their local communities, diverse leadership teams really strengthen colleges. 
He added: "It's about the strength of leadership teams and getting diversity embedded in that senior level and it comes with the territory if you get people from different backgrounds, you will be stronger as an organisation. We're trying to get people to recognise there is a need for that.
"Over the last few years, with the funding challenges that the sector has been wrestling with, it's been very easy to take diversity off the focus. I don't get the sense at all that it's intentional, I think they're just trying to keep the doors open, and in doing so, it's fallen off the agenda to the degree." 
Mr Wright said that the sector needed to hold a "mirror up to its unconscious bias". As part of its programme, the ETF holds "cultural change" workshops that identify unconscious bias barriers
He said: "It's not often you get people who say that 'I don't want people who aren't like me around the table', that doesn't happen and so it's going to that next level. People do want to make a difference, they do want diversity, but everyone's blindsided by it and, and they need that mirror to see where the problems are." 
Mr Wright also suggested that current chief executives should be recognised if they are particularly good at coaching and mentoring BAME lecturers into leadership positions. He said "a bit of friendly competition" was never a bad thing.
"If someone has sort of taken 10 lecturers and mentored them to be 10 really good effective leaders and those five are now also principals or CEOs, and they get credit for it then others will think, 'I need to be talent spotting in the same way,'" he said. "It puts it on the radar, it makes it conscious of what was previously unconscious. And suddenly I think we'll see change happen in a quicker way than it has been."