Shirley-Anne Somerville has been announced as Scotland's new education and skills secretary.
She takes over from John Swinney, whose departure from the role after five years was announced yesterday.
Ms Somerville will have to hit the ground running amid growing concerns that another qualifications fiasco is on the cards, while next month should see the publication of the long-awaited report on Curriculum for Excellence from the Organisation for Economic Cooperation and Development (OECD).
---
Cabinet reshuffle: John Swinney moved out of education role
5 years on: What did John Swinney achieve as education secretary?
Still the defining mission? Sturgeon makes education promises after election as FM
Background: Are these Scottish education's priorities for next five years?
SQA: 'Teachers and students boxed in by assessment rules'
WATCH: Nicola Sturgeon insists teachers' judgement is key
---
Ms Somerville, who is MSP for Dunfermline, was appointed minister for further education, higher education and science in May 2016. She became cabinet secretary for social security and older people in June 2018.
Tes head of FE Julia Belgutay said: "In her time in post, one focus was diversity in Scottish college boards and the role women can play in the sector if they put themselves forward for leadership roles. She also had a keen interest in lining up the learner journey and using foundation apprenticeships and other routes to give young people more opportunities"
In her first tweet after being appointed – and having not been able to join the rest of the new Cabinet in person – Ms Somerville said: "Gutted to be missing out on the Cabinet photo today but delighted to be taking over as Cab Sec for Education. I'll be getting straight to work this afternoon from home."
Gutted to be missing out on the Cabinet photo today but delighted to be taking over as Cab Sec for Education. I'll be getting straight to work this afternoon from home. https://t.co/y0bxZrGeFj

— Shirley-Anne Somerville (@S_A_Somerville) May 19, 2021
Born in 1974 and educated at Kirkcaldy High School, in Fife, Ms Somerville graduated from the University of Strathclyde with a BA (Hons) in economics and politics (1996), followed by a diploma in housing studies at the University of Stirling and a diploma in public relations from Queen Margaret University College.
She has worked as a parliamentary researcher, a policy and public affairs officer at the Chartered Institute of Housing, and as a media and campaigns officer at the Royal College of Nursing.
Ms Somerville was previously an MSP for the Lothians region from 2007 to 2011 and returned to the Scottish Parliament in 2016 as MSP for Dunfermline.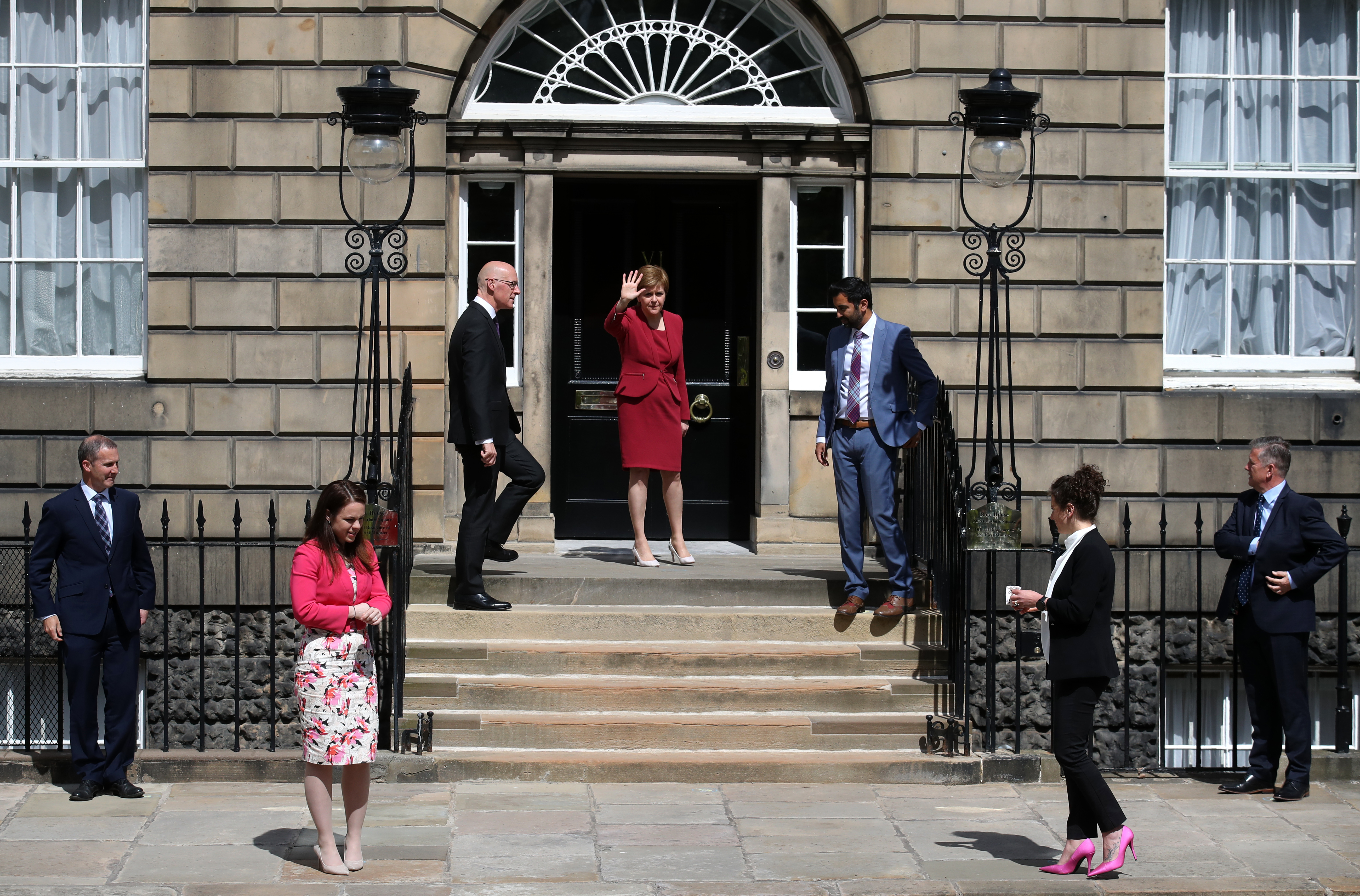 Former justice secretary Humza Yousaf has been moved to health and social care in the Cabinet reshuffle. Kate Forbes retains the finance brief, expanded to cover the economy, while former SNP Westminster leader Angus Robertson is the constitution, external affairs and culture secretary, taking over from former constitution secretary Michael Russell – another former education secretary – who stood down from Parliament at the election earlier this month.
Announcing the appointments, first minister Nicola Sturgeon said: "I'm delighted to announce the Scottish government's new Cabinet team. Scotland needs a serious government for the serious times we face as a nation, and in the top-level ministerial line-up I have announced today, we have exactly that.
"It is a government which will drive Scotland forward, as we look to build a just, fair and sustainable recovery from the Covid pandemic.
"My Cabinet team combines experience with new arrivals and fresh faces, giving us the range and depth of talent we need to tackle the pressing issues we need to tackle, from Covid to climate change.
"This term of office is unquestionably the most important one the nation has faced since devolution more than 20 years ago. We are dealing with the joint challenges of a global pandemic and recovery from it, the ongoing tests posed by Brexit and the urgent, pressing need to take forward our net-zero agenda as part of the global efforts to secure a greener future.
"The magnitude of these challenges is clear; now is not a moment to shirk from those tasks but to embrace them. In the next five years, we have a chance to shape Scotland permanently for the better, creating a healthier, happier, fairer, more prosperous and more sustainable country for everyone who calls Scotland home, establishing a positive legacy for future generations.
"The immediate challenge is the focus on recovery and the part that all policy portfolios can play in that. But, as I have made clear, when the crisis is over and the time is right, Scotland must and will have the chance to choose its future in line with the unquestionable democratic mandate for that choice."
Covid resulting in a somewhat unorthodox Cabinet Secretary appointment today (tho watch this space for portfolio!!) - for @S_A_Somerville the Bute House walk has been replaced with a zoom call due to her having a family member in isolation! pic.twitter.com/UQu6usCh0k

— Nicola Sturgeon (@NicolaSturgeon) May 19, 2021