Stuck schools face challenges that are beyond their control and need help at a national level to recruit staff, according to a new analysis. 
A blog by the SchoolDash analysis site says figures show that schools with low Ofsted ratings have more pupils from disadvantaged backgrounds, more teaching vacancies and are less likely to have full rolls than those with better ratings.
Ofsted produced a new report earlier this month that warned there were 415 so-called "stuck" schools, which have not been rated as "good" or better for more than four inspections over 13 years.
SchoolDash founder Timo Hannay said that while Ofsted's report into stuck schools was mainly focused on school-level problems and solutions, its new analysis aimed to look at "systemic" reasons why schools get stuck in the first place.
---
'Stuck' schools: Ofsted wants to trial new longer, non-judgemental inspections
Ofsted: Five challenges facing schools with a long record of Ofsted criticism
Amanda Spielman: Stuck schools are a scandal
---
The website has compared schools with different Ofsted judgements according to how many deprived pupils they have, their staffing levels, their spending on supply teachers and how full their rolls are.
This has shown that, while around one in five pupils at "inadequate" schools are from disadvantaged backgrounds, the proportion is one in 10 for "outstanding" schools.
An interactive graphic produced by SchoolDash also shows that schools with lower Ofsted ratings are more likely to have more vacancies and a larger spend on supply teachers.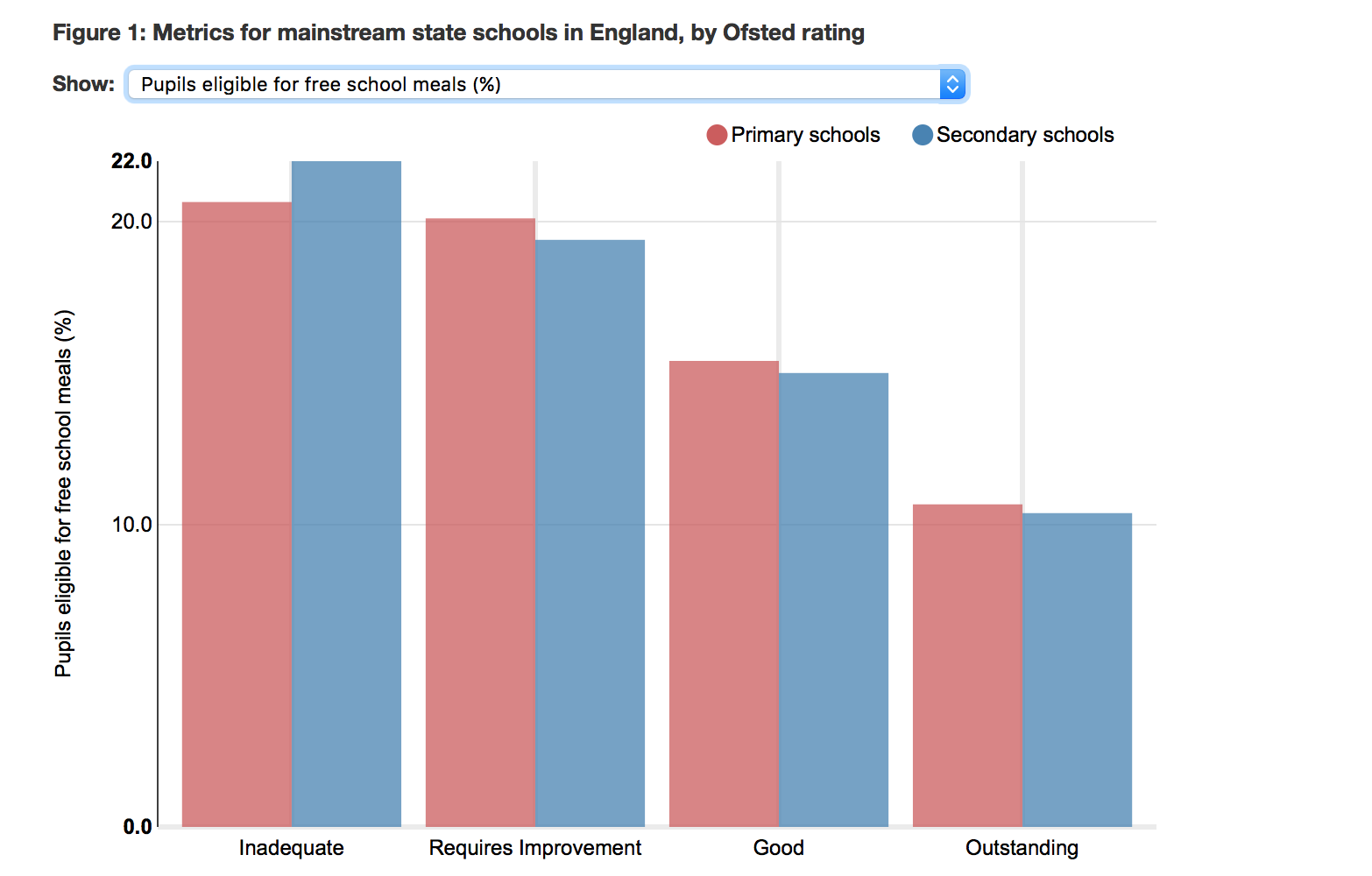 SchoolDash also found that schools with higher Ofsted ratings have fuller school rolls.
The figures show that, while "outstanding" schools are more than 100 per cent full – with more pupils than their roll – "inadequate"-rated primary schools have an occupancy rate of 88 per cent. "Inadequate"-rated secondary schools were 71 per cent full on average.
The impact of low Ofsted ratings
Mr Hannay said: "In our view, the surprise is not that some schools remain stuck for many years on end, but rather that any of them are able to overcome the considerable headwinds that disproportionately affect schools with low Ofsted ratings."
SchoolDash recommends that stuck schools are given help to recruit teachers by creating real incentives for staff to work in challenging schools.
Mr Hannay said: "At present, we rely on teachers being motivated to work in these schools but there is not a real incentive. It needs to become seen as a smart career move to want to work in a stuck school."
The SchoolDash report adds: "It seems clear that low-rated schools struggle even more than most to hire, motivate and retain staff.
"A contributing factor is surely the lack of established ways for teachers to earn lasting recognition for contributing to underperforming schools rather than joining ones that are already doing well.
"This is something that can really only be tackled at the national level: the Department for Education should provide incentives for the most able and experienced teachers to take some risks and go to the schools where the need for them is greatest."
It also calls for schools to be given positive recognition if they ensure that their cohort is reflective of the community they serve.  This would aim to ensure that a school's context is taken into account when measuring school performance.
Ofsted has been approached for a comment.