Teachers are among the happiest professionals, and are less likely to report feelings of "low self-worth" compared with their counterparts in other white-collar jobs, according to new research.
The wellbeing and mental health of teachers is similar to that of workers in other professions, according to the paper, and they have higher levels of self-worth.
The situation is apparently even brighter for headteachers, who were found to be happier, have higher levels of life satisfaction and were more likely to feel that their life is worthwhile than other occupational groups.
---
Teacher wellbeing: Do teachers cry more than people in other professions?
Experience: 'I love teaching – but I can't carry on like this'
Mental health: 5 ways teachers can prioritise their mental health
---
The University College London study – involving more than 60,000 teachers across England over the past decade – found that 22 per cent of secondary teachers and 20 per cent of primary teachers were unhappy, compared with 21 per cent and 23 per cent of demographically similar individuals working in other professional jobs.
Wellbeing: Teachers 'don't have worse mental health'
Just 5 per cent of primary school teachers and 7 per cent of secondary teachers had low self-worth, compared with 11 per cent of other professionals.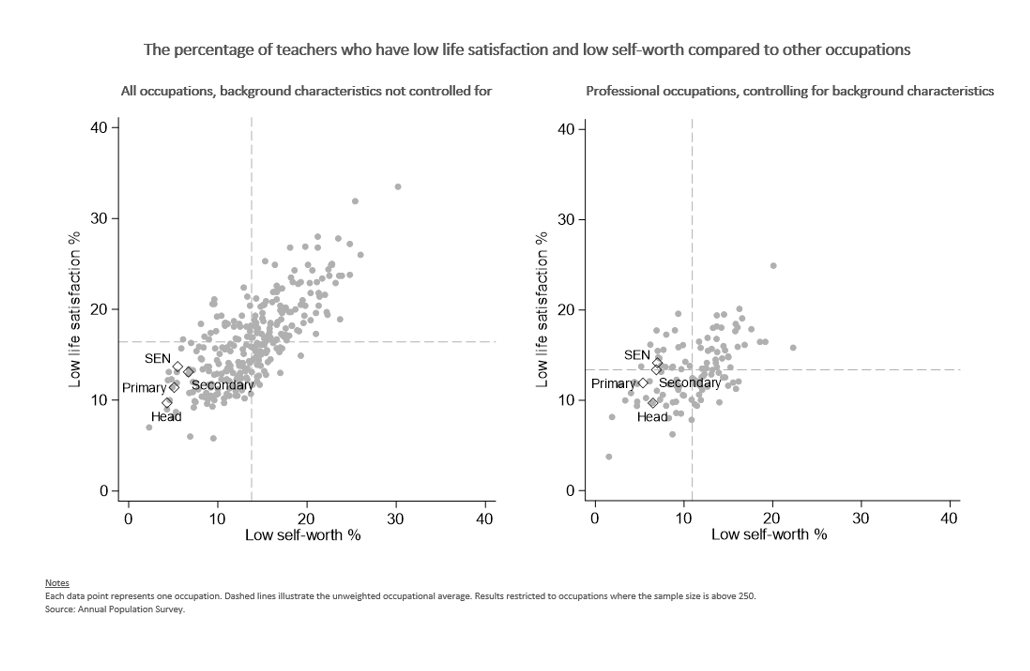 Professor John Jerrim, of UCL's Social Research Institute, who co-authored the study, said it revealed that teachers had slightly better levels of self-worth, on average, compared with other professionals.
"A myth seems to have emerged that teachers have worse mental health and lower levels of wellbeing than other groups," he said.
"Our study provides clear, comprehensive evidence that this simply isn't true. On the whole, teachers have similar levels of wellbeing to other professional employees."
He added: "It's important that appropriate support is available to those who need it, but we should ask whether we can really expect people to decide to become teachers if all they hear about is how wellbeing is low – and rates of mental ill-health are chronic – within the profession.
"In reality – and despite all the media hype to the contrary – teachers' mental health does not seem to stand out as especially poor in comparison to other occupational groups. It is high time that this myth gets once and for all dispelled."
Co-author Dr Sam Sims, of UCL's Centre for Education Policy and Equalising Opportunities, added: "We should be encouraging graduates into the teaching profession, and not lead them to believe becoming a teacher is bad for your mental health. Like all jobs, teaching has its challenges – but not the excessively bad picture we sometimes hear about."
Authors and writers, graphic designers, journalists and solicitors were found to be amongst the most anxious professionals, with the lowest levels of reported self-worth, while accountants, IT professionals and human resources workers were amongst the happiest and least anxious.
The researchers noted that the data used in their analysis preceded the coronavirus pandemic hitting the UK.
Cheryl Lloyd, education programme head at the Nuffield Foundation, said: "By helping us to better understand the wellbeing and mental health of teachers compared to other professions over the past decade, this research can inform how we talk about teaching as a career path.
"However, it remains important to identify the causes of work-related anxiety and to offer mental health support to existing and new school leaders and teachers. Indeed, as previous research from this project has shown, anxiety has increased amongst headteachers since lockdown."