New data reveals the number of pupils receiving offers from universities with no conditions on A-level or other results has increased to 38 per cent of applicants, compared with 34 per cent last year.
Ucas, the universities admissions service, said the number of "conditional unconditional" offers – where universities offer students a confirmed place on the condition they are selected as the student's first option –  has also continued to rise.  
---
Insight: 4 reasons why unconditional offers are controversial
Related: Hinds tells unis to stop 'unethical' strings-attached offers
News: Unis pledge to end 'strings attached' unconditional offers
2018: Third of 18-year-olds receive unconditional offers
---
The finding suggests that the Department for Education's bid to clamp down on these strings-attached unconditional offers has been unsuccessful.
Ucas' report, Unconditional offers – an update for 2019, found that 25 per cent of students received a "conditional unconditional" offer in 2019, compared with 20 per cent in 2018.
The data shows a sharp rise in the number of unconditional offers since 2013.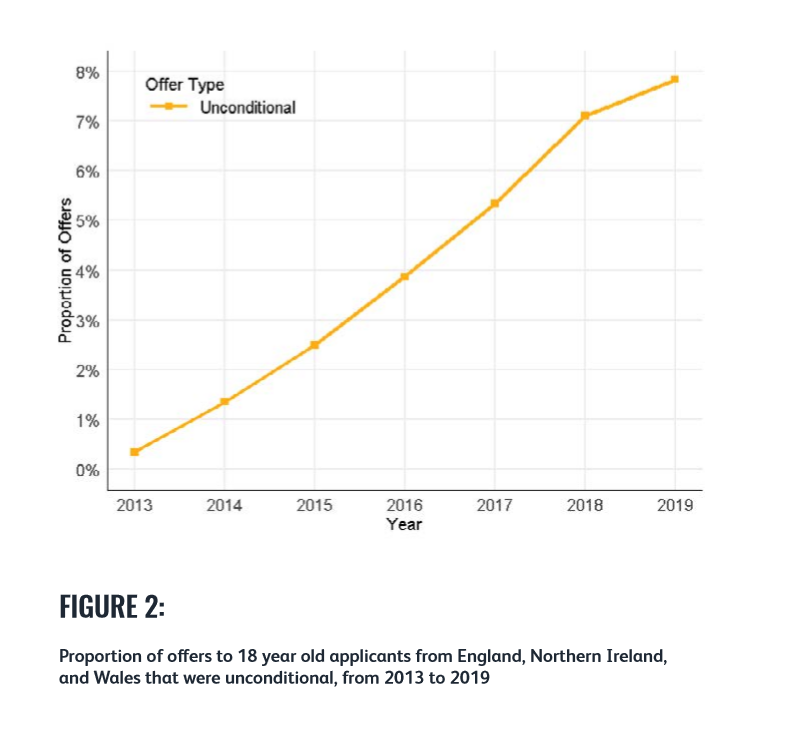 The news has renewed concerns that unconditional offers will result in students achieving lower grades, as they may lose motivation to work when they have a confirmed place on a course.
"Conditional unconditional" offers are seen as particularly damaging for students' long-term prospects, as students may feel pressured to select courses that are not right for them.
James Turner, chief executive of social mobility charity Sutton Trust, said: "As well as affecting pupils' motivation in schools and colleges, it may mean that students aren't making the university choices best suited to their talents and aspirations.
"It also means that more weight is likely to be put on students' predicted grades – but our research has shown that high-attaining, disadvantaged students are more likely to be under-predicted."
The Sutton Trust is calling for a post-qualifications application process, which would empower students to make the right university choice with a "high degree of certainty," he said.
The report found applicants from the most advantaged backgrounds were slightly more likely to receive a "conditional unconditional" offer than their least advantaged peers, with 26 per cent of students from quintile five – the most advantaged group – receiving this type of offer compared with 23 per cent of students from the least advantaged quintile.
When all unconditional offers were considered, the most disadvantaged pupils were 50 per cent more likely to receive an unconditional offer than peers from the most advantaged areas.
In April, then education secretary Damian Hinds wrote to 23 universities, calling for them to end the practice of giving "conditional unconditional" offers to students, which he described as both "unethical" and a form of "pressure-selling" that could harm students' grades.
Ucas' 2018 End of Cycle Report showed that students with a confirmed place on an undergraduate course were more likely to miss their predicted grades than those holding a conditional offer.
Clare Marchant, Ucas' chief executive, said the use of unconditional offers was a "complex issue" but that universities must make students' best interests their "number-one consideration" when making offers.
She said Ucas had developed their advice for students about the different kinds of offer, as well as producing best practice resources for universities making unconditional offers.
Ms Marchant said Ucas looked forward to working with the Office for Students and Universities UK on their upcoming admissions practice reviews.
A Department for Education spokesperson said: "There is a place for unconditional offers, however this data highlights the continued rise in their use and we know some students who accept unconditional offers can be more likely to miss their predicted A-level grades.
"We also have particular concerns about the use of 'conditional unconditional' offers, which can potentially pressure students into accepting a place which may not the best option for them."