With today's headlines focused on the trials and tribulations of A-level results and university acceptances, you'd be forgiven for thinking that a majority of today's 18-year-olds proceed directly from the school gates into the halls of higher education.
Of course, they do not: over half of today's 19-year-olds are engaged in either work, training, vocational study or an apprenticeship, the last of which being a government priority. This morning, the Department for Education published figures outlining the number of people who started an apprenticeship in May, with May marking one year since the apprenticeship levy and its associated training rules first made their effect. Here are five points to take away from the first year. 
Substantial reduction in apprenticeship numbers 
This will come as no surprise to even the casual observer. Last autumn, when figures for the first quarter post-apprenticeship levy came out, the education sector was taken aback by a year-on-year fall in starts of roughly 60 per cent. Today's figures tell a more nuanced story. While more people started an apprenticeship this May (provisional figures note that 22,300 did) than in May 2017 (final figures show that only 12,900 did), May 2017 was the first month in which the levy sat in place and, as such, it marked a shock to the system. 
It is perhaps more accurate to compare the academic years to date. Here, the narrative of falling starts persists: when we compare August to May 2017 with August to May 2018, we find that the number of people starting an apprenticeship was down by 157,000, or 34 per cent.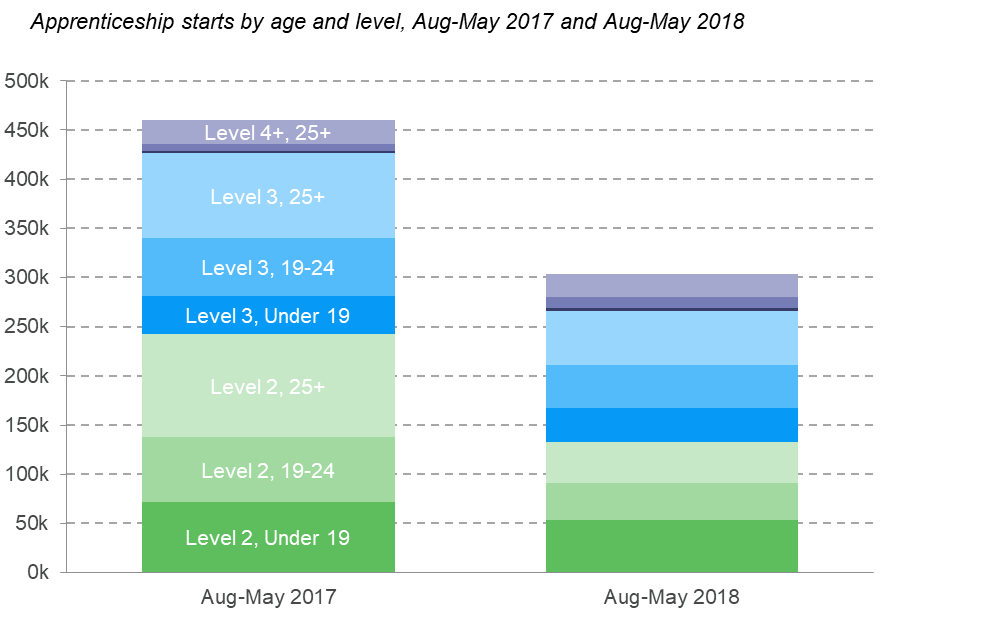 Broad range of apprenticeships
While, at least in the popular press, the image of an apprentice being a teenager commencing a career in a skilled (and typically manual) trade continues to hold ground, the reality is that the "apprenticeship" title covers a diverse array of activity. In fact, since August 2014 only 25 per cent of apprenticeship starts have been taken up by those under the age of 19; over 40 per cent have been taken by apprentices older than 25. In other words, the "apprenticeship" brand runs the gamut from lower-level training in relatively low-skilled sectors to degree apprenticeships and to work-related training for already highly-qualified adults. 
Different ages, different trends
Viewed through the lens of age and level, starts in most types of apprenticeships have fallen over the past year. Most notable is the fall among those age 25-plus at level 2: minus 60 per cent. By contrast, there has been growth in the number of younger people (24 and below) taking up apprenticeships at the higher-education level (i.e., level 4-plus).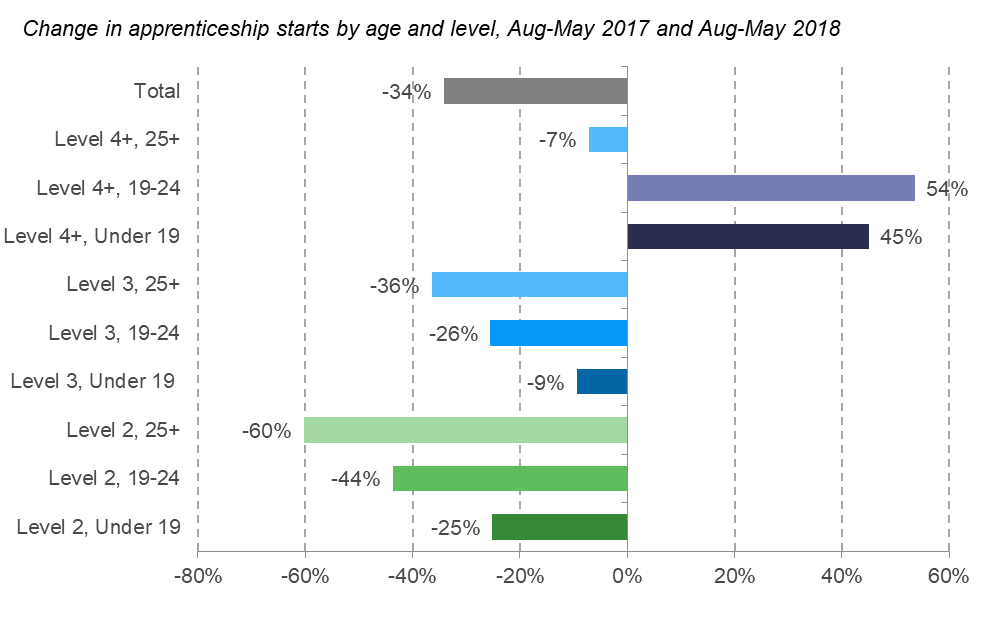 Does this represent a rebalancing of the system? It is likely too early to tell. However, the shape of the system has changed markedly over the past year. Overall, we've seen a fall in the share of starts at level 2 and a rise in the share of starts at levels 3 and 4-plus. 
Factoring in age complicates the picture. The share of starts taken up by younger (i.e., under 19) apprentices at lower levels of training grew two percentage points while the share of older apprentices (i.e., age 25-plus) at lower levels of training fell by nine. The share of starts at level 4 taken up by the under-19s grew one percentage point, while the share taken up by those aged 19 and older grew by four. The overall shift towards apprenticeships at levels 3 and 4-plus, which tend to be more costly to deliver, is likely to have a knock-off effect on the total amount of cash available for apprenticeships. 
Different employers invest in different apprenticeships
Overall, there have been more apprenticeships starts at non-levy paying employers than at employers who pay into the levy system. However, this gap is narrowing: in May of this year, the difference was only 400. Perhaps more striking is the difference in the type of apprenticeships that levy and non-levy payers have invested in: during the 2017-18 academic year, 40 per cent of levy-payers' starts have been at level 2, as compared with 47 per cent among non-levy payers; 16 per cent of levy-payers' starts have been at level 4-plus, as compared with 9 per cent among non-levy payers.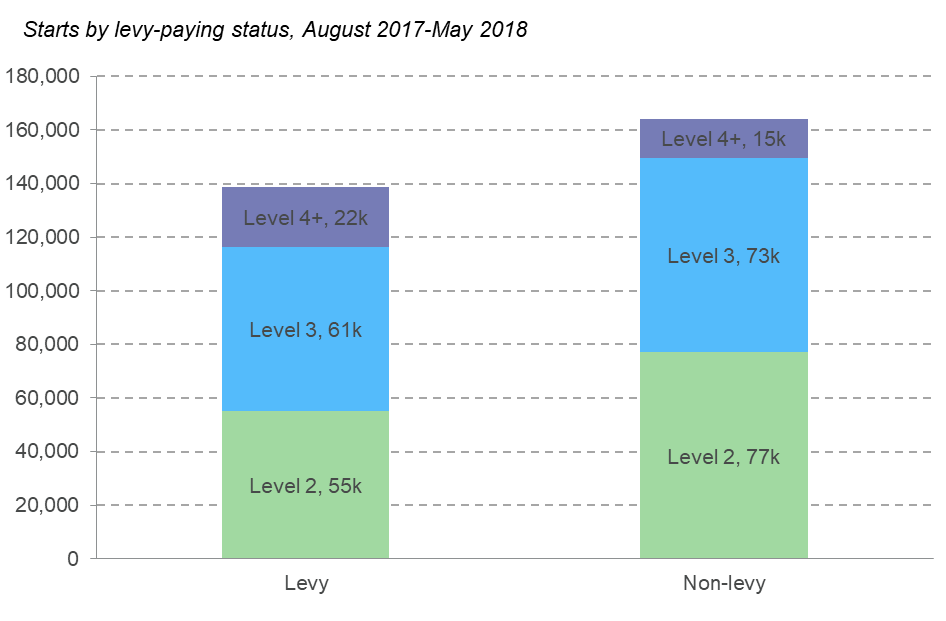 Watch this space 
Of course, we're only a year in; employers and training providers are still adjusting to the new system, levy payers have another year to spend their funds, and many are likely deciding whether they will share these with other, smaller employers along their supply chain. This time next year, we could be having a very different conversation.
Kathleen Henehan is research and policy analyst at the Resolution Foundation. The graphs are Resolution Foundation analysis of the Department for Education's monthly apprenticeship figures.