More than eight in ten teachers say there is widespread problem of poor pupil behaviour in their schools, according to a new survey.
The NASUWT teaching union says 82 per cent of teachers it surveyed felt pupil behaviour was a problem in their schools – with more than half (57 per cent) saying they had been verbally abused by a pupil in the last year, 18 per cent having been threatened with violence and 14 per cent having been physically attacked.
---
Quick read: Eight out of ten teachers suffering bullying, survey suggests
Profile: 'There's a fear in schools these days – my union work has gone from 3 cases a year to 300 a year'
Funding: School funding cuts 'driving increased pupil violence'
---
The union found that pupil indiscipline was now second only to workload in teachers' concerns about their job. But it is not only pupil behaviour that is concerning teachers. 
The survey, of 4,516 teachers, found that 27 per cent of teachers had been verbally abused by a parent or carer – and 2 per cent of teachers had faced parents threatening them with violence.
"Too many teachers are going to work each day with an expectation that they will be verbally or physically abused. More and more headteachers report being abused by parents and carers," Chris Keates, general secretary of the NASUWT, said. 
"Verbal and physical abuse is not part of the job. It is unacceptable and must be challenged."
The union is calling on schools to display posters – similar to those seen in hospitals and on public transport – calling for respect for staff and stating that verbal and physical abuse will not be tolerated.
It has produced two posters that schools can put up. 
One poster states: "Abuse: verbal and physical abuse, aggressive, offensive, intimidatory or disrespectful behaviour will not be tolerated."
The other poster says: "Respect our staff. They're here to help you. Verbal and physical abuse will not be tolerated."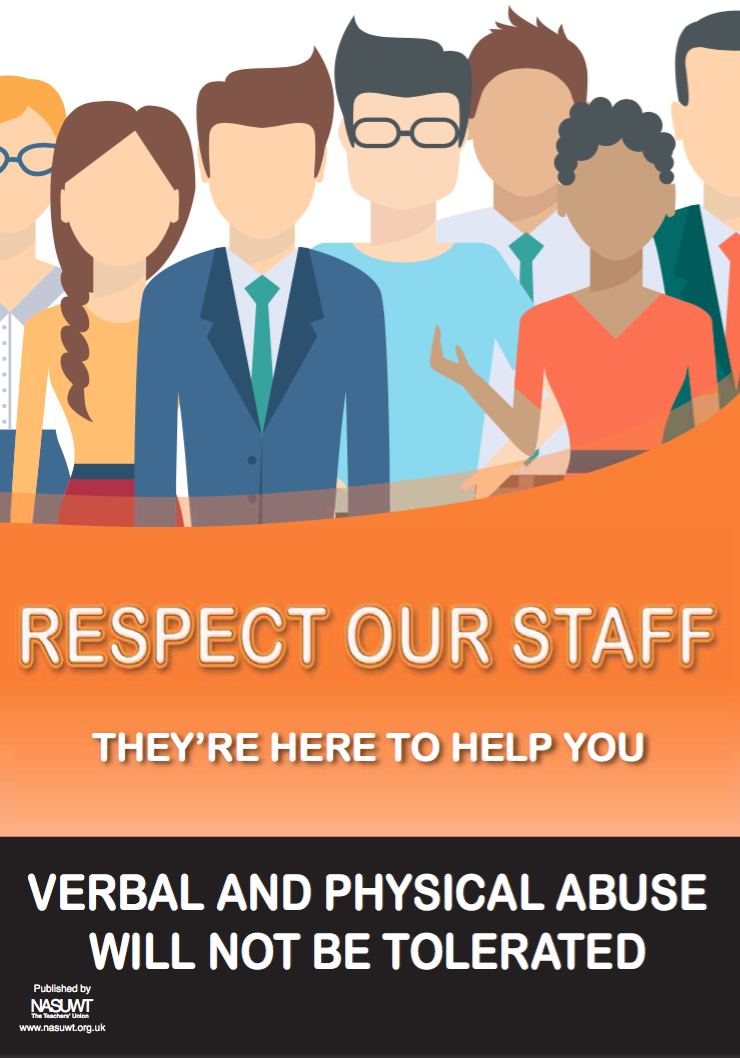 Ms Keates said that posters which set out expectations of how staff should be treated are common in other workplaces and the union believes that teachers' employers should make a similar clear commitment.
She said: "All teachers and headteachers are entitled to a safe working environment free from violence and abuse. Employers have a legal duty of care to provide this.
 "Whether or not there is a problem of abuse of teachers and other staff in the school, the posters will reinforce the standards of behaviour which are expected towards staff.
 "Good employers will have no problem with displaying the posters."