The International Baccalaureate results, first released on Monday, have been met with outrage this year, with one petition calling for "justice" for candidates garnering nearly 10,000 signatures.
Students have reported receiving grades that are far below what they were predicted to attain in the IB's Diploma Programme.
So what has happened with this year's results? Here's what we know so far.
---
International Baccalaureate results: Anger grows over grading
'Scandal': Students demand new grades
IB: Unhappy schools want more transparency
Results day 2020: Average score up to four-year high
---
International Baccalaureate: Is the anger over results related to the coronavirus?
Yes, partly. Students and teachers are upset about how these grades were calculated, and grades were awarded in a different way this year because of the outbreak of the novel coronavirus.
In March, the IB announced that it would not be holding 2020 exams for its Diploma and Career-related programmes, and that grades for students would be awarded based on coursework and other assessment data. 
How were the grades calculated?
The IB calculated grades based on students' coursework throughout the two-year programmes, predicted grades from schools and historical assessment data. The historical data was analysed to determine the relationship between coursework marks, predicted grades and final subject marks.
The IB has also said that "prior to the attribution of final grades, this process was subjected to rigorous testing by educational statistical specialists to ensure our methods were robust. It was also checked against the last five years' sets of results data, to ensure that it would provide reliable and valid grades for students".
Who marked students' coursework?
In an unusual step for an exam board this year, the IB also collected in all student coursework to mark, rather than taking in coursework grades submitted by teachers.
Some teachers who have spoken to Tes have questioned how experienced the markers of coursework were in this process, and whether the final coursework grades are completely accurate.
The IB has said that all of its examiner training underwent a review by subject managers for the May 2020 series, and that additional materials were added to training courses to ensure examiners were prepared. IB examiners were also required to show they could assess students' work accurately prior to assessing candidates.
So what happened on results day?
Many students were upset and concerned by the grades they received, which did not seem to tally with the marks predicted by their schools or their prior attainment. One headteacher told Tes that the grades received by students did not reflect their prior attainment at GCSE.
Students have contacted Tes reporting that their overall mark has been depressed by over eight marks, while worried parents have said their child with high-grade predictions has been left with no Diploma at all.
The petition calling for "justice" for students points out that some students have seen their overall mark out of a possible 45 decreased by up to 12 points, and calls on the IB to take a different and "fairer" approach to grading.
One IB teacher has spoken of historical inaccuracies with the IB grading process, where, in the extended essay component, A-grade students have been downgraded to Ds and vice versa. They said there has been a "lack of intellectual rigour" in the grading process this year. 
However, the IB has said stability has been maintained in the May 2020 series, with small increases in the average grade achieved compared with previous years, and that the grade distribution level is "in line with the previous four years of results data".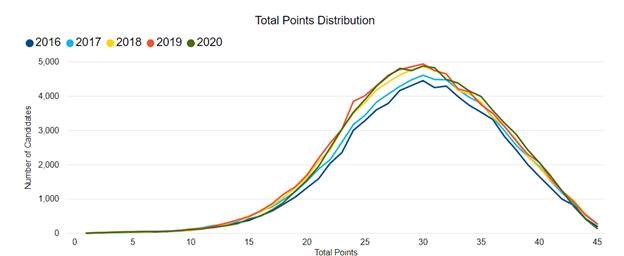 It has said that it is "is confident that it has awarded grades in the fairest and most robust way possible in the absence of examinations".
However, the hundreds of students expressing concerns and fears on social media suggest that the grading has left disproportionate numbers of candidates disappointed this year. 
One student told Tes: "There are students that had predicted grades of 38 and had high-level university offers and now are stressed and confused because their grade was lowered by far too many points to make sense.
"The IB have maintained their 'bell curve', and I believe it is only because they decided to ruin the futures and dreams of so many students just to maintain their statistic."
What happens now?
While students and schools are able to appeal, there are concerns over how the appeals process will work in a year when students did not sit exams.
One group of parents and students based in Germany has written to the IB calling for more "transparent" information over grading appeals.
"If the information we have is correct, thousands of IB candidates, including members of our group, have or will spend both time and money appealing results that will most likely not be changed," their email to the IB reads.
They said both IB coordinators in schools and the IB website state that candidates can appeal results via an "enquiry upon result" (EUR) process.
However, they report that both the IB and an IB coordinator told them verbally that appeals will be limited to a re-mark of coursework alone, while other data that contributed to the result will not be reviewed.
"Instead of providing written standard information accessible to all, candidates are being referred to the IB coordinators," their email says.
"This process implies that the IB is trying to avoid accountability. For example, members of our group asked the IB very basic, non-specific questions that thousands are likely to be asking as well. These were not answered and questions were diverted to the local IB coordinator, who then told group members that they have not been provided with this basic information by the IB."
A spokesperson for the IB said: "IB World Schools can request re-marks of students' work in the May 2020 session through the enquiry upon results services.
"There are some changes to the EUR services in this exceptional session due to the fact that marks have been calculated in the absence of examinations in some subjects, and these have also been communicated to IB World Schools"