Large numbers of teachers have been put under pressure by students and their parents to alter GCSE and A-level grades this year, despite warnings from exam boards that this would be considered malpractice.
In a Tes survey, responded to by more than 2,800 grading teachers, one in four reported that parents had put pressure on them to raise students' grades, or to change the evidence going towards their teacher-assessed GCSE and A-level grades. And a third reported pressure from students.
"We have had so many emails [from parents] threatening legal action, telling us that we don't know how to do our jobs, getting clarification of what we are doing 'for when they appeal if their kid doesn't get the grade they need'," a state school head of science marking GCSEs and A levels said:
"Parents who are solicitors are emailing in with work email addresses to use the legal headers and footers. It is stressful, patronising and demeaning."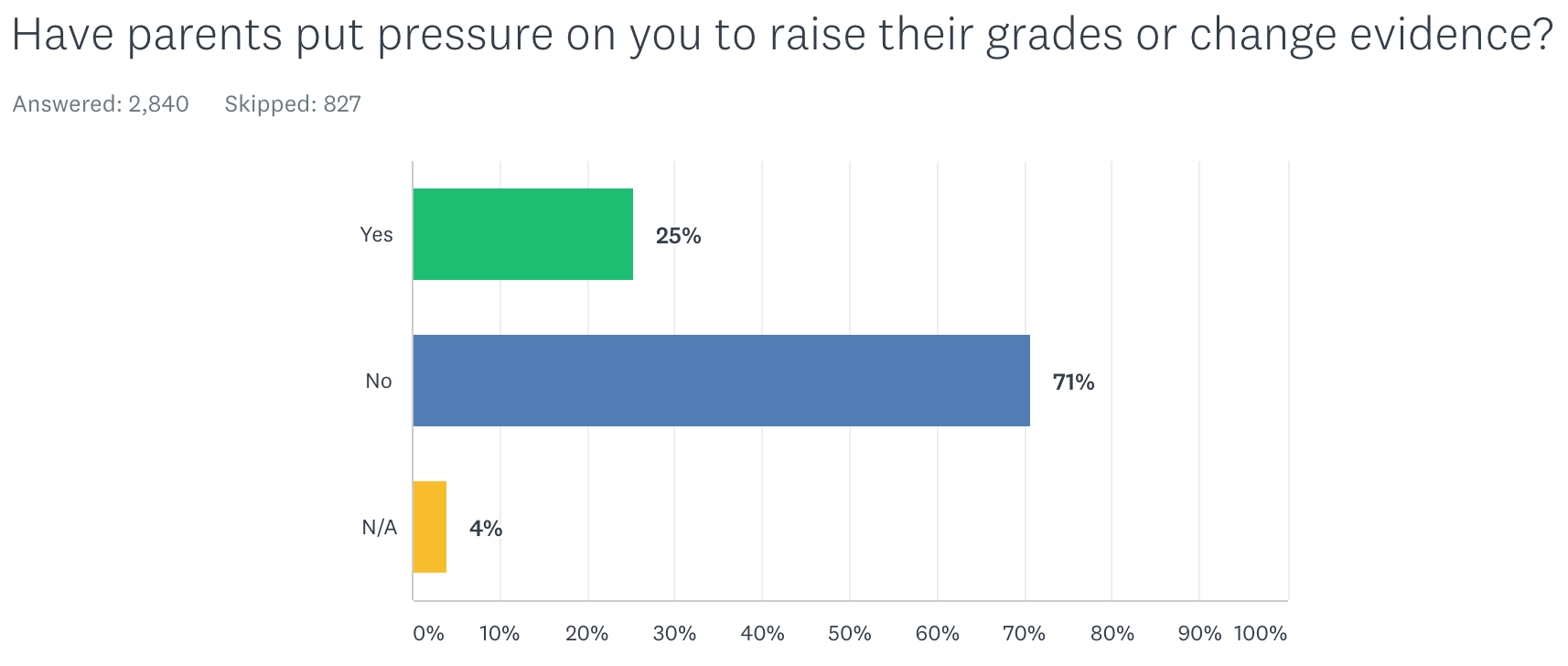 ---
GCSEs 2021: Most teachers lose at least a week grading
Exclusive: 94 per cent of teachers grading GCSEs report 'problems'
GCSEs: Don't pressure teachers on grades, students told
---
Students have also pressurised a third of teachers to raise their grades or change their evidence.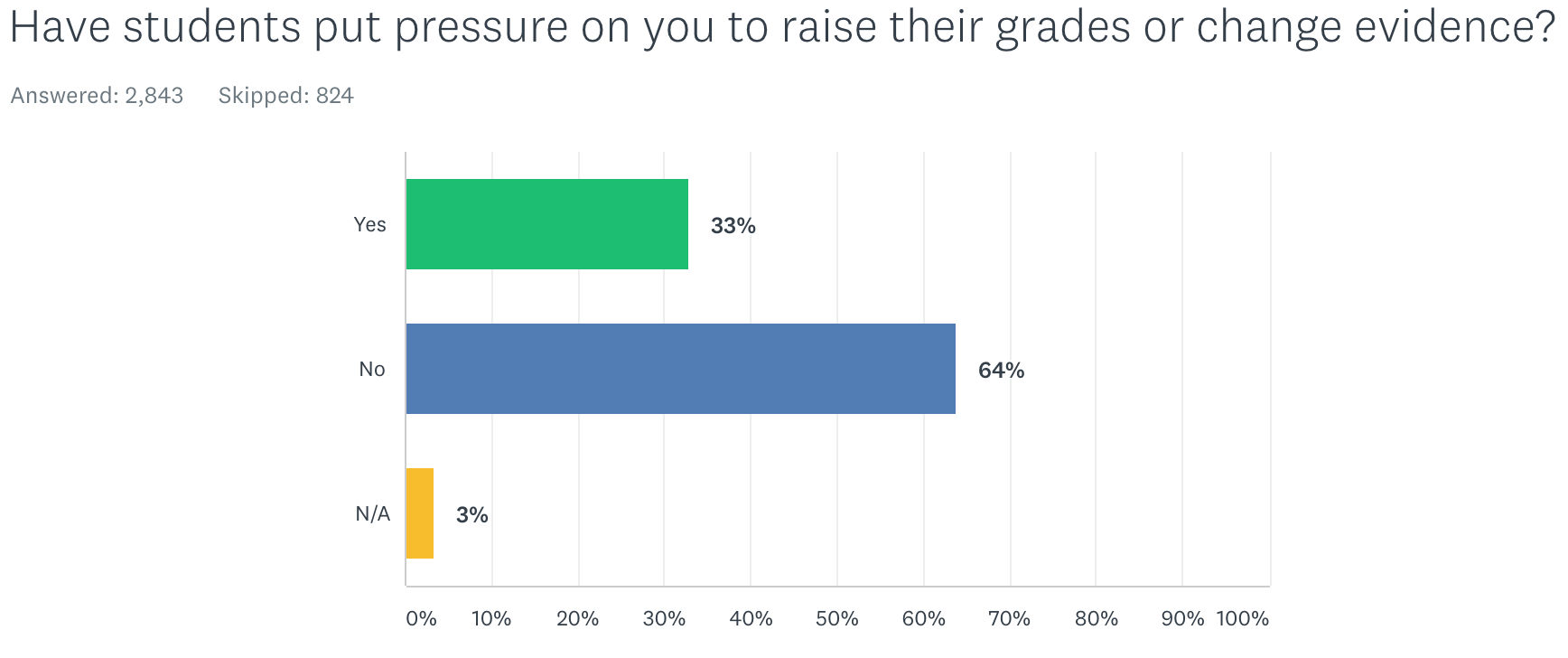 "A few students have suggested that they 'deserve' higher grades due to the circumstances they have had to work through this year, and also seem to think that, as their class teacher, your relationship will mean that you will give them good grades because you know them," a state school teacher grading A-level film studies said.
An independent school science teacher grading GCSE and A levels said there had been "lots and lots of crying [from students], lots of going to the DHT to complain about unfairness in tests, lots of pressure caused by university offers".
GCSEs and A levels 2021: Teachers pressurised by parents over grades
However, the vast majority of teachers said they were standing firm with only 2 per cent admitting to "giving in" to parent or student pressure.
The research suggests that demands from parents over grades is a particular problem for private school teachers. 
More than a third (34 per cent) of the 480 independent sector teachers who responded said they were under parental pressure to change grades. That compares with 24 per cent for state school teachers.
"We have parents who have already stated that they will be appealing the grades before they have received them," a head of maths in a private school marking GCSEs and A levels reported.
"Many [are] suddenly realising that even though they pay for their child's education, they may not (will not) be getting 9/A*, and claiming problems with teachers."
One private school teacher said they had experienced what sometimes felt like "very personal" levels of pressure.
The Headmasters' and Headmistresses Conference (HMC), representing elite private schools, described the finding as "disappointing".
Some teachers commented that they noticed more parents were requesting special consideration for their children.
And some said that while they had not experienced pressure yet, they anticipated complaints during the appeals process.
Many commented that their school's clear policy that parents and students should not pressure teachers over grades had prevented this from happening. Some were upset that they had been accused of marking students down for their behaviour.
A head of department in a state school marking English GCSE said: "I have received daily emails telling me that a particular child needs a 4; that I must allow them to keep redoing assessments until they have reached that level; that their future depends on me."
And a private school head of drama said: "I doubt there's an independent school in the country that isn't having huge pressure from parents to give their child the top grades.
"There always is, but when they know this year that we (individual teachers) are responsible for awarding the grades, the pressure has become vast and often very personal. Once we hit the summer and the appeals start, it's going to be horrific."
Sarah Hannafin, senior policy adviser at the NAHT school leaders' union, said: "It is proving to be an intense and highly pressured summer for school leaders and teachers.  
"It is unacceptable for students or parents to pressure teachers over the grades being awarded this year. The grades which will be submitted to the awarding organisations are not a single teacher's decision – they are the result of a collaborative process involving other teachers, senior leaders and internal and external quality-assurance checks.
"So such pressure will not be successful. All it does is create more burdens and stress for school staff."
Barnaby Lenon, chair of the Independent Schools' Council, said: "All independent school headteachers that I have spoken to published clear protocols to parents, protocols designed to prevent any pressure on teachers."
Geoff Barton, general secretary of the Association of School and College Leaders, said: "It is frustrating to see from this survey that a significant proportion of teachers have been put under pressure by students and parents over this year's grading process, and this is another sign of the immensely difficult circumstances which school and college staff have had to deal with this summer.
"There is a clear dividing line between making a legitimate inquiry and attempting to influence the outcome of assessments by exerting pressure on teachers, and such behaviour is obviously unacceptable."
The exam boards' Joint Council for Qualifications said: "Exam boards greatly appreciate all the hard work by schools and colleges to determine their students' grades this summer. We strongly discourage anyone from trying to influence teachers' judgements.
 
"We anticipate that the majority of these cases will be dealt with by the school or college internally. However, if a student continues to apply pressure on teachers and staff, then schools and colleges should contact the exam boards. The exam boards may, at their discretion, impose sanctions against students if they continue to act inappropriately."
An HMC spokesperson said: "It is disappointing to hear accounts of parents putting pressure on teachers to award favourable grades. HMC schools have, for many months, been working on establishing robust quality assurance processes.
"Teachers are professionals and act with integrity. They understand that it is in no student's long-term interest to be saddled with a grade beyond their competence."
An Ofqual spokesperson said: "Teachers should be able to award grades without pressure from parents and students.
"Our guidance is clear that heads should record all such cases, and they may be asked to report them to the exam board. It is essential that the task of awarding teacher-assessed grades should not be made more difficult by having to deal with unacceptable pressures."