Nearly two-thirds of teachers grading this year's GCSEs and A levels have reported losing at least a week of their own time to the process. 
In a Tes survey, which received responses from more than 2,800 teachers awarding the grades, 64 per cent said they worked for five additional working days or more on the process this year.
---
Exclusive: 94 per cent of teachers grading GCSEs report 'problems'
GCSEs 2021: Should schools be running full mock exams?
Background: Teacher-assessed grades get the green light
2021 grades: Teachers relieved of appeals burden
---
Nearly one in five – 19 per cent – said they worked an additional 10 days, while 13 per cent reported that they had spent more than 15 additional working days on grading students, the equivalent of three weeks.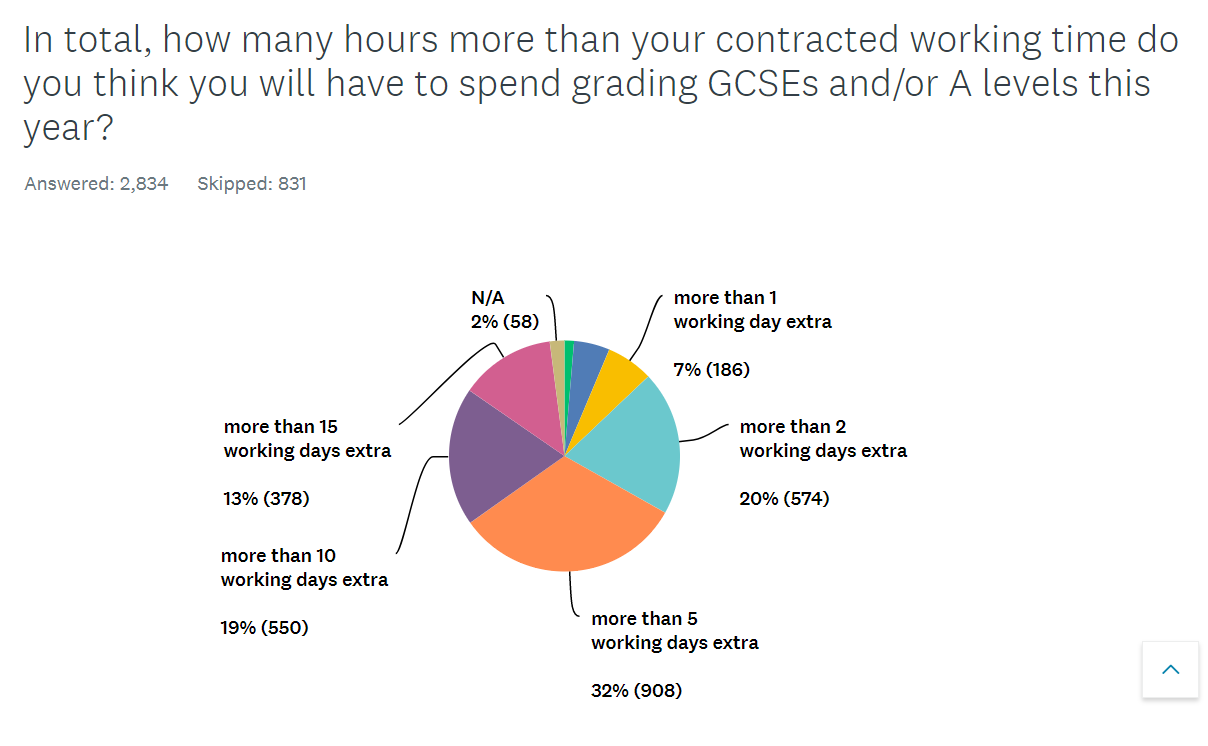 In total, eight out of 10 teachers – 81 per cent – also reported that the workload of grading had been too much this year, with 52 per cent reporting that the workload was affecting their personal life, while a further 29 per cent described the burden as "intolerable".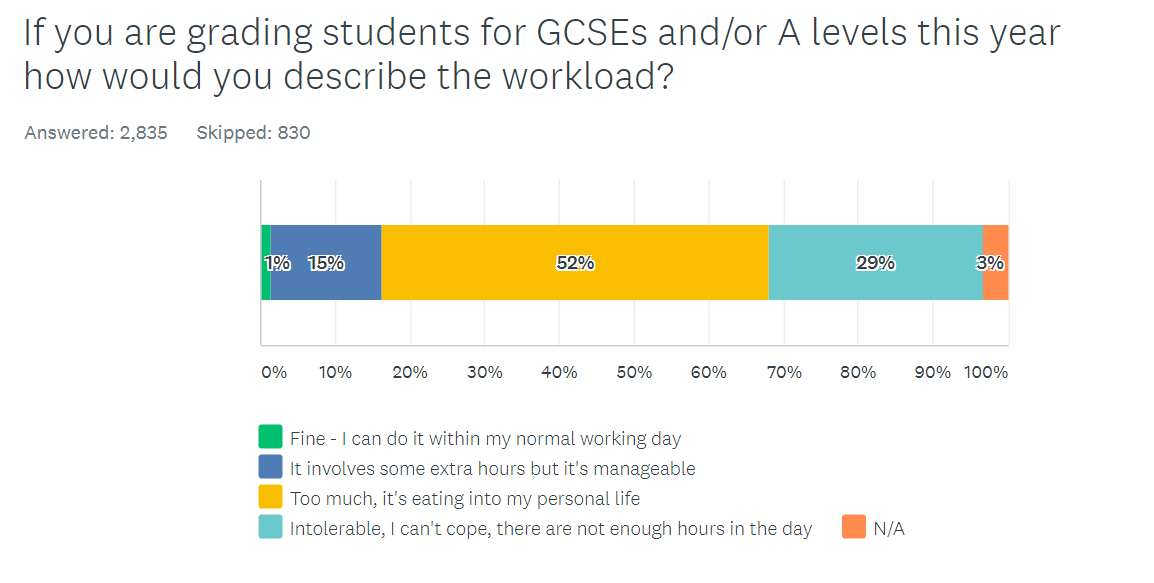 "Having announcements so late in the day has given very little time to prepare, so now we have created folders for every student with five new pieces of department-moderated work as well as previous evidence and anything else we can gather along the way," an English teacher grading GCSEs in a state secondary said.
GCSEs and A levels 2021: The impact of assessment on teacher wellbeing
"If we'd have known from the start of the year what we would have to do, we could have prepared ourselves and students."
Another English teacher said: "I have been marking every weekend and every evening for weeks – there have been some days where I haven't had time to eat over a 24-hour period. I am running on empty – I am not sleeping and my wellbeing is significantly low."
Others commented that the workload had impacted their teaching of non-exam year groups.
"My teaching and feedback for non-exam years has fallen off a cliff," an English and drama teacher said. "I am not helping them close the gap because all my available working time and more is taken with marking, grading, moderations, meetings and paperwork.
"Because of the sheer volume of students and the amount of exams they have to partake in, the extra work is overwhelming. It will definitely impact the work I will now have to do in the summer holidays for planning and reflecting on my schemes that I wish to teach in September."
A head of maths in a private school marking GCSEs and A levels said."I spent many days of the Easter holidays preparing end-of-year assessments, as did the rest of my department.
"We have spent many additional hours checking papers, marking, double-marking of a level and moderating of GCSE papers. And we haven't looked at special circumstances and whether any evidence needs to be replaced yet.
"The time and stress is unacceptable and we are only coping on the understanding that this is a one-off and we are all in the same boat so need to pull together to get it done. I am so behind on the other work I would have got done as head of department as a result of this all as well, and will be spending a large portion of my summer leave working – much more than usual."
Teachers expecting to work over the summer holidays
Mary Bousted, joint general secretary of the NEU teaching union, said: "Government have caused significant​ problems and unacceptable levels of workload for school and college staff by not properly preparing a contingency plan for grades early enough in the academic year.
"This was entirely avoidable and is therefore unacceptable. To make it worse, not only was planning and information about the process far too late, government has offered no support to facilitate relief for teachers, which would have enabled them to engage meaningfully in the grading process without piling on the workload."
The NEU has called on education secretary Gavin Williamson to offer teachers a one-off payment of £500 for their extra work on qualification grading.
Geoff Barton, general secretary of the Association of School and College Leaders, said: "There has clearly been a huge impact on the workload of teachers and leaders in managing the TAG [teacher-assessed grade] process and this might have been less of an issue if the government had put in place a contingency system last year in the event of public exams being cancelled, as it was repeatedly urged to do.
"Instead, schools and colleges have been left to shoulder a massive responsibility in a tight timeframe while also managing Covid safety processes and helping students to catch up with lost learning.
"It is a perfect storm of pressures from all directions and teachers and leaders have done incredibly well to keep all the plates spinning. The government must learn lessons for the future and avoid placing unreasonable demands on schools and colleges."
An Ofqual spokesperson said: "Teachers have taken on an important task in assessing their students' performance in extraordinary circumstances, on top of the pressures they have been under throughout the pandemic, so we have made this grading process as manageable as possible.
"Teacher-assessed grades are the best option in the absence of exams, and there is no one better placed to assess their students than their educators.
"The approach is deliberately flexible, to allow for the different experiences of students throughout the pandemic. The exam boards have published guidance and provided for support for teachers as they determine their students' grades." 
A spokesperson for the Joint Council for Qualifications said: "JCQ and the exam boards recognise how much the additional workload and other challenges caused by the pandemic are impacting teachers and the tremendous pressure that they face.
"We are supporting teachers as much as we can as we work to implement Ofqual and the DfE's requirements for the summer series, and to minimise additional burden for schools and colleges as much as possible. 
"Exam boards have developed detailed guidance to support the determination of student grades by schools and colleges this summer. We have also provided thousands of optional assessment questions and detailed grade exemplars and descriptors to help teachers assess their students. This summer's awarding arrangements also allow for flexibility, meaning teachers are able to choose how they gather evidence."
A DfE spokesperson said: "We are grateful for the hard work of all school and college staff to support students and help them receive their qualifications during the pandemic. Many of our policies have been designed with workload in mind which, with union support, we are seeking to minimise as much as possible." 
"Teachers know their students best, which is why we have given schools and colleges the flexibility to determine how best to assess their cohorts, and JCQ and exam boards published extensive guidance to support them with assessments, marking and their judgements."
"There is also robust quality assurance in place for this summer's assessments, including internal checks within schools and colleges, and external checks by exam boards, to ensure that grades are awarded as fairly as possible."